If thermostats were cars, Nest Labs' would be a Cadillac.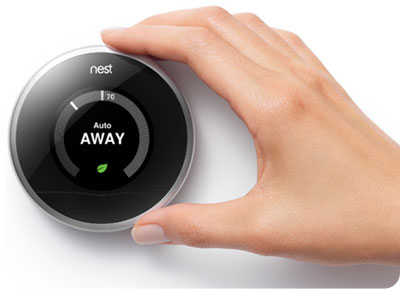 The second-generation Nest thermostat
Selling for US$249, the gadget brings design verve — the company was founded by Tony Fadell, the former leader of the team at Apple that designed numerous generations of the iPod and iPhone — and mobile technology to a device that barely registers on many consumers' consciousness scale.
The latest version of Nest's "learning" thermostat, announced Monday, adds improved looks and more technology to the device.
In technology circles, thin is in, so the second generation Nest thermostat is 20 percent thinner. As a concession to dwellers who find thermostats more wart than wonderful, the new Nest unit has a stainless steel ring around it that mirrors the wall behind it. That creates a sort of "chameleon effect" that makes the gadget less obtrusive.
In addition, the new Nest device includes a software upgrade, which is backward compatible, that broadens the thermostat's reach to 95 percent of all low voltage, residential heating and cooling systems.
Thermostat With Smarts
The new software includes a feature called "System Match," which is smart enough to determine what kind of heating system the thermostat is plugged into and customize the device based on that information.
"It gives users a more refined control over their existing systems," Nest Labs Product Marketing Head Maxime Vernon told TechNewsWorld.
System Match will adapt the Nest thermostat to deliver unique features to the system it's connected to, whether that system uses a heat pump, forced hot air or radiant heat, he explained.
For example, in a radiant heat system, the thermostat learns to turn a boiler off before a target temperature is reached. That's because, just as a steak continues to cook after it's removed from the frying pan, heat in radiant systems, which typically use hot water, continues to increase after a boiler shuts off.
"It's a combination of having the right sensors and right algorithms and the right processing power in the thermostat," Vernon explained.
Better Android Support
Nest has also improved its ability to manage heating and cooling in a dwelling when its residents are absent. In previous versions of Nest's software, the device waited two hours before entering its residents-away mode.
"Now," Vernon noted, "we can analyze patterns in behavior over time so that at any point of time during the day we are able to build a degree of confidence of you being gone or you being home."
The thermostat's mobile app has also been improved. For example, a screen has been added that allows you to tap a temperature to determine how it was set — manually, automatically or by phone.
"We're going to make our Android customers super happy because we're making our Android app available for tablets like the Nexus 7," Vernon added.
He acknowledged that the Android app suffered from poor performance in the past. "Now it will be faster and more reliable on any Android device," he observed.
Zero Learning Curve
"This version of the thermostat has a lot of features that the original first generation didn't have," Russ Donnici, president of Mechanical Air Service, told TechNewsWorld. Those features include support for multi-stage heating and cooling systems, as well as humidification and dehumidification.
Nest's hands-off features are appealing to some consumers, he explained. "People are looking for thermostats that can program themselves, and this is the only thermostat on the market that can do that," he maintained.
"Many thermostats' programmable features are not being used because it's confusing for the end user to operate it," he continued. "Nest has its own self-learning capability so there's no programming that the homeowner has to do to make it function."
"I've been in the trade 42 years, and I've seen thousands of programmable thermostats installed that are not being used as programmable thermostats because people just don't want to deal with the programmability."
Making the Cut
Those problems programming thermostats reached such an acute state in the past that the U.S. Department of Energy removed them from its Energy Star program in 2009.
"The government took the Energy Star rating away from everybody that was making programmable thermostats because they were not being used," John Beagan, president of HVAC Automation, told TechNewsWorld. "People don't like setting them. They find it confusing."
Usability problems with the devices continue to persist, an analysis of programmable thermostats released by Consumer Reports in September shows. However, all is not negative, according to Consumer Reports Senior Editor Dan DiClerico.
"The good news is that there certainly has been some improvement in this category, so much so that we expect the Energy Star label will be reapplied at some point in the near future," he told TechNewsWorld.
Of the 30 programmable thermostats reviewed by the publication, eight were recommended by its editors based on a number of characteristics, including ease of use. Nest was among the eight.