In space no one can hear you call out for pizza, but technology being developed in a NASA-funded project might let astronauts print one instead — or any number of potentially delectable meals.
Systems and Materials Research Corporation received a US$125,000 grant from NASA to build a prototype device that prints food.
The project, led by mechanical engineer Anjan Contractor, is still quite a ways from the replicator technology of Star Trek, but it could be the next step in providing sustenance for those planning to leave the Earth's orbit.
"There is serious work being done on this end," said Chris Carberry, executive director of Explore Mars. "This is being developed very much to help get us to Mars. It certainly is one step that is necessary in getting there."
3D Printing of Food
The technology will utilize progressive 3D printing and inkjet technologies; SMRC will design, build and test a complete nutritional system for long-duration missions beyond low Earth orbit.
To illustrate the concept, Contractor has envisioned a test system that could print a pizza. For starters, the printer would create a layer of dough, which would be cooked while printed. Then tomato powder would be mixed with an oil and water solution to create the sauce. A topping could include a nondescript protein layer.
"Printing food this way could be a pretty big deal for long-term stays in space and Mars," said futurist Glen Hiemstra, "and also for us here on Earth."
3-Step Process
The process of getting NASA funding for the project is almost as complex as printing 3D food.
"We are in negotiations to sign a contract," said NASA spokesperson David Steitz. "The first step is to apply for the Small Business Innovation Program, which program has three stages. The first is the feasibility study, where we look at the proposal. … We then award a contract to build a prototype — and finally, the third part is to partner with a third party to build a business that can become a NASA contractor."
SMRC has passed the first milestone and has received a $125,000 grand for six months to deliver that feasibility study based on the concept. The company could then apply for a $750,000 grant, which would give it two years to develop a prototype and would lead to actually testing the food with astronauts.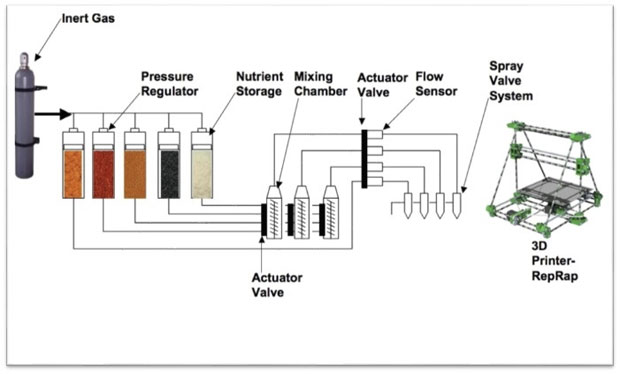 Schematic of SMRC's 3D Food Printing Process (SMRC)
Weight Savings
One of the biggest reasons for developing a printed food solution is weight — not the type that's carried around waistlines, but the type filling spacecraft cargo holds.
"One of the challenges we face with deep space exploration is weight and mass in terms of the size of the craft and the fuel used," Steitz told TechNewsWorld. "It is one thing to go up to low Earth orbit, such as the International Space Station, where basic materials such as food can be resupplied. But this isn't the case with missions to Mars or the asteroids."
The important areas of research thus continue to be in human life support systems, including everything from air to water to food. Contractor is just one of many innovators addressing a big problem.
"We have some of the smartest minds in house working on food storage, but with all innovation required to get us out there, you can't just rely on your brightest minds alone," said Steitz.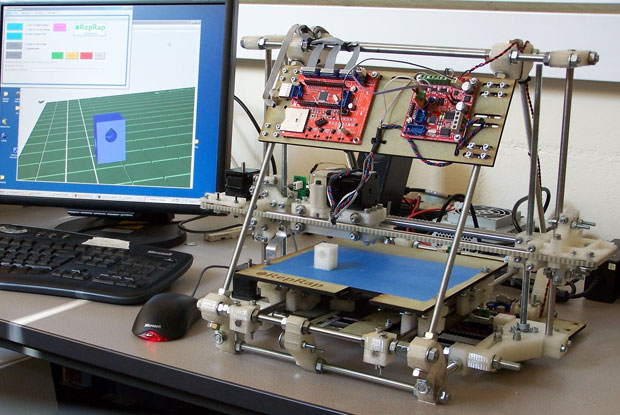 Open source RepRap 3D printer hardware will be the basis for Anjan Contractor's NASA-funded 3D food-printer project. The printer pictured is RepRap's Mendel.
3D Parts Printing
While this latest research could change the way people eat in space, 3D printing could have applications well beyond the table.
"In 2015, we'll bring a 3D printer to the space station, which will be the first time we'll even test added manufacturing in space," Steitz noted. "We've looked at this for spacecraft parts that in the past had been created by hand. So we have a lot of experience with added manufacturing and 3D printing technology."
NASA's goal is to eventually print a whole spacecraft — and to do it in space rather than on Earth. This could allow for significant design changes.
Printing Money
Whether it's the spacecraft itself, its parts, or the food that astronauts eat, added manufacturing means money saved.
"Right now, it costs about (US)$10,000 per pound to take something just into low orbit," said Steitz.
"Therefore, on long missions, we have to improve the sustainability with air, water and food — and 3D printing provides a great potential for that," he added.
"The potential benefits would be that the form and fit in the delivery system could be addressed, as well as the inclusion of critical nutrients such as protein," Steitz added. "There are obviously issues to be worked out, such as what it would taste like and what would it look like, but we'll get there."