Researchers at North Carolina State University have developed four techniques to create freestanding structures from liquid metal using 3D printers.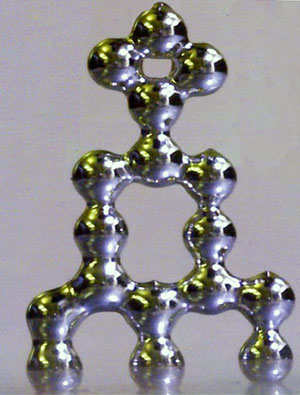 Researchers have developed three-dimensional structures out of liquid metal. (Image Credit: Michael Dickey)
One technique involves stacking droplets on top of one another. The droplets adhere to each other because of surface tension, but that same surface tension prevents them from merging into one larger drop.
The ability to directly print liquid metals is important for soft, stretchable, and shape-reconfigurable analogs to wires, electrical interconnects, electrodes, antennae, metamaterials and optical materials, the researchers explain in an article published in Advanced Materials.
The team created a working proof-of-concept flexible circuit using liquid metal wire bonds.
So far, 3D printing using liquid metals has encountered several problems caused by surface tension: droplets in the sub-mm length coalesce; jets of liquid break; and thin films of liquid dewet, or rupture.
To get around this, solid particles, macromolecules or surfactants have been included in the surfaces of the liquids, but that results in spherical printed structures. The NCSU researchers have shown for the first time that it is possible to create a variety of 3D microstructures such as wires, fibers, interconnects, and stacks and arrays of droplets in other shapes.
"We are not suggesting that [the structures developed] will be useful as freestanding structures for most applications, but rather that they will be embedded in other materials to offer mechanical support or other properties," said Michael Dickey, Ph.D., an assistant professor of chemical and biomolecular engineering at NCSU and coauthor of the paper.
"Our goal was to do a proof of principle," he told TechNewsWorld.
About the Project
The researchers used the binary eutectic alloy of gallium and indium, but said any alloy of gallium would do.
The alloy is liquid at room temperature and has metallic conductivity. It has low toxicity, adheres to most surfaces, and alloys with many metals to form ohmic contacts.
When exposed to air, the alloy almost instantaneously forms a thin skin consisting of gallium oxide. This skin is thin enough that it does not affect the alloy's electrical resistance.
One method the researchers presented uses a syringe filled with the liquid metal. In effect, a plunger is pushed and a bead of liquid metal forms on the tip of the needle, held unbroken by the skin. A wire is only formed when the bead comes in contact with a substrate, such as a glass slide, and the syringe is pulled away from that substrate. It's like holding a plug of chewed bubble gum, sticking one side to a matchbox, then pulling your hand with the wad of gum away from the matchbox, creating a line of gum — except that the wire formed by the liquid metal is straight.
The diameter of the wire depends on the diameter of the nozzle. The tallest freestanding wires were about 1 cm tall and had a diameter of about 200 micrometers.
The other three methods are stacking droplets of liquid metal; ejecting the metal rapidly to form a stable filament; and injecting the metal into microchannels that are later chemically removed, a process that's commonplace in the semiconductor industry.
Freestanding liquid metal structures would probably need to be encased in other materials such as plastics, ceramics, resins or gels for use in the real world, the paper suggests.
Practical Considerations
"You'd likely need a 3D printer much like we have today with multiple heads and, instead of different colored inks, different core materials," Rob Enderle, principal analyst at the Enderle Group, told TechNewsWorld. "That way, you could print insulated wires and electric motors that would actually run. One of the materials would need to be some kind of lubricant, of course."
However "some breakthroughs in metallurgy and, possibly, spot cooling" will be needed before usable devices can be printed out, because different materials harden at different speeds, he added.
"We're on track to have this nearly sorted out in about 20 years," said Enderle, "but one major breakthrough in a critical area could move up this time line substantially."