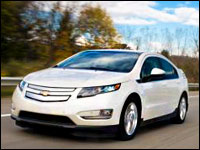 Consumers with an itch for a hybrid car can now spend less scratch for one. Chevy announced Tuesday that the 2014 models of its Volt plug-in hybrid vehicle will carry a sticker price of US$34,995, a $5,000 cut from the current model.
A federal tax credit of up to $7,500 for some buyers of green vehicles could lower the price further.
"We have made great strides in reducing costs as we gain experience with electric vehicles and their components," said Don Johnson, sales and service vice president.
"In fact, the Volt has seen an increase in battery range and the addition of creature comforts, such as a leather-wrapped steering wheel and MyLink, since its launch in 2010," he added.
BMW Pressure
While Chevy may have been able to cut costs for producing its plug-in hybrid, competition is playing a role in the price cut, too, maintained Gartner automotive analyst Thilo Koslowski.
"They need to increase volume sales for the Chevy Volt, given the fact that there is more competition," he told TechNewsWorld.
"One way to make an electric vehicle more attractive to consumers today is to bring down the price point," Koslowski observed. "Today, consumers still aren't willing to make a huge investment in electric vehicles on the scale that auto makers need to meet corporate average fuel economies."
In addition, a price adjustment was in order after BMW announced its i3 hybrid at a price point — $41,000 — near that of the Volt.
"BMW's entry into the market forced GM to reconsider its pricing," Koslowski said.
Buoyed by Success
Chevy may also believe it can move more Volts with a price cut in light of the success it had with a recent leasing program.
"In June, they significantly reduced the lease price of the Volt, and they saw a huge spike in interest," John Gartner, research director for smart transportation at Navigant, told TechNewsWorld.
"I think now they're taking that same logic from the lease to the purchase price," he added.
The price cut also advances another Chevy goal for the Volt: broadening the audience for the product.
"They want to grow their audience so they have to lower the price to make it competitive with internal combustion vehicles," Gartner explained.
"After you include the federal incentive, they're much closer in alignment with the pricing of similar vehicles," he added.
Up to now, hybrid sales have suffered from an affliction that's common to consumer products that try to justify premium pricing based solely on technology, contended Rob Enderle, president and principal analyst with the Enderle Group.
Status Problem
The problem with electric hybrids is that they aren't true electrics, and they are underpowered for their price class against gas cars, Enderle explained.
In addition, they are conservatively designed, which doesn't convey the status that might move them more easily at their given price points, he pointed out.
"This market — and every consumer market — struggles with value products priced at a premium based on technology alone," Enderle told TechNewsWorld.
"The Volt's price needs to drop to where it's image and performance are, or it needs upgrading so the car appears to be a value at its sales price," he suggested. "I doubt this small price adjustment will be as effective as GM hopes, the gap is just too wide."
Plug-Hybrids Doomed
The plug-hybrid market as a whole will suffer from its straddling of the fuel line between gasoline and electricity, argued Trip Chowdhry, managing director for equity research for Global Equities Research.
"From a consumer's point of view, you get the worst of two worlds. You get the problems of a gasoline engine and the problems of an electric engine," he told TechNewsWorld.
"It's a bridge technology based on a hope-and-pray strategy. They hope and pray that the customer will like it — and that's not happening," added Chowdhry.
"We would not be surprised if Volt ceased to sell," he said, "or if the i3 from BMW is a total market failure, or if plug-hybrids disappear — because they are not a viable technology."