The Perplexing Carbon Fiber Repurposing Problem
By Peter Suciu
Sep 18, 2012 5:00 AM PT
Today nearly all professional road cyclists have one thing in common: They almost all ride bikes with carbon fiber frames. This space-age material, which is one of the most popular composites in the sporting goods industry, has many features that it make it a popular choice.
It is lightweight and easier to manipulate into shapes than other materials, including various metals, and it lasts and lasts.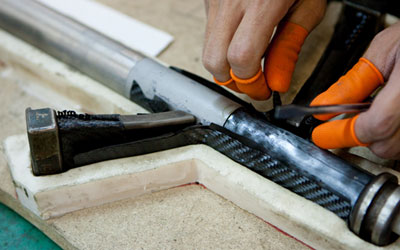 That is actually a troubling issue, though. Carbon fiber, which at its most basic form is carbon graphite, will last virtually forever. The material is typically not biodegradable or photo-degradable. While a bicycle frame made of carbon fiber won't deteriorate over its useful lifetime, it also means that should the frame crack, break, or just no longer be desirable, it won't decompose in a landfill like other materials.
"It just sits and sits, and it is there for an eternity. It just doesn't go away," said Andrew Juskaitis, spokesperson for Giant, the world's largest producer of carbon fiber bicycle frames.
Because of this fact, it is something that companies such as Giant, Trek and Specialized have begun to address.
"It does fall upon our industry to collect the material -- such as in used frames," Juskaitis told TechNewsWorld.
Limited Supply Chain
At this week's Interbike trade show in Las Vegas, most of the major manufacturers will be introducing the latest in bicycles at all price points. On the high end, there are bicycles with frames made of aluminum, titanium and even steel, a material that is making a comeback.
However, given that the pro riders today sit on bikes with carbon fiber frames, many cycling enthusiasts are drawn to the space age material.
"People are walking into a bike shop and they want carbon fiber," said Juskaitis.
The cost of carbon fiber tends to be high; Giant's intro-level carbon fiber bike is priced around US$1,500. This is typical across the board, a fact that keeps the material somewhat limited to those serious enthusiasts.
The reasons are simple. For one, only a half dozen companies in the world actually supply the bulk of carbon fiber. While sporting goods are a large customer, the entire sporting goods industry is dwarfed by aerospace demands.
"The bicycle market is a drop in the bucket. That doesn't mean it isn't important -- but compared to what aircraft makers are using, we're a drop in the bucket," Juskaitis noted.
Recycling Efforts
The truth is that one Dreamliner aircraft uses more carbon fiber than the entire sporting goods industry in an entire year. Given that planes, just like bicycles, don't last forever, that industry is looking closely at recycling as well. However, the bicycle industry -- one that prides itself on green initiatives -- isn't letting the problem roll by. Efforts are already being made to address it.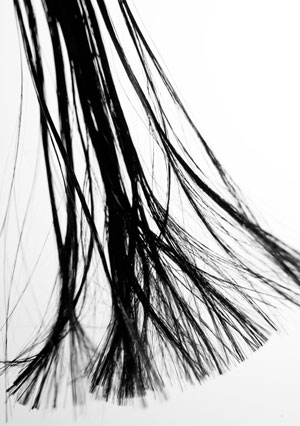 The problem is made worse by the fact that unlike plastics, aluminum and many other materials, carbon fiber can't be easily recycled. It won't degrade, and it is extremely difficult to recycle.
The reason is that once it is in its product form, it needs to be chopped up to be recycled. The strength of the material is actually in the fact that it consistes of long fibers. This gives it its rigidity and its strength -- two things that are lost when it is cut.
"It doesn't have its continuous fiber any longer," noted Jeff Sloan, editor of Composites World.
Adding to the difficulty, only the fiber elements typically can be reclaimed. The bonding elements, such as the resins that hold the fiber in its eventual shape -- like a bicycle frame -- also need to be "removed" to reclaim the carbon fibers.
"When you talk reclaiming carbon fiber, you are just talking about the actual fibers," Sloan told TechNewsWorld. "The rest of the materials are burned off or otherwise wasted. This includes the resins, which are not actually recycled."
Diminished Value
One reason any product -- whether it is plastic or aluminum -- is recycled is that it is typically cheaper to obtain reclaimed material over virgin material. Unless that price is cheaper, most companies will continue to prefer virgin materials.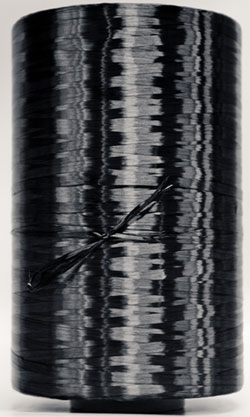 Here is another dilemma with carbon fiber: The costs, while high, are still too low to compel efforts to recycle it -- and the recycled materials have little value at the present time.
"You lose some value in the recycling process," noted Sloan. "The recycling curve of composites in general, and carbon fiber specifically, just isn't that deep. The Dreamliner will help, as they're going to have to deal with what to do with the materials at the end of the plane's lifecycle."
One added problem is that the cut fibers from a bicycle frame can't be used to make another bicycle frame. The fibers from a plane also are cut into small pieces that can't be used to make a bicycle. That means lots of small squares of cut fibers with no particular purpose.
"We've been looking hard at this issue, and we've not found anything that fits the bill perfectly at this point," said Jim Colegrove, senior composite manufacturing engineer with Trek Bicycle. "The key is finding that closed loop. We haven't found that great use for the material yet. We're still looking."
Bulk Properties
One solution could be for use in bulk properties. Thus the cut pieces could be used in other products, those where the strength that it typically provides isn't required.
"You still have much of the stiffness, but you don't have the continuous fiber," added Colegrove. "You don't have the strength."
So what could this be? In the bicycle industry, it could be water bottle cages. Other industries are using reclaimed carbon fiber for laptop casings and mobile phone cases. Of course, a single bike could provide material for many water bottle cages and that aforementioned airplane could make a lot of smartphone cases!
For now this is a problem without a solution, but one that the bicycle industry is opting not to ignore, said Juskaitis. "We feel as a manufacturing brand that we'll have a role in the recycling or responsible elimination of the material in the future."

---