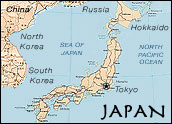 Japanese electronics company Panasonic halted some of its operations in China after protesters — apparently upset about Japan's claim to disputed islands — attacked a pair of Panasonic factories, according to the BBC.
Protests also forced Japanese electronics company Canon to close three of its four Chinese plants,according to Reuters.
The protests, which also targeted Japanese car company Toyota, began after Japan purchased a series of disputed islands in the East China Sea. China claims sovereignty over the islands, as well.
According to Bloomberg, the violence in China led to fires at a Panasonic factory and at a Toyota car dealership. Business Week reported that protesters threw bottles of water and eggs at the Japanese embassy in Beijing. There were also protests in Shanghai, Guangzhou and numerous other big cities.
Vodaphone Prepares for Indian Tax Tab
Vodaphone, the world's second-largest mobile phone operator, is considering a provision that would cover potential legal risks stemming from a US$2.2 billion tax bill in India, according to Bloomberg.
As ZDNet explained last May, the fee stems from an amendment to Indian tax law that would retroactively tax certain overseas mergers. In 2007, Vodaphone, which is based in the United Kingdom, purchased a majority stake in Hong Kong-based Hutchison Whampao's Indian assets for $11.2 billion. In a bit of clever bookkeeping — Vodaphone used a Dutch subsidiary to complete the deal, while Hutchison Whampao used a Cayman Islands unit — the companies were able to avoid taxes in India, even though the purchase was for an Indian company.
A Vodaphone spokesperson told Bloomberg that the company was consulting on whether or not it had to pay the fees, and that it would make a decision by November.
The situation is extra tricky for Vodaphone because, according to Bloomberg, it is relying on emerging markets like India — which has an estimated 900 million mobile phone users — to offset a lengthy downturn in Europe resulting from the flimsy EU economy.
Google Addresses Claims It Stymied Phone Launch
Google has defended itself against claims that it thwarted collaboration between Taiwan-based computer company Acer and Chinese e-commerce company Alibaba.
According to SlashGear, Google insisted that the Aliyun operating system — which the Acer/Alibaba phone would have operated on — was a rip-off of Google's Android.
According to the Google+ account of Andy Rubin, senior VP of Android, Google claims that Aliyun uses Android's runtime, framework and tools, and that Aliyun's app store contains both legitimate and pirated Android apps.
Rubin also took to the official Android blog to say that Android was eager to collaborate with other companies, but that the Acer/Alibaba phone wasn't all that collaborative.
Alibaba's Jon Spelich told Cnet that Google's claims were bunk.
Apple Scores Patent Win in Germany
Apple won a judgment against Google-owned Motorola Mobility in Germany, forcing the recall of all Android tablets and smartphones that infringe on Apple's "rubber band" scrolling patent, according to The Guardian.
The rubber band feature was also a focal point of a recent Samsung/Apple case in the United States.
The Germany decision, which came on Friday, will not force an immediate recall. Apple will first have to request a ban on specific products and provide a Euros 25 million ($32 million) bond. Plus, Motorola Mobility can appeal, which means the actual recall — if it happens — could take awhile.
In April, Motorola won a case in Germany that forced Apple to disable the "push delivery" of email to iPhones and iPads after it was deemed to infringe on Motorola patents.