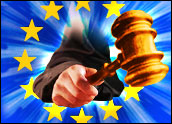 This week's landmark ruling from the European Court of Justice, which says that Google and other Internet companies could be forced to remove search results upon request, has been a hot topic around the globe.
* The ruling was "astonishing," according to Wikipedia founder Jimmy Wales, who said that it was "one of the most wide-sweeping Internet censorship rulings I've ever seen."
Wales, like anyone who read the ruling, noticed that the parameters for judging whether content be removed were exceptionally ambiguous. This puts Google in dilly of a pickle, Wales told BBC Radio, forcing the company to determine things like relevance — and face legal repercussions if it is wrong.
[BBC]
* The ruling was either a) "an eerie parallel" to China's Web censorship or b) "a huge incentive for tech investment to get the hell out of Europe," opined James Ball in The Guardian.
* Google already has received requests to remove objectionable material, according to a source cited by Reuters. The company has not yet determined how it should handle what is expected to be a deluge of removal requests.
[Reuters]
* Google Executive Chairman Eric Schmidt addressed the court ruling at Google's annual shareholders meeting. The decision reflects "a collision between a right to be forgotten and a right to know," Schmidt said, adding that in Google's eyes, the EU court didn't strike the right balance.
Nintendo Launches Tethering App
Nintendo on Thursday began offering a 3DS tethering app for certain smartphones and tablets on Japan's Docomo network.
The Android-compatible app, Kantan Tethering, is available through Google Play and Docomo's bundled dmenu app.
The app is not a mobile game, but the move is noteworthy given Nintendo's years-long refusal to bring its characters and games to smartphones and tablets. (Three straight years of red ink tend to make one reconsider things.)
At present, Kantan Tethering is available only on Samsung's Galaxy S5, which is being released in Japan Thursday and is on sale via the country's biggest carrier, Docomo.
[Source: Tech In Asia]
Snowden Book Could Become Movie
Sony Pictures has optioned the book No Place to Hide, giving it the rights, should it so choose, to turn it into a movie.
No Place to Hide was penned by Glenn Greenwald, the journalist who first dropped the National Security Agency bombshell last summer. It chronicles how Greenwald began working with Edward Snowden, Snowden's motivation, and other surveillance-related goodies.
Barbara Broccoli and Michael G. Wilson of EON Production reportedly will be tasked with turning the book into a film. Broccoli and Wilson coproduced a series of James Bonds films.
Sony is mum on when its release is expected.
[Source: The Register]
Telephone Company Questioned NSA Program
In 2009 and 2010, a telephone company questioned the legality of a National Security Agency program that systematically collects records of Americans' calls, according to court docs declassified Wednesday.
The disclosure is the first known instance of a phone company putting up resistance against bulk data collection. It also throws egg on the face of Judge Claire Eagan of the Foreign Intelligence Surveillance Court: Last summer, Eagan intimated that no companies had questioned the legitimacy or legality of the program.
[Source: The New York Times]