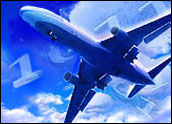 Travel apps open a whole new world for vacationers and business travelers alike. However, there are now so many travel apps that it's hard to determine which will render the best and most frequently updated information.
Muddying the issue further, app stores tend to list flight and hotel apps first and leave the fun and wonky and offbeat apps buried somewhere underneath. To liberate you from that app rut, here are some suggestions and "did ya knows" to make your next trip truly memorable.
Best Apps for Traveling Abroad
Momondos is a free iPhone app that sorts through more than 1,000 websites to find the best travel deals on everything from flights to high-speed rail.
Results for U.S. domestic flights are a bit sketchy, but it's great for making travel arrangements elsewhere in the world. This is a very lean, deep-search app with no trip itinerary functionality. It has a very handy filter that allows you to easily compare flights by price, departure times and other criteria, and thus easily figure out which you actually want to take (a huge plus for anyone who has ever had to toggle between multiple windows to compare flights on numerous airlines). Weirdly, you have to go to the actual website to make hotel reservations.
The Lonely Planet mobile app offers city and country guides with a lot of truly helpful detail. Here you find more than tourist traps — little known area secrets, local favorite sites, and travel tips are featured. Download the city or country guide you want, and then use it online or off. Did you know that this app will guide you back to your hotel, group or to a new destination? No worries then, if you can't read the street signs or speak the local language.
The Rail Europe app is a digital itinerary, rail guide and alert system rolled into one. The free app allows travelers to choose the route, select a seat, and book tickets directly from their iPhone or iPod touch. The app uses geo-location technology to provide side-trip suggestions available by rail, calculating the time and distance to identify realistic rail journeys that will add to the overall vacation experience.
Rail Europe represents more than 35 railroads that travel in most European countries, thus offering a wide range of passes and point-to-point rail tickets. It's a cheap and easy way to see Europe and to make spontaneous additions to your vacation plans. Did you know that most Europeans travel by high-speed rail? It's a fast and pleasurable way to travel in and between countries.
Best Apps for Location Tracking and Mapping
Find-ER by Air Ambulance Card, a free iPhone app for travelers, allows you to map the closest hospitals with the touch of a button. The app also allows you to enter emergency contact information, physician and insurance details, and allergy and medication information so that doctors and nurses in the emergency room can quickly get that information. Did you know this app was originally developed for Air Ambulance Card members but is now open to the public?
Glympse is a great app for sharing your location with a private group or individuals. It can be used to follow someone traveling alone on a road trip to ensure their safety. Trip progress is shown in near-real time on a map that someone else can see for a limited time.
A parent, for example, can watch a teen driver on a long trip to a concert or a college dorm. Family members can see how close dad is to arriving and joining the rest of the family on vacation. Colleagues can find each other on the show floor at a huge convention. A vacationing group that has divided up in order to sightsee in different places can keep track of where the rest of the party is.
Practical applications for this app are nearly endless. The timer can be set so that a user's location can only be viewed for a set amount of time, thus ensuring privacy — but also protecting phone battery life. Did you know that this app is a bit of a battery hog?
Best Apps for Sightseeing
Walt Disney World Complete Travel Guide is an iPhone app developed by Doug Ingersoll, a Disney travel guide and member of the Walt Disney World Moms Panel. The app has age rankings for rides, show times, and dining guides complete with sample menus and prices. It's perfect for planning a trip, with or without kids, that uniquely suits your interests.
This app covers all four of the Walt Disney Resort theme parks — Magic Kingdom, Epcot, Disney's Hollywood Studios and Disney's Animal Kingdom — and other features on Walt Disney property, such as water parks and shopping. Did you know that this app also discloses insider secrets such as FASTPASS, Extra Magic Hours and Magical Express? It also includes fishing, golf, major annual events, annual crowd and weather trends, and other helpful information.
TravelTrot produces two museum finder apps for the iPhone, New York Museum Finder and London Museum Finder. Both reveal little known cultural gems, specialty and mainstream museums that can be sorted by user rating, name, location or type filters. Did you know that most museums are free attractions and therefore can stretch your travel budget?
ShipMate is the iPhone and Android app for all major cruise lines. The majority of its features can be used offline, which is great considering most cruise ships charge US$35/hour or more for an Internet connection.
You can plan land excursions on the app and use a budget tool to keep up with what you are spending while at sea, so you don't get a shock when the bill is settled at deboarding. You can chat with fellow cruisers and exchange contact information with those you want to continue to hang out with after the cruise is over.
There are ship maps and ship tracking to show you where you are and how to get to where you want to be. Packing checklists and other features are very helpful too. Did you know that it is always windy onboard a ship? Better pack a light jacket and long pants if you plan to sit on deck.
It Happened Here is an app for iPhone and Android that reveals historical events, movie scenes, famous crimes, political scandals and other interesting events that have happened in or around your location — or any location you enter in the phone. Very cool and interesting location-based trivia that can be filtered any way you want. This app is big on "Did you Know" entertainment.
AANRmobile, the official app of the American Association for Nude Recreation, keeps nudists connected and aids their travels to numerous nudist camps and venues across the U.S. The app is helpful to both the AANR members and to people interested in looking into social nude recreation. Did you know that nude and clothes-optional vacations are referred to as "Nakations" by nudists groups?
Best Apps for Luxury Travel
The new iPad app recently launched by luxury travel giant Abercrombie & Kent is an immersive experience tailored to the luxury traveler. The World of A&K is a free app filled with breathtaking photography and video of exotic destinations. This app is not the usual fare of planes and chain hotels, it's about hot air balloon trips in Cappadocia, safaris on the Serengeti plain, shopping at the Pushkar Fair, and ice treks in Antarctica.
The app is a very snazzy setup with expandable pages, design cues and unobtrusive dropdown menus, and it's every bit as rich as the customers it serves. There are only about 26 destinations featured on the app at the moment, but that will change over time — and you can always jump over to the website if you want more. Did you know that special deals on exotic locations can be less expensive than many domestic destinations? They can! And you just might find them with this app!
Recently launched Hg2 A Hedonist's Guide covers cities across the globe — from the main stomping grounds of London and New York to off-the-wall and up-and-coming destinations like Baku and Almaty.
The app features augmented reality and traveler reviews of restaurants, bars, attractions, spas, shopping and other interesting "to-do" stuff. Did you know that this app's content is written by local experts, and the app accepts no advertising? That means recommendations are editor choices rather than ad-pushed selections.
Jetsetter.com, the leading members-only travel site, recently launched its Jetsetter App for iPad featuring 360-degree immersive, high-definition images that provide a virtual window into Jetsetter's hand-selected, verified hotels and resorts around the world.
Collections cover a variety of vacation themes, such as Vacation Like Royalty. Did you know that the app's homepage prominently features a rotating slide show of hotels on sale at prices up to 50 percent off? Yeah, even part-time or wannabe jetsetters can take some of these trips too!