From programmable robots to robotic family pets, toy robots are pushing the limits of interactive technologies.
"Robotics is definitely influencing toys, and there are plenty of robots to talk about," The Toy Insider's Laurie Schacht told TechNewsWorld.
Smart and Silly
With its Mindstorms robot sets, LEGO is one of the leaders in the toy robotics industry. Users can design and program their own robots, and the soon-to-be-released Mindstorms EV3 promises a more advanced platform and more complex design possibilities.
"Kids create these intricate robots, program them, and finally get to play," said Schacht. "It's fun and learning combined."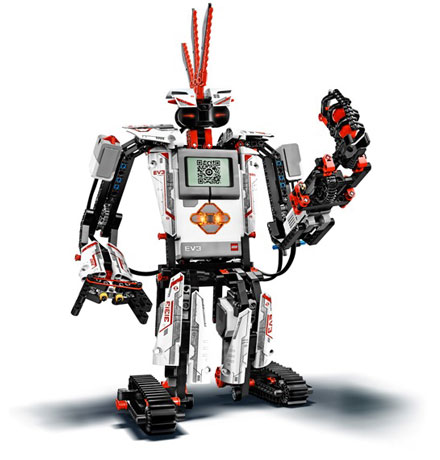 LEGO Mindstorms EV3 Everstorm
Other robotic toys, such as Spin Master's pet robot Zoomer, are somewhat simpler and geared toward even younger children who might not be able to design and program a robot.
Zoomer obeys certain voice commands, learns new tricks, and senses when his belly is being scratched.
"This is a silly, cute, interactive dog with all of the fun and none of the responsibility," said Schacht, "and he actually listens and learns."
The WowWee Factor
WowWee's robots, including its popular Robosapien, are also at the forefront of interactive toys. Robosapien was one of the first toys based on the science of biomorphic robotics — meaning it imitates the mechanics, systems and sensors of a real body.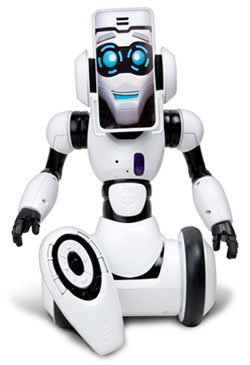 WowWee's RoboMe
The company's remote-controlled robots have dynamic motion capabilities and interactive sensors that make them seem alive, which is an important illusion in the world of robotic toys.
"We're trying to develop synthetic systems that mimic the structure and outputs of biological systems," Peter Yanofsky, founder and president of WowWee, told TechNewsWorld. "We want everyone to enjoy robots."
The company's new RoboMe is designed to be used with an iPhone, which allows it to interact with users, recognize faces, and be programmed to respond to certain keywords and phrases.
"Once you put the iPhone in its head, you can customize it," explained Yanofsky. "It has full telepresence and full customization of triggers."
RobotMe, in essence, becomes an extension of the person using it.
"You can customize anything it says, so it becomes you — it becomes your alter ego," said Yanofsky. "It's very fun."
Buying Into the Future
Perhaps the most important factor influencing the availability and success of toy robots is pricing. After all, parents need to be able to afford robots for their kids to have access to them.
"The critical point for the toy industry is the ability to deliver cool functionality at an attractive retail price," toy consultant Steven Reece told TechNewsWorld. "For a high-end feature toy, (US)$50 would be a great price, [but] more than that becomes a risk, as the purchase has to stack up against video game consoles, tablet devices and other aspiration tech."
The integration of technology with toys is nothing new, but the kinds of technologies being incorporated into toys of all kinds, including robots, is evolving.
"Tech is part of our kids' lives — part of school, part of trips to the supermarket, part of how we travel — so it's no wonder that it will continue to develop more fully into our kids' playthings," said Schacht. "The integration of tech and toys is still a young market, but each year there are a few more things that are magical, even to a grown up like me."
Ultimately, robots are — perhaps more than any other toy — an indication of how we think about humanity.
"Robots are perceived as statements about our possible evolution as a species and about our future," said Yanofsky. "As we make them smarter and more capable, we allow people to put their own functions into their robots. They're a reflection of our own capabilities. Our goal is to create super toys."