It's extremely important to wear helmets when riding motorcycles, according to Jackie Gillan, president of Advocates for Highway and Auto Safety, but that's not just her personal opinion — it's based on clear facts about what happens in the case of a crash.
"We know from research that every time a state repeals its motorcycle helmet laws, there's an immediate jump in deaths and brain injuries from motorcycle crashes," Gillan told TechNewsWorld.
Head injuries are a leading cause of death in motorcycle crashes, according to the Brain Injury Association of America.
However, helmets reduce motorcyclist deaths by 37 percent and brain injuries by 67 percent, according to statistics from the National Highway Traffic Safety Administration. In 2009, helmets saved the lives of 1,483 motorcycles, and 732 lives could have been saved if all motorcyclists had been wearing helmets.
Some states require motorcyclists to wear helmets, but there are strong lobbying efforts to repeal or restrict those laws. Such movements — and their appeals to personal freedom and liberty — are a mistake, in Gillan's view.
It's not just a matter of personal choice, she argued. There are a number of real social costs involved when a helmetless motorcyclist crashes and requires medical care.
"When you're riding on public roads, and you're picked up by an ambulance funded by public money, and you go to a hospital supported by public funds, you're incurring a social cost," said Gillan. "It really isn't an individual decision, any more than wearing a seatbelt or not driving drunk."
Helmet Wish List
Riders can be confused by all the bells and whistles on today's motorcycle helmets, but many of the features to look for are based on common sense, said Karen Aldana, director of media relations with the NHTSA.
"Consumers should look for a helmet that fits snugly and comfortably and is compliant with safety standards," Aldana told TechNewsWorld. "A compliant helmet will have a thick — about one inch — rigid inner lining, and the DOT label will be attached to the center back of the helmet. Also, the straps will be firmly attached to the helmet."
Features that make helmets more comfortable can be just as important as safety features, she noted, since they ensure that consumers will want to buy and wear the helmets.
"Consumers may find a range of options in helmets that comply with safety standards," said Aldana. "They do not make the helmets more effective, but they may make the helmets more comfortable."
'Ultimate Street Helmet'
Many riders don't like helmets because they restrict visibility or sound, but helmet designers and manufacturers are addressing those concerns by creating helmets that are safer and more usable than ever.Icon, for instance, recently released its Variant helmet, which features some of the newest helmet technologies.
"The Icon Variant helmet is our most-advanced helmet yet, as far as aerodynamics and street rider-specific features are concerned," Justin Knauer, operations manager for Icon, told TechNewsWorld. "It meets what we call the '4 World Standard,' by passing the toughest safety standards in the world: ECE, DOT, AIS and SG."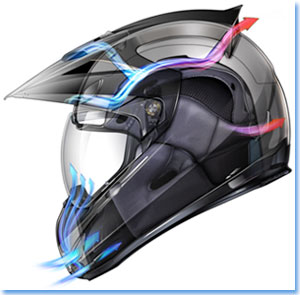 Icon's Variant Airflow
The Variant offers features that will appeal to many different kinds of riders in a variety of conditions and situations.
"The Variant features a complex 3D-molded shield and an eye-port designed to maximize a rider's view of the road," explained Knauer. "Being able to see where you are going on a motorcycle is the best safety feature you can build into a helmet. Now add the peak flow visor that is on top of the Variant for blocking out sunshine and rain, and you'll see why we call the Variant the ultimate street helmet."
The company continues to evolve new helmet designs and technologies to meet the demands of 21st-century riders, Knauer noted.
"There are some really exciting things in store for the Icon helmet line," he said. "We're constantly refining everything in the collection, and helmets are a part of that process."
'Most Aerodynamic Helmet'
Want Bluetooth connectivity in your helmet? Schuberth has you covered — and in a helmet that's aerodynamically designed, as well.
At the recent Progressive International Motorcycle Show in Cleveland, Ohio, Brian Doelling, special events coordinator with Schuberth North America, told TechNewsWorld the helmets in the Schuberth booth were "the lightest, most aerodynamic modular in the world.
"We didn't want a big box on the side of the helmet," he added.
'Smart Helmet'
Scorpion also is at the forefront of new helmet technologies. Its EXO-1100, for instance, has been billed by the company as a "next-generation helmet."
The shell is constructed from its exclusive Thermodynamical Composite Technology material, and it features an all-new EPS liner.
"Think of it as a 'smart helmet' when it comes to its ability to absorb impact," said Michael MacGregor, a product manager for Scorpion Sports. "The shell is able to gradually crumple on impact, which allows it to absorb much of the energy generated by the shock, while still retaining the majority of its structural integrity."
The helmet has a variety of high-tech features to make the helmet appealing and usable for riders, including a special coating that ensures the inner visor never fogs up, no matter what the riding conditions. It also features a helmet inflation system that lets the rider inflate cheek pads for a perfect fit.
Scorpion continues to research new ways to make safer and more rider-friendly helmets, MacGregor told TechNewsWorld.
"In regards to the future, we have an aggressive plan for growth in 2012," he said, "which includes launching several new helmet models and a massive expansion to our apparel lines."