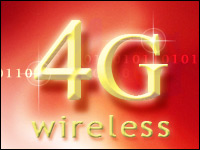 Though most major U.S. wireless carriers today tout the ubiquity of their third-generation, or 3G, wireless networks, they are simultaneously planning for the future, pushing the development of fourth-generation (4G) networks that they hope we'll all be using in a matter of years.
Two of the best-known 4G technologies now on the horizon are WiMax, or Worldwide Interoperability for Microwave Access; and LTE, or Long Term Evolution. However, these two different technologies will likely take different paths in their development and eventually be used for different applications.
Although WiMax is currently being rolled out and LTE is still in an earlier development stage, LTE perhaps stands a better chance to win out as the technology of choice for cell phones; WiMax, on the other hand, will serve more as a wireless broadband network.
Tech Details of WiMax
There are two types of WiMax technology: Fixed WiMax and mobile WiMax.
Fixed WiMax is based on the 802.16-2004 standard, also known as "802.16d." It does not support mobility — it's used for fixed wireless networks.
Mobile WiMax is based on 802-16e-2005, an amendment to 802.16-2004. It is also known as "802.16e."
WiMax can be used to provide a wireless alternative to cable and DSL for what carriers call "last mile" broadband access — the final part of connectivity from the carrier to the consumer.
WiMax is also used in disaster recovery situations. Intel donated WiMax wireless equipment for deployment in Louisiana to help rescue workers after the state was devastated by Hurricane Katrina in 2005, for example.
The California Department of Transportation jointly deployed a WiMax system with the California Highway Patrol on California State Route 99 in the San Joaquin Valley to provide drivers with real-time speed and visibility information to reduce the impact of the area's thick fog.
Tech Details of LTE
LTE is a set of enhancements to the Universal Mobile Telecommunications System (UMTS) being worked on by the 3rd Generation Partnership Project (3GPP).
The 3GPP is a group of telecommunications standards bodies. Its scope is to maintain and develop technical specifications for GSM, including evolved radio access technologies such as the General Packet Radio Service (GPRS) and Enhanced Data rates for GSM Evolution (EDGE).
GSM stands for Global System for Mobile communication. It is the most widely used cellphone communication standard today.
LTE will support seamless connection to existing networks such as GSM, CDMA-1, W-CDMA, UMTS, and CDMA2000, all of which are in use.
It supports peak download rates of up to 326.4 Mbps (megabits per second) for every 20 MHz of spectrum; peak upload rates of 86.4 Mbps for every 20 MHz of spectrum; and offers increased spectrum flexibility to maximize the number of users on a carrier network.
WiMax on the Ground
WiMax is deployed today, Godfrey Chua, a research manager at IDC, told TechNewsWorld. However, its main applicability is in developing broadband over wireless services in emerging countries.
"It's much more cost effective to put up a WiMax-based system in a developing country rather than digging up the ground and putting in copper lines," Chua said.
In the U.S., where 3G services are common, WiMax may end up being an alternative to DSL. Sprint has some WiMax networks in various cities in the U.S.
"Right now, the value proposition for WiMax is it's a little bit faster than 3G service from Verizon or AT&T, but it's cheaper," Chua said. "It's a little more expensive than DSL, but you can get service outside of your home."
Navigating The Tangled WiMax Web
This is where things get complicated. Sprint had its own 4G unit, Xohm, which it merged with Clearwire to form a new corporation, also called "Clearwire," to speed the deployment of WiMax.
Clearwire has a wireless broadband service in parts of the U.S. and Europe. This is based on the Motorola Licensed Point-to-Multipoint Expedience system, which is part of the MOTOwi4 family of products.p>Sprint holds a 51 percent interest in the new Clearwire. Existing Clearwire shareholders got 27 percent of the new company, and a consortium consisting of Comcast, Time Warner Cable, Intel, Google and Bright House invested $3.2 billion for the remaining 22 percent of the new company's shares.
Sprint and Clearwire each have their own 4G network.
On June 29, Comcast announced that it launched WiMax service in Portland, Ore., over Clearwire's network as part of a nationwide high-speed wireless data service.
Sprint's Xohm division launched WiMax in Baltimore in the fall of 2008, prior to the merger forming the new Clearwire, and Sprint has a plan to roll out WiMax service nationwide over time.
"This summer, Sprint will offer Sprint 4G branded WiMax in Portland (Ore.) as well," Sprint spokesperson Stephanie Vinge-Walsh told TechNewsWorld. "We will launch Sprint 4G in Atlanta this summer and plan to launch Sprint 4G in Philadelphia sometime in 2009."
Other markets where Sprint will roll out 4G under its own brand this year include Las Vegas; Chicago; Charlotte, N.C.; Dallas/Ft. Worth; Honolulu; and Seattle.
In 2010, Sprint will roll out its branded 4G service to New York; Boston; Washington, D.C.; Houston; and the San Francisco Bay Area, Vinge-Walsh said.
The Global Picture
Worldwide, there are almost 460 WiMax networks deployed in 135 countries, covering 435 million people.
Vinge-Walsh said the coverage is expected to grow to 800 million people by the end of 2010.
"There is an ecosystem of other companies that has converged around WiMax globally: Intel; Samsung; Motorola; Google; ZTE; Zyxel," Vinge-Walsh pointed out. "Clearwire has partnered with these companies to develop the ecosystem and technology to create the WiMax infrastructure."
Intel and WiMax
Chip manufacturer Intel has invested heavily in WiMax over the years.
Last month, it announced that it has invested US$43 million in UQ Communications, a provider of WiMax mobile services in Japan. UQ is building a nationwide WiMax network there.
Intel has worked with carriers around the world on building WiMax networks and has developed a combined WiMax/WiFi module, formerly code-named "Echo Peak," as part of the WiMax-WiFi Link 5050 Series. This is an optional feature for Intel Centrino 2-based laptops.
WiMax's capabilities as a wireless broadband technology have led many computer manufacturers to include WiMax cards as a standard feature in their laptops. These vendors include Acer, Asus, Lenovo and Toshiba. Dell, Panasonic, Samsung and Sony also plan to offer laptops with built-in WiMax capabilities this year.
Where in the World Is LTE?
LTE is a little further off than WiMax, but it's on its way. "Verizon, AT&T and T-Mobile USA have already committed to LTE, so it's just a matter of choosing LTE infrastructure providers, defining the LTE specs, rolling out the LTE network and so on," Julien Blin, CEO and principal analyst at JBB Research, told TechNewsWorld.
Verizon's biggest single shareholder is UK carrier Vodafone, the second largest mobile operator in the world. Verizon's size and its decision to go the path of LTE changed the dynamics of the market.
"When Verizon decided it would move towards LTE rather than UMB, which was the CDMA path, that prompted Alcatel-Lucent and other technology companies to create a path of interoperability between CDMA and LTE," IDC's Chua said.
This freed up a lot of money for research and development that would otherwise have been spent on developing UMB equipment.
The Future
By the fourth quarter of 2010, Verizon may begin deploying LTE networks, Ashvin Vellody, Yankee Group's senior vice president of enabling technologies, told TechNewsWorld.
Other operators will follow, he predicted.
Sprint might be one of those, Blin said. "Remember, Verizon, a CDMA carrier, is set to migrate towards LTE; we're likely to see other CDMA carriers, including Sprint, following suit to benefit from the economies of scale."
Several handset makers have already begun working on developing devices to run on LTE networks. Once LTE networks are in place, the handsets should move well, Blin said.
Although LTE will be the eventual path for most wireless carriers, they will implement LTE differently, Yankee Group's Vellody said.
"Each carrier and operator will think about its financial position, business strategy, and the availability and acquisition of spectrum," he explained. "Those are the three key factors impacting what operators decide to do with LTE."