Foldable phones faced a setback on Monday when Samsung announced it was postponing indefinitely the release of its Galaxy Fold, which had been scheduled to reach retail shelves in the United States this Friday.
Samsung pumped the brakes on release of the US$1,980 phone after several reviewers reported problems with their units.
---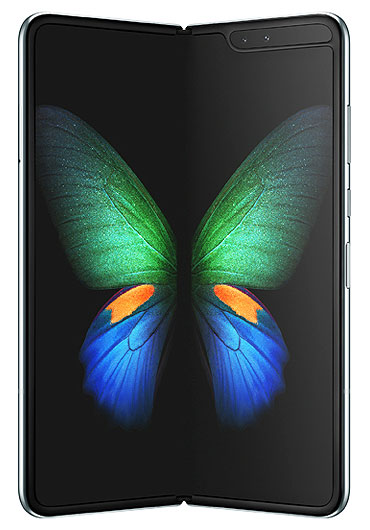 Galaxy Fold
---
"I still don't know how I got the bulge in my first Fold's hinge that ultimately destroyed its flexible OLED panel, but it happened," wrote Dieter Bohn for The Verge.
Reviewers for Bloomberg and YouTube reported their units began malfunctioning after they removed an integral part of the display, mistakenly thinking it was a plastic screen protector.
CNBC reviewer Todd Haselton wrote that he left the plastic film intact, but the display still started acting buggy. The left side of the flexible screen began to flicker consistently.
Further Improvements Needed
Samsung acknowledged that the experience of the Fold's early reviewers indicated the device needed further improvements to ensure the best possible user experience.
The company decided to delay the Galaxy Fold release in order to evaluate the feedback and run further internal tests, and said it would announce the release date in the coming weeks.
Initial findings from the inspection of reported issues on the display showed that they could be associated with impact on the top and bottom exposed areas of the hinge, the company noted.
There was also an instance where substances found inside the device affected the display performance. Samsung said it would strengthen the display protection, and enhance guidance on care and use, including the display's protective layer.
Upholding Standards
While the delay in the Fold's availability will disappoint some consumers, Samsung has taken the right path, said Ramon T. Llamas, senior research analyst at IDC, a market research company in Framingham, Massachusetts.
"This is a very smart step on their part. They're taking the time to address the issue and treating it with urgency," he told TechNewsWorld.
"When you delay a worldwide launch for something like this, it shows the company has standards that it's willing to uphold," Llamas said.
The delays likely will hurt initial sales of the phone, because people will be concerned about its quality and reliability, said San Jose, California-based Kevin Krewell, principal analyst at Tirias Research, a high-tech research and advisory firm.
"That's still a better outcome than shipping the product prematurely and dealing with returns and further bad reviews," he told TechNewsWorld.
Niche of a Niche
However, it's possible the delay in releasing the Fold will have little impact on its sales, suggested Patrick Moorhead, principal analyst at Moor Insights and Strategy, a technology analyst and advisory firm in Austin, Texas.
"This is already a limited-production-run luxury phone, and the company will sell as many as they can make," he told TechNewsWorld.
Samsung is going after a niche of a niche users with the Fold, observed IDC's Llamas.
"This phone isn't cheap," he said. "For many people, it's more than a mortgage payment."
What's more, "the number of applications that work with the larger display is limited to a handful. You could be waiting indefinitely for your favorite apps to come on board," Llamas pointed out. "Only a small group of people will understand and value of the Fold enough to buy it. This isn't going to replace your Galaxy S9 or 10."
Black Eye for Samsung
Demand for the Fold will be limited, said St. Paul, Minnesota-based Gerrit Schneemann, senior analyst at IHS Markit, a research, analysis and advisory firm.
"The Fold is a super-premium, first generation device," he told TechNewsWorld.
"I don't believe that either Samsung or Huawei, for that matter, anticipate selling large volumes of these devices," Schneemann added.
By postponing public access to the phones, Samsung is saved the embarrassment and financial repercussions of a recall, which it had to do with the Note 7.
Samsung's Note 7 made headlines in 2016 by having a proclivity to burst into flames. The company recalled some of the units and began reissuing new ones to affected buyers. When the replacement units also began catching fire, the company finally terminated production of the model. The fiasco cost Samsung billions of dollars.
"It is another black eye for the company, though, as some issues clearly were not detected before sending review units to the media," Schneemann noted.
A Minor Glitch
Since the Fold is the first in a new category of mobile phones, its market performance could influence how the category does in the future.
"As long as no consumers are affected, and there are zero to date — just reviewers — this won't affect the category," predicted MI&S's Moorhead.
"It's a brand new category — there will be setbacks. But it is a wake-up call for any other folding-phone vendor that they need to make their phone bulletproof at launch," Tirias' Krewell said.
"I can see Huawei now doubling down on their own testing to avoid a similar situation," observed IHS' Schneemann. "For most other OEMs, foldable screens are still in the future, so there is time to resolve issues."
Foldables are going to be important, so Samsung's latest snafu won't affect their popularity in the long run, suggested Jack E. Gold, f principal analyst at J. Gold Associates, an IT advisory company in Northborough, Massachusetts.
"Foldables have a good future," he told TechNewsWorld.
"It's the form factor — everyone wants bigger screens," Gold said. "The notion that everyone wants a 3.5-inch phone has been gone for years. I think foldables are going to be around for a long time. The Fold's problems aren't going to affect the market overall — it's a minor glitch."