In recent years, CES largely has usurped theNorth American International Auto Show in Detroit as the "first auto show of the year." Automakers have used the annualLas Vegas shindig for all things consumer electronics to highlight thelatest technology in vehicles.
So perhaps it was fitting that thisyear NAIAS, more commonly known as the "Detroit Auto Show," looked a bitmore like a technology trade show than a car show.
In addition to the major automakers' press eventshighlighting vehicles that soon could be on road and futuristic concepts cars, this year's auto show featured sessions on artificial intelligence, autonomous vehicle systems, vehicle security and mobility.
---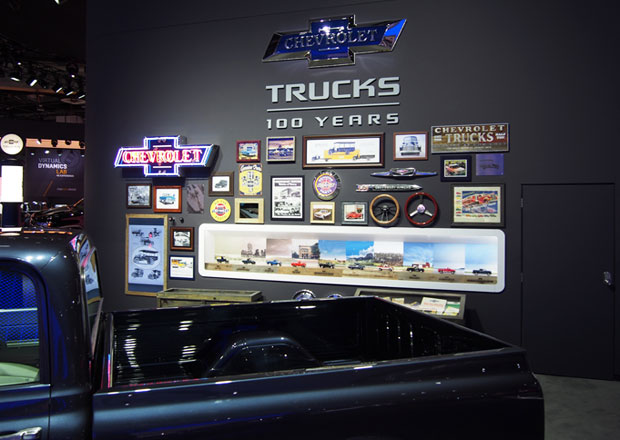 GM highlighted 100 years of the truck at its booth at NAIAS — showcasing the evolution of what has become the fastest-growing segment of passenger vehicles.
---
The show floor at Detroit's Cobo Hall featured numerous displays of tech.
NAIAS, which opened to the industry and press on Sunday, featured akeynote address by U.S. Transportation Secretary Elaine Chao, who toldattendees that the government will introduce updated guidelines thissummer for autonomous vehicles. The update will be the third set ofvoluntary guidelines for autonomous vehicles issued by the federalgovernment since it introduced the first set in 2016.
Chao called on upon automotive executives and the media to educate the public on the future of driving, noting that security and safety remain a concern.
"The public and the private sectors have an obligation to lead by safely developing, testing and integrating this new technology into our transportation systems," Chao said.
---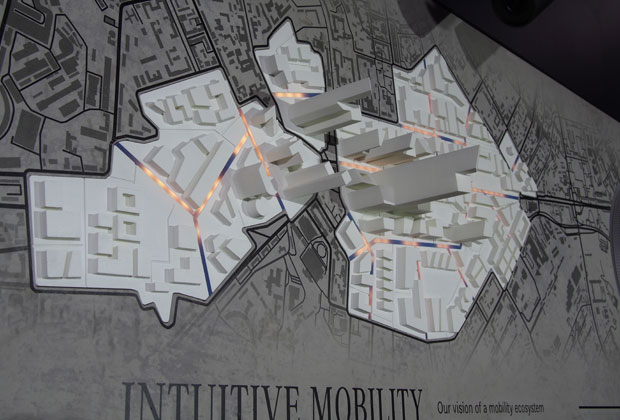 The technology within the autonomous vehicle is just one part of the mobility issue — cities may need to be retrofitted to handle the vehicles, but Mercedes demonstrated how special roads could be fit into the existing city grids.
---
"We've got to work together to ensure that our country retains itseminent position as a global technology leader," she added.
Safety and Security
One of this week's biggest takeaways from the Detroit Auto Show wasthat automakers, including Ford and GM, will continue to work closely with tech companies such as Intel and BlackBerry in developing autonomous vehicle technologies.
---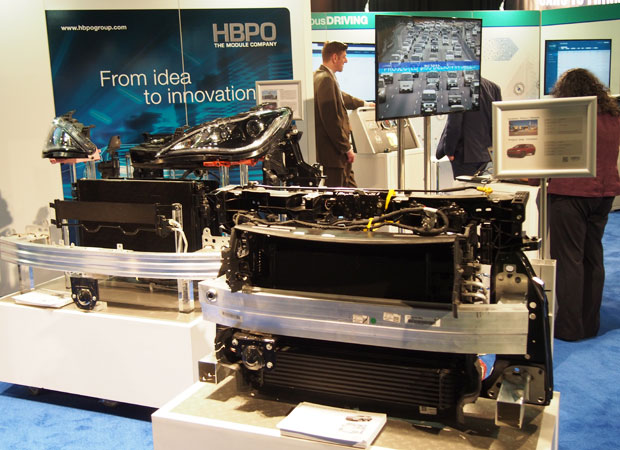 The front ends of driverless vehicles won't be just a bumper and grill but will contain the various sensors that will allow the car to navigate on the roads.
---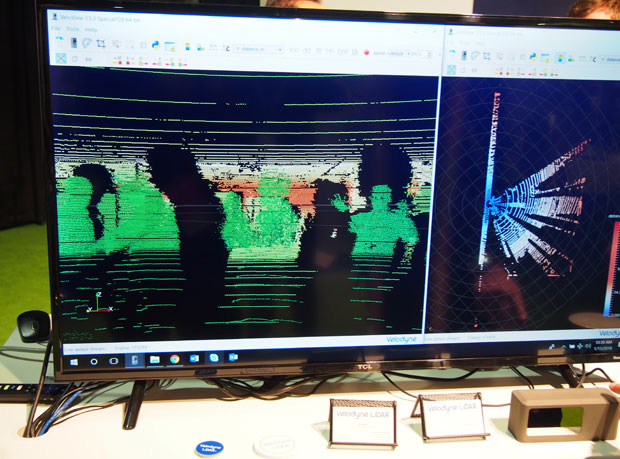 Sensors such as LIDAR see in very different way from the human eye. The green on this display shows how a driverless car might distinguish humans from the surroundings.
---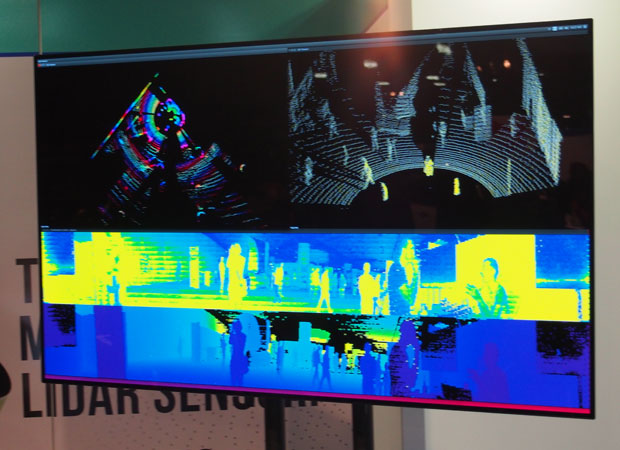 Another LIDAR display shows how sensors in an autonomous vehicle can track people and movement on different visual spectrums.
---
However, it's not clear whether the industry is heading downthe right road — there may not be a market audience at thedestination. Chao cited a recent AAA survey that found that 78 percentof Americans expressed fear of even riding in an autonomousvehicle.
On the other hand, just 47 percent of U.S.consumers who participated in a recent Deloitte survey felt that a driverless car would be unsafe. That represented asubstantial drop from last year, when 74 percent of those polled feltthat autonomous vehicles would be unsafe.
---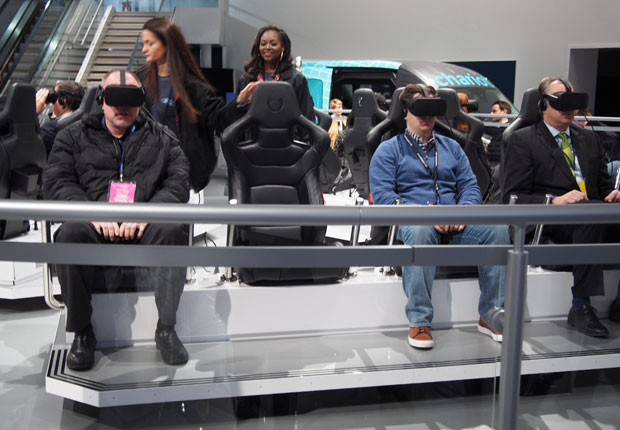 Ford put attendees of the auto show in the passenger seat on a future road where autonomous vehicles will do the driving!
---
BlackBerry, in particular, was quick to address theimportance of security at the auto show. CEO JohnChen on Monday introduced the company's latest cybersecurity product, onedesigned specifically for vehicles. BlackBerry Jarvis can scan allsoftware components within a car and then predict and even fix anyvulnerabilities.
"Connected and autonomous vehicles require some of the most complexsoftware ever developed, creating a significant challenge forautomakers who must ensure the code complies with industry andmanufacturer-specific standards while simultaneously battle-hardeninga very large and tempting attack surface for cybercriminals," Chen said during the BlackBerry keynote session.
Those comments were echoed by Sandeep Chennakeshu, president of BlackBerry Technology Solutions.
The same security platform that was instrumental in making BlackBerrysmartphones the preferred choice of government andmilitary officials alike is being utilized with BlackBerry Jarvis.
"We've enhanced what made our handheld devices so secure and appliedit," Chennakeshu said during the BlackBery keynote address. "What differentiates us is you can keep adding engines to scan new codes. When you have 20,000 files from hundreds of partssuppliers, you have to know you can trust the integrity of the codes."
Automobili-D Showcase
Although the willingness of consumers toembrace the autonomous vehicle remains uncertain, NAIAS already has embraced the companies behind its development. TheMichigan Economic Development Corporation played a major role in supporting Automobili-D, the second year for an event thatbrought more than 50 startups from around the world to Detroit.
---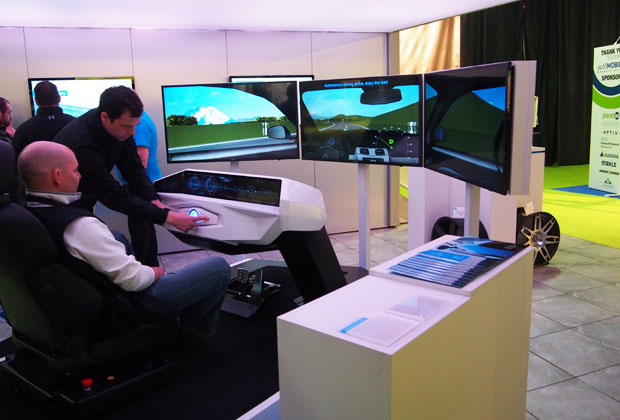 The future vehicle may look more like something out of a sci-fi story as noted in this presentation in the Automobili-D Showcase.
---
The event, which runs through the first weekend of the public show,has been described as a crucial connector of mobility startups toautomotive and mobility companies, suppliers and relatedorganizations.
These companies include firms that are working to developtechnology in five categories: the connected car,autonomous driving, e-mobility, mobility services, and smart cities.
---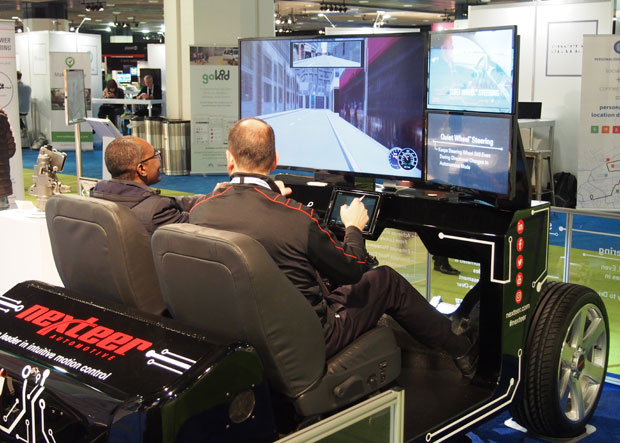 Another Automobili-D Showcase presentation that highlights the future where the car may do the driving.
---
Universities andother centers of learning also were present at the Automobili-D, including the University of Michigan, Wayne State University in Detroit and the University of Waterloo in Ontario,Canada. In total, this year's Automobili-D event has attracted 83 exhibitors.
VR, Simulators and Concepts
Perhaps one of the most notable ways that this year's NAIAS embracedtechnology was in the use of simulators, including augmented andvirtual reality. Normally at an auto show, all eyes are on the new cars, but this year afair number of exhibits guided viewers' eyes either to a screen or VR headset.
---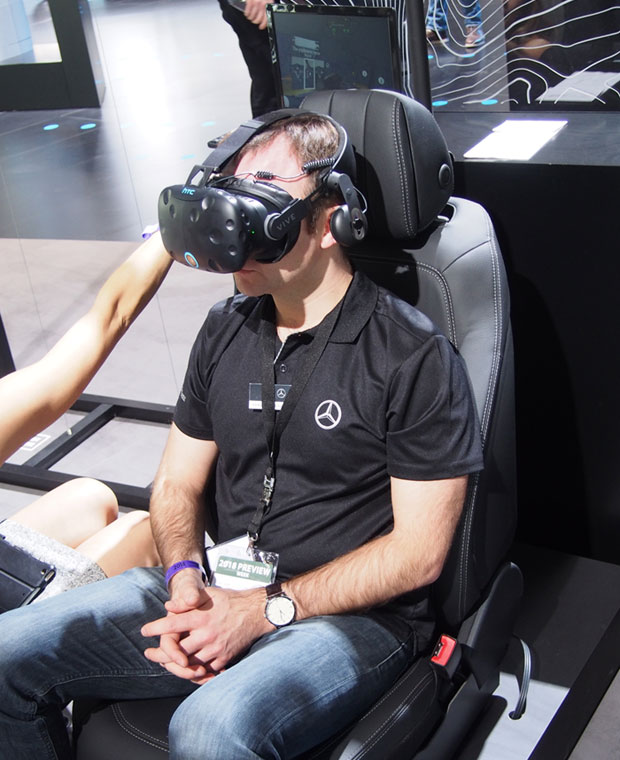 At this year's NAIAS all eyes weren't on the cars or models, many were looking at virtual reality presentations such as one offered by Mercedes, which highlighted its design process.
---
This isn't the first year that VR has been featured at the show, butMercedes and Ford each offered experiences that highlighted the design process as much as the actual driving experience.
---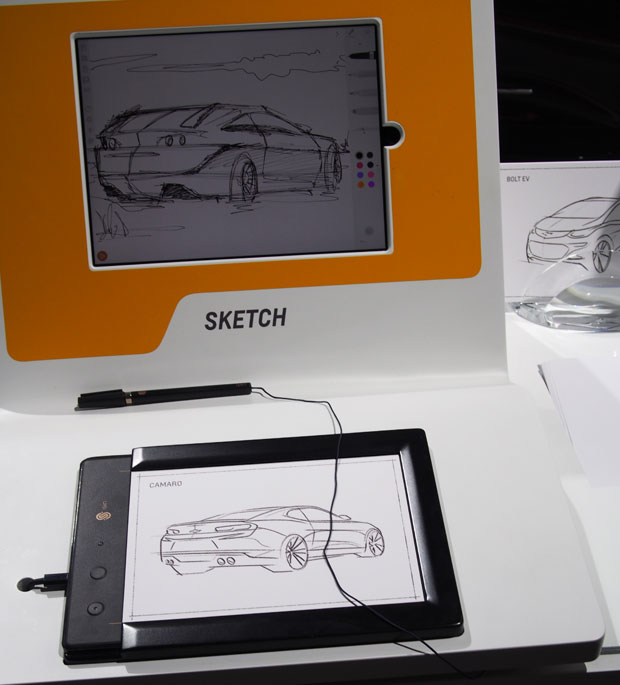 Designing a car isn't easy, but GM's DesignStudio presentation highlight how the process can now utilize freehand design with high-tech tools.
---
Ford kept things a little old school in thesimulation area, offering attendees a chance to ride in a RangerSimulator that resembled a high-end amusement park ride, providing a tactile experience to accompany the visuals.
---