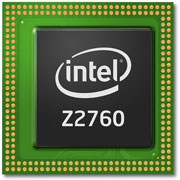 Since the arrival of Apple's iPad, tablet computers have primarily remained consumption devices targeting consumers. However, at Thursday's formal launch of its new Atom processor, formerly known by the code name "Clover Trail," Intel showed off eight new devices geared for the enterprise. The tablets, from partners including Acer, Asus, Dell, Fujitsu, HP, Lenovo, LG, Samsung and ZTE, are powered by the Atom Z2760 chip and feature the Windows 8 operating system.
The new devices, due in late October, are tailored for corporate customers, with support for productivity software including Word and Excel, and the ability to connect to peripherals such as printers. The tablets offer the promise of long battery life — up to 10-plus hours — while also being capable of streaming high-definition video, making these workhorses suitable for playtime as well.
"With its low-power capabilities and hardware encrypted security, the Z2760 Intel Atom processor opens up a new world of mobile possibilities and transforms expectations about what tablets can do," said Steve Chang, president of ASUS Computer International.
Tablets as Work Machines
Some of the new models will reportedly sport detachable keyboards and a stylus to facilitate content creation, thus filling a spot in the PC tablet space rather than competing in the media tablet space.
"The first tablet implementation was with the PC, and this is moving back in that direction," said Rhoda Alexander, senior manager for monitors and tablets at IHS iSuppli.
"The market is growing and getting ever more diverse," she noted.
"This is one of the things that is expected to give a boost to that market," Alexander told TechNewsWorld. "As far as going head to head with Apple or other media tablets, this is really a different product."
That doesn't mean this won't create competition for Apple in the more general tablet space.
"We have seen the tablet market really pick up steam over the last couple years, but it has really been a one-horse race," said telecommunications analyst Jeff Kagan. "The Apple iPad is in the lead and has crushed big name competitors like Google Android and others. Now Intel is jumping into this space."
Intel Inside
Intel could find itself in a strange place, as it has been quite comfortable in the driver's seat with desktop and notebook PCs for years. But with Microsoft looking to ARM processors for more portable devices that will run on Windows RT, it's clear the market is changing. It appears that Intel is looking to adapt.
Is that going to be easy for a company that has lead by design?
"On one hand, they are already a powerhouse in the same space with regards to computers," Kagan told TechNewsWorld. "On the other hand, tablets are a different type animal — and they really have to get this right. The Intel brand name will open the door for them, but winning is another story."
Down the road, the tablet market will continue to grow, but others will likely become successful, he added.
"However, we are not there yet. It has been a long and slow road for every competitor other than Apple," Kagan emphasized. "Based on what we have seen so far, I am not holding my breath that Intel will really make a splash."
Opening Windows
Moreover, while Microsoft appears to be hedging its bets with Windows 8 and Windows RT on tablets, Intel is looking squarely at the Atom processor and Windows 8. That bet could pay, as many traditional PC users may want the best of both the desktop and the tablet — something this operating system could provide.
"This is for those who need the Windows operating system but want touch when they're mobile," said Alexander. "It is showing the response from the traditional PC market to what is happening to the media tablet market. What we see is that media tablet has been on a sharp upward curve, while the others have been treading water.
The trick has been to create a marriage of the two without weighing it down she added. "It still needs to serve the PC users, so a lot will hinge on whether Win 8 delivers."