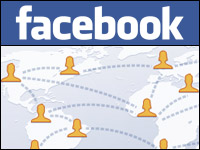 An unavoidable part of the holidays is finding oneself in a less than flattering photo, but in the era of social media those seemingly "private" photos can become "public" all too easily. Often this can prompt a person unwittingly displayed to start beating the privacy drum.
This week the cry for privacy came from a Zuckerberg — namely Randi Zuckerberg, former Facebook executive and sister of Facebook founder Mark. She apparently fell victim to the loopholes and uncertainties of social media privacy policies.
The flap began when Zuckerberg posted a photo of her family in the kitchen over the holidays, apparently intending it for a limited audience. However, it ended up in the news feed of a friend's friend, who subsequently posted it on Twitter.
Zuckerberg apparently was unhappy about this turn of events and lashed out.
"Digital etiquette: always ask permission before posting a friend's photo publicly. It's not about privacy settings, it's about human decency," she reportedly tweeted.
Facebook and Twitter apparently responded to her angst by removing the photo and associated posts.
Private vs. Public
The larger issue here is whether this is really about etiquette or about privacy settings. Zuckerberg clearly isn't the only one who has had a seemingly private photo or post going public — or worse, viral. If a Zuckerberg who was once a Facebook executive can end up caught in such a flap, what does that mean for less digitally experienced users?
"What this incident shows is that Facebook's privacy controls remain confusing even for the most sophisticated users," said Greg Sterling, principal analyst at Sterling Market Research. "In addition, even when used correctly, they can't guarantee privacy."
It also could be seen as a bit of digital karma.
"The Randi Zuckerberg Facebook/Twitter brouhaha is obviously longer on irony than it is on content quality," said Charles King, principal analyst at Pund-IT.
"Given her brother's — and his company's — callousness toward the privacy of Facebook users, it's easy to pigeonhole Randi Zuckerberg as a spoiled little rich girl with more chutzpah than self-awareness," he added.
"She's also got enough juice to erase her own mistakes," King told TechNewsWorld. "I consider this the technological equivalent of Superman flying around the world counterclockwise to turn back time."
Special Treatment
While the issue of privacy isn't likely to be settled by this debacle, it does present a unique look at how Facebook is handling this situation. Many average users likely can't expect the same level of treatment should something meant to be private go public.
"It also seems to me that there is a broader issues at play here: That Randi Zuckerberg's situation provides clear evidence of what in political terms might be called the '1 percent' of social networking — insiders with considerably more clout and resources than the vast majority of poor schlubs who use Facebook," King added.
"Upstairs/downstairs" handling of situations like this could results in cracks in the social network — and ironically this was brought on by a Zuckerberg complaining about the very same issues that long troubled average users.
The issue is whether this will blow over, as it likely could, or whether it might fester and grow. Either way, some users might be more careful about what they post and how they share it.
"The stratification of Facebook into separate classes is eminently logical and mirrors the variety and differentiation we see in the real world," said King. "But it also contradicts the societal leveling that serves as central conceit of Facebook and virtually every other social networking service. By definition, if only a chosen few deserve first class service, it turns the rest into second-class citizens."
Let's just see if Randi Zuckerberg posts anything on New Year's Eve.