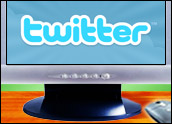 Thanks to Twitter's open API, applications that enhance the tweeting experience have proliferated. From TweetDeck to Tweetie, there's an app for everyone and for every purpose. This diverse world of Twitter apps, however, remains a mystery to some of the site's users.
"When you go and buy a car, no one tells you that you need to fill it up with fuel; it is just a given," Twitter consultant Mark Shaw told TechNewsWorld. "When you join Twitter, no one tells you that to really become effective with using Twitter, that you need to use some third-party applications to help you."
The Web is still the most common way of accessing Twitter, according to an August study by RapLeaf, and these findings are confirmed by TwitStat's daily ranking.
Many people might just not be aware of Twitter apps and how they work. However, this situation is likely to change as more people learn about and experiment with apps, suggested Michael Hsu, marketing manager for RapLeaf.
"Twitter is growing in popularity, and people are still figuring it out," Hsu told TechNewsWorld.
The Case for Apps
What is it about Twitter apps that makes them so appealing? Why use a Twitter client at all? Why not just use Twitter's own interface?
"The Twitter Web site is not very user-friendly and does not allow the user to perform many of the simple tasks that need to be performed," said Shaw.
"For example, you need to often shorten URL links. There is no box which does this automatically for you, so it's all a bit fiddly. So the benefits of using some third-party application are to get a much richer Twitter experience [and] to save time by being able to do things that are necessary, but which the Twitter Web site does not have the functionality to allow you to do," he explained.
"Twitter started with a very basic user interface and has been improving on a regular basis, but still lacks many of the most efficient features offered by some Twitter apps," observed Deb Frey, vice president of the DaVinci Institute.
"Being Web-based, Twitter requires no software to be installed, unlike many other apps. However, there are still improvements that need to be made," Frey told TechNewsWorld.
Some of the problems with the Twitter Web interface, she pointed out, are that it requires copying and pasting messages in order to retweet them, and that there are no automatic retweet or URL-shortening buttons. Many Twitter apps, such as TweetDeck, have these features built-in.
Such applications "make it much faster, easier, and more efficient to stay in touch on Twitter," said Frey.
Evolving Along With Twitter
The future of Twitter clients remains to be seen, but one thing's for sure: There is a future for these apps, particularly those that are creative, useful and timely.
"There has been an explosion of Twitter clients and applications, because people really don't know where this is all going, so everyone is after the holy grail of applications," said Shaw. "Thousands have been developed. Most will not achieve much success — a few will. New ones continue to come along every day as Twitter adds new services, so new applications and third-party apps come along to help with that."
One example of this evolution, said Shaw, came about with the recent addition of Twitter lists. Within minutes of the launch of Twitter's list function, Listorious was launched to simplify the process of finding and sorting through Twitter lists.
"Twitter apps have evolved as Twitter itself has opened up its doors more and developed new things," said Shaw. "So they will continue to evolve, as Twitter evolves."
A Shortlist
Here are some Twitter apps worth checking out: