Acer on Wednesday announced two new ruggedized Chromebooks geared for classroom use. Both will go on sale in February.
The Acer Chromebook C910 and C740 have a durable design built around reinforced covers and hinges. The new models support multiple user sign-ons and offline file access.
Security features include a Kensington lock to secure the laptop to a wireless cart or lab station. A Web-based management console allows remote management of apps and policies across all Chromebooks in a school network.
The durable designs can handle the rigors so common in the education environment. Schools can deploy and manage these new platforms cost-effectively, quickly and securely with an emphasis on student success, noted Acer spokesperson Kelly Odle.
These two new school-specific models are not intended to replace the popular Acer C720. That model is still available.
"In some ways, Google designed Chromebooks with the education market in mind. The lightweight Chrome OS boots quickly and minimal hardware requirements mean that systems can be designed and delivered at far lower cost than comparable Windows-based PCs, a point that's extremely attractive to cash-strapped school districts," noted Charles King, principal analyst at Pund-IT.
Educational Value
Chromebooks run the Chrome OS developed by Google. Providing students with lightweight yet very suitable Chromebook laptops makes good sense, said Jay Lyman, senior analyst for enterprise software at the 451 Group.
"In general, Linux and open source software can be a good match for educational settings, for a couple of key reasons," Lyman told TechNewsWorld.
First, Linux and open source software tend to be lower-cost and easier to acquire for schools and administrators. Second, Linux and open source software can be exposed as part of the curriculum and subject matter by giving teachers and students access to source code and the inner workings of the operating system or other software, he explained.
Other factors make the Chrome OS-based laptops a good choice for schools. Chromebooks are integrated with Google Docs, the company's free or low-fee productivity apps. Documents are automatically stored in Google's cloud, noted Pund-IT's King.
"That is a key benefit, since kids' work is not lost in cases where their Chromebooks are mislaid or stolen," he told TechNewsWorld. "Plus, since Chromebooks require little more than an Internet connection to work properly, kids can easily use them at home or in libraries that offer public WiFi, he said.
Hardware Highlights
The reinforced covers can withstand up to 60kg (about 132 pounds) of force. The corners can tolerate a drop of up to 45cm (about 18 inches) without damage.
Both Chromebooks have the option of Intel Broadwell-based Celeron or Core i3 processors. Both units have anti-glare properties. Battery life is up to 8 hours for the C910 and up to 9 hours for the C740.
The Acer Chromebook C910 (pictured above) has a 15.6-inch display that comes with either a high-resolution option (1920 x 1080) or the less-costly standard laptop resolution of 1366 x 768. It comes with 4 GB of system memory and either 16 GB or 32 GB of internal storage.
The Acer Chromebook C740 is outfitted with an 11.6 inch screen. It is available with either 2 GB or 4 GB of system memory and 16 GB of internal storage.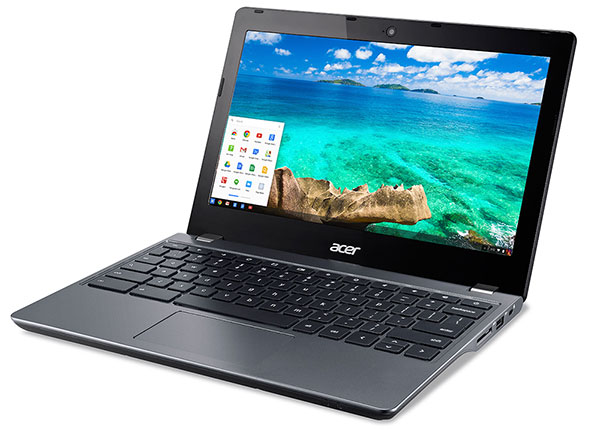 Acer C740 Chromebook
Both new Chromebooks are very portable. The Acer C910 weighs 4.85 pounds and measures 15.4 inches wide x 10.08 inches deep x 0.95 inches high. The Acer C740 weighs 2.87 pounds and measures 11.34 inches wide x 8.03 inches deep x 0.79 inches high.
The C740 starts at US$259.99. The C910 starts at $299.99.
The Downside
The disadvantages of Chromebooks relate to their design points and low-cost construction. Those are sometimes fair criticisms, but budgetary issues are top of mind for many school districts, said King.
Chromebook critics maintain that children would be better off with inexpensive Windows-based laptops, since that is what most will be using when they eventually enter the job market. That is an interesting — if not especially compelling — point of view, since kids seem to have very little trouble adapting to multiple OSes, King pointed out.
"That Google and its partners are delivering workable, even innovative solutions despite those constraints is admirable," he said.
"Overall, the market for education-aimed Chromebooks looks pretty solid. Dell, in particular, has done very well in the segment, and HP is also active there," said King.
Given Acer's history of delivering competitive, budget products, he added, this seems like a solid area for the company to explore.