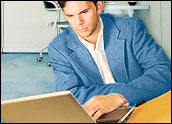 Just 10 months after launching its Gemstone line in May 2007, Acer has introduced refinements to that line's design, unveiling two new notebooks in the Aspire Gemstone Blue line, the 6950 and the 8950.
Both are equipped with a Blu-ray Disc drive, full high-definition LCD screens and native 16:9 resolution.
The color blue dominates in these notebooks, which have holographic 3-D covers.
The Style's the Thing
"We're in the age of style, and I think this is an indication of Acer's intention to be serious in this market," Forrester Research analyst J.P. Gownder told TechNewsWorld.
Acer and Lenovo are fighting neck and neck to be in the top four PC vendors worldwide, and "they have to be very competitive," he added.
This niche targeting is one method: "The future of the consumer market for computers is creating offerings that appeal to microsegments — for example, the Dell/Windows co-branded Red PC appeals to socially conscious consumers because it's deeply reflective of them as consumers and as persons," Gownder pointed out.
The Gemstone Blue notebooks "will tap into people who are probably upscale mediaphiles who will probably say 'This is a good reflection of who I am,'" he said.
The market for stylish products is crowded. "Dell, HP, Toshiba and Apple all have stellar products in this line," Tim Bajarin, president of analyst firm Creative Strategies, told TechNewsWorld.
"If Acer is going to be a serious competitor, it too has to respond to market demands for a product like this," Bajarin added.
Deep Strategies in Place
Like a chess player preparing for a checkmate, Acer has long been quietly making strategic moves to bolster its position in the market.
Back in August 2007, it paid US$710 million to acquire Gateway, a move that also let it own the e-Machines brand and lock up Packard Bell.
The move was a "brilliant strategic coup" that "even war strategist Sun-Tzu couldn't beat," Gownder said.
With that one stroke, Acer improved its positioning in the U.S. market and blocked arch-rival Lenovo's chance to gain ground in Europe by snapping up Packard-Bell because Gateway had already secured the right to purchase that company, Gownder explained.
More Moves
Earlier this month, Acer entered into a definitive agreement to acquire Taiwanese designer and manufacturer of smart handheld devices E-TEN. The acquisition is expected to be finalized in the third quarter of this year.
"The acquisition is in line with Acer's expansion strategy … further strengthening its foothold in the fast-evolving mobile communications segment, and completes Acer's range of mobile solutions," Acer said, pointing out that the worldwide smartphone market is estimated to grow by more than 30 percent by 2011.
Acer "will combine PC and communications technologies to enhance the competitiveness in the ultra-mobile segment," company president Gianfranco Lanci said.
Acer "will be a heavyweight in the global consumer PC industry by 2009," and will rival both HP and Dell, Gownder predicted.
Just the Specs, Ma'am
The 8920 has an 18.4-inch footprint; the 6920 has a 16-inch footprint.
Both have the Acer CineDash media console, a touch-sensitive interface to manage and launch Acer Arcade multimedia software, navigate menus, adjust volume and control media on the fly.
Both also integrate second-generation Dolby Home Theater technology with CineSurround, Tuba CineBass booster and True5.1 output.
The Tuba Cinebass is a world-first — a bass booster designed in the form of a tube for a smooth sound wave flow to enable the best resonance. It has a large subwoofer capacity.
Both notebooks also have the DiamondBlack eKey, a NeoWeave palm rest, and Enlightener media flow.
They are built around Intel Pennryn processors on the Santa Rosa platform, and come pre-loaded with Windows Vista Home Premium or Ultimate; up to 4 GB of RAM (random access memory); an integrated webcam; a fingerprint reader; draft-N wireless capabilities; Bluetooth and Acer Arcade Deluxe.
The 6920 has a 320 GB hard drive, 1X Blu-ray Super Multi dual-layer drive and a 512 MB NVidia GeForce 9500M GS graphics card and up to 768 MB of system RAM.
The 8920 has dual hard drives of up to 320 GB each; a 2X Blu-ray Super Multi dual-layer drive; a 512 M-Byte NVidia GeForce 9500M GS graphics card or the 9650M GS graphics card with up to 1,280 MB of TurboCache.
Less Money
At between $900 and $1,700, the Aspire Gemstone Blue notebooks are way cheaper than competitors like Sony's Vaio AR, which cost about twice as much.
"Even though Acer has more innovative co-marketing than Lenovo, such as its co-branding with Ferrari, its price point is not as high as expected," Gownder said. "Perhaps they felt they don't have the brand name."
That's not a bad thing: "While the product is competitive, the key for any success will be to have the retailers that carry it highlight it, and Acer needs to promote it well … and they will have to price it under their competitors' products," Bajarin said.
Those prices will not remain low: "Acer will try to add margin to the sales that they make," Gownder said.
The thrust for higher prices will come through marketing, where Acer is strong: Its co-branding with Ferrari was "a brilliant move now mimicked by Asus with Lamborghini," Gownder explained.
Acer "understands now how to make a really hot design, and you could gain $150 to $250 on any consumer PC model with good style and design," he added. "If you want to gain margin in the U.S., you have to go after style-conscious mediaphiles because those are the people who are really spending money."