Acer on Thursday announced the Iconia Tab A700, an Android tablet with a 1080p high-definition display.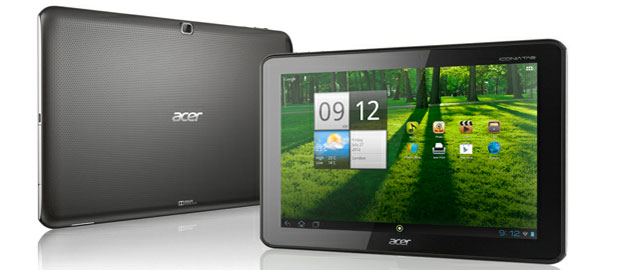 The Acer Iconia A700 tablet
The device's 10.1-inch screen has 1,920 by 1,200 resolution, which is pretty close to that offered by the newest iPad's Retina Display.
"The Iconia A700 screen has about 222 pixels per inch, and the Retina Display has 264 PPI, so it's getting closer to where the new iPad is," Vinita Jakhanwal, director of small and medium display research at IHS iSuppli, told TechNewsWorld.
"Images, apps and the Android interface will look sharper, as well as movies," Acer America spokesperson Alison Williams told TechNewsWorld.
The Iconia A700 will be available in black. It's priced at US$450.
Specs and Other Info
The A700 has an Nvidia Tegra 3 Super 4-Plus-1 quad-core mobile processor running at 1.3 GHz. This processor has four performance cores that are automatically enabled or disabled according to the workload, and a fifth companion core that handles low-power tasks such as active standby and playing music or videos.
The A700 also has an ultra-low-power, high-performance 12-core Nvidia GeForce GPU, a 5 MP rear camera with autofocus that can capture video at 1080p, a 1 MP HD front camera that can capture video at 720p, and the usual array of mobile sensors.
The A700 will be on retailer's shelves later this month, Acer's Williams said. It will be at "national electronics retailers — think Best Buy etc." as well as online at Acer, Amazon and other sites.
Taking on the A510
In terms of specs, the A700 is very similar to the A510, which was designed specially for the London Olympics and launched in May at $450. However, "the A700 can support microSD cards up to 64 GB in capacity," Acer's Williams said. "The A510 only supported up to 32 GB."
What if some customers who bought the A510 are miffed because they could have got a better device if they had just waited a month?
Acer "recently reduced" the price of the A510, Williams said. The A700's launch should have come as no surprise because "Acer shared information about the A700 plans publicly months before it was launched."
Better Than Squishy Human Eyes
Tablet displays will continue to offer increasingly higher resolutions because "higher data rates and higher speeds enable transmission of high-resolution content as well as movies and videos," iSuppli's Jakhanwal said.
"Sony's Tablet P and the Huawei Mediapad have 216 ppi [pixel per inch] screens, but their displays are smaller, only seven inches," Jakhanwal said.
Smaller screens render images better than larger screens for a given density of pixels. "The resolution is a measure of the density of the pixels on the screen, so a 7-inch screen packs the pixels closer than a 10-inch screen with the same pixel format," Jakhanwal explained.
However, there's a practical limit to screen resolution. "Unless there's content out there that's designed for the higher resolutions, you're not going to see an improvement [in the quality of the image you see]," Jeff Orr, senior practice director, mobile devices at ABI Research, pointed out.
Beyond 260 ppi, "there's a debate as to the question of overkill," iSuppli's Jakhanwal stated.
"We're running up to the limits of what can be appreciated by the human eye, and you now get down to more of the limitations of the human than the device," Orr said. "At some point, it won't matter how much resolution you have because the human eye won't be able to deal with it."