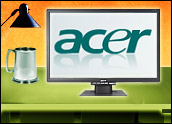 Acer on Tuesday entered the tablet PC market, announcing that it will launch two Android tablets and a third running Windows 7 in early 2011.
One Android tablet will have a 7-inch screen; the other will have a 10.1-inch screen. The Windows tablet will also have a 10.1-inch screen. The company has also unveiled a dual-screen tablet concept called the "Iconia."
"The media tablet market is expected to take off in the next few years, and major PC vendors are trying to get in," Gartner analyst Mikako Kitagawa told TechNewsWorld.
Whether Acer will succeed with its tablets is open to question, with analysts divided on the issue.
Acer America did not respond to requests for further comment by press time.
Chiseling Out the Tablets
The 10.1-inch Android tablet has a full capacitive touchscreen and a high-gloss aluminum casing with engraved patterns, Acer said. It is 13.3mm thick and has WiFi and 3G connectivity.
This larger Android tablet is designed for high-definition (HD) games and entertainment. It has a built-in HDMI port and can display games and video at 1080p resolution. The HDMI port lets users plug the device into a TV set.
The 10.1-inch Android tablet has an internal gyroscope control. Users of the larger Android tablet will be able to play premium HD arcade games and online 3D games, Acer said. This device will be available in April 2011.
Acer's 7-inch Android tablet has a 1280 x 800 pixel resolution touchscreen with an aspect ration of 16:10. It has a front-facing HD video camera that lets users take videos and conduct video chats. It also has HDMI support.
The 7-inch tablet will have a dual-core AMD processor and will support Adobe Flash Player 10.1. It will be equipped with Dolby Mobile Technology and have WiFi and 3G connectivity. The tablet will support DLNA so users can share multimedia files on other devices. It will be available in April 2011.
DLNA stands for the Digital Living Network Alliance. This is a non-profit collaborative trade organization whose members are in the mobile, consumer electronics, PC and service provider industries. They use DLNA standards to let users share digital content among their devices.
Acer's 10.1-inch Windows tablet is 15mm thick and weighs less than 1 kg, or under two pounds. It has a high-resolution display and runs on the next-generation AMD platform. The device will have two 1.3 MP cameras, one front- and the other rear-facing. These let users take still photos and videos and conduct video chats.
The 10.1-inch Windows tablet has WiFi and 3G connectivity. It comes with a docking device that incorporates a full-sized keyboard. This tablet will be available February 2011.
Acer's Iconia reportedly has two 14-inch HD touchscreens, one of which replaces the traditional keyboard, uses Windows 7 Home Premium and has screens made from Gorilla Glass. This glass apparently makes the touchscreens scratchproof and fingerprint-resistant.
Will Tablets be Acer's Jagged Little Pills?
The tablet market is potentially huge. Gartner analyst Kitagawa expects that 54.8 million tablets will be shipped in 2011 and 103.4 million in 2012.
"Because the iPad is selling so well, Acer doesn't want to be left out of this segment," Rob Enderle, principal analyst at the Enderle Group, told TechNewsWorld. "Recall that they were late to smartphones as well but got excited about that segment after the iPhone was successful."
Acer reportedly said in February that it wouldn't enter the tablet PC market. However, that could have been a strategic move.
"Acer has been working on mobile designs for at least five years," Jim McGregor, chief technology strategist at In-Stat, told TechNewsWorld.
Acer's known for offering low-cost PCs and laptops, and it might have to offer its tablets at the lower end as well, Enderle speculated.
"The price point is the only way for other tablets to compete against the iPad for now, as it's very difficult to battle the iPad in terms of the user experience," Kitagawa explained. "But if the price is lower than the iPad's, and the user experience is good enough, buyers might be attracted."
However, "the success of the iPhone and iPad was due to Apple's having strong hardware, a strong software and services ecosystem, and strong marketing," Enderle said. "Acer can handle the hardware part but hasn't shown much strength in the other two requirements, so I'm not expecting that much out of them as a result," he stated.
"Acer is a very aggressive company that's very good at what they do, and it's not just focused on PCs, but offers a wide variety of consumer devices," In-Stat's McGregor said. "If I had to bet on any company out there, I'd bet on Acer because they don't have a blindfold on. When was the last time you saw a company break into a market and start taking down HP and Dell and other PC powerhouses?"