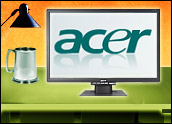 Acer on Thursday announced a notebook with 3-D viewing technology aimed at gamers and entertainment buffs.
The Aspire 5783DG has a 15.6-inch backlit Acer CineCrystal HD display integrated with a TriDef 3-D screen. It comes with 3-D software and glasses.
It also has an integrated multi-in-one media reader and an HDMI port.
The 5783DG's Tech Specs
At the heart of the notebook is an Intel Core Duo T6600 processor with 2 MB of L2 cache. The notebook also has a Mobile Intel PM45 Express chipset and 4 GB of DDR2 1,066 MHz memory.
For graphics, it incorporates the ATI Mobility Radeon HD 4570. This has 512 MB of dedicated DDR3 VRAM and up to1,792 MB of shared system memory.
Storage consists of a 320 GB 5,400 RPM SATA hard drive. The Aspire 583DG also has an 8x DVD-Super multi double-layer drive and four USB 2.0 ports.
For sound, the notebook has Dolby Home Theater Audio Enhancement and built-in stereo speakers. It provides 5.1-chanel surround output.
The Aspire 5783DG has integrated 802.11 a/b/g/n wireless support and Gigabit Ethernet. It incorporates a built-in Acer Crystal Eye webcam that can capture still photos and video. The notebook has a multi-gesture touchpad.
The notebook comes with 64-bit Windows 7 Home Premium preinstalled. It has a six-cell lithium ion battery and weighs 6.16 pounds. It measures 15.1 by 9.9 by 1.03 inches and uses Acer's Gemstone design.
Three-dimensional capabilities are provided by the TriDef 3-D solution, which consists of the 3-D screen, software and special glasses. The TriDef Media Player lets users play back videos and photos in 3-D, and the TriDef Ignition tool enables 2-D to 3-D conversion for games and applications supporting Microsoft's DirectX9 and above.
The TriDef Media Player includes 2-D to 3-D conversion technologies that let users watch standard definition 2-D DVDs in 3-D at run time, according to DDD, the developers of the Tri-Def technology. DirectX is a collection of application programming interfaces for handling multimedia tasks, especially game programming and video, on Microsoft platforms.
The first product in the Aspire 5738DG line, the AS5738DG-6165, will be available at retailers in the United States this week. Pricing starts at US$779.99.
TriDef and 3-D Technology
DDD, a 3D software and content creator, first publicly displayed its TriDef technology in 2006 at the Adult Entertainment Expo in Las Vegas.
The company's patented technologies enable features like 3-D viewing without glasses, the integration of computer graphics applications with 3D displays; 2-D to 3-D conversion; and 3-D transmission over existing networks.
Several electronics manufacturers use TriDef in their products. Sanyo demonstrated LCD screens with TriDef at the 2004 CEBIT sow
Targeting the Gamers
The Aspire 5738DG notebook is aimed at gamers as well as business users. "This holiday season, we are seeing 3-D content become more prevalent in popular films and games," said Ray Sawall, senior manager of product marketing for Acer America. "The new Acer Aspire 5738DG notebook enables consumers to enjoy exciting new 3-D entertainment on a mobile PC that can also replicate a 3-D experience from standard 2-D content."
Targeting both markets might work, Laura DiDio, principal at ITIC, told TechNewsWorld. "I can see the appeal to business users," she said. "We've all been stuck on public transport or sitting in planes, or stuck at airports doing our work, but sometimes we just need junk food for the mind, and that's where the games capability comes in."
At this point, the Aspire 5738DG is not a threat to video game console makers, she said. "It'll sell in parallel with video game consoles," DiDio explained. "But in 18 months or so, when quad- or six-core processors become more standard in notebooks and we see more filter down to ATI and Nvidia graphics cards, these notebooks might pose a threat."
With competition so keen in the computer market, manufacturers are grasping at anything they can to make their products stand out. "Hardware vendors are really stepping up the game," DiDio said. Dell, for example, lets users overclock its latest gaming notebook, and it's letting customers choose not only the colors for their computers but also logos, such as those of their favorite baseball teams. "The competition is fierce at every price point, and it's going to remain that way," DiDio said.
3-D or Not 3-D?
Whether or not 3-D technology will help Acer's products stand out remains to be seen. Japanese electronics manufacturer Sharp unveiled its Actius RD3D in 2004. That computer weighed 12 pounds and cost about $3,000.
Sharp's 3D computer has not been heard of since, according to DiDio. "It sank without a trace," she said.
Its fate may be a warning for Acer. 3-D is really a gimmick right now, Carl Howe, director of anywhere research at the Yankee Group, told TechNewsWorld.
"While a 3-D display sounds cool, 3-D is irrelevant for most office work," Howe pointed out.