Acer's Iconia Tab A500 tablet is now available for pre-order exclusively from Best Buy at US$450.
Consumers will be able to pre-order the device from other stores beginning April 14, Acer said. It will hit retailers' shelves and be generally available online April 24.
The Iconia Tab A500 currently supports WiFi only, but Acer plans to unleash a 4G version this summer, company spokesperson Lisa Emard told TechNewsWorld.
"AT&T announced plans to support it at CTIA on March 22, and we are continuing to work with all carriers on our various mobile solutions including tablets, netbooks and smartphones," she noted.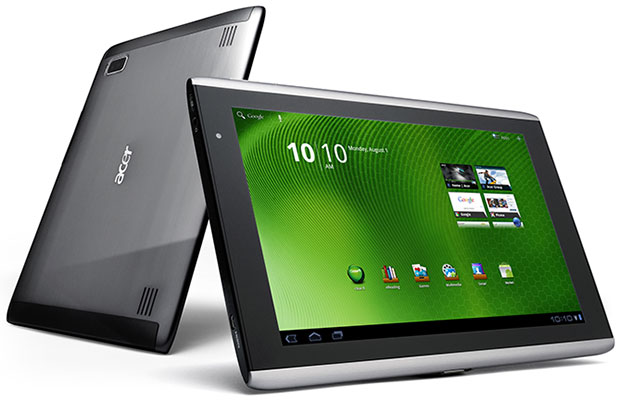 Acer Iconia Tab A500
A500 Tech Specs
The Iconia Tab A500 runs Android 3.0, aka "Honeycomb."
It has a 10.1-inch multitouch screen, an Nvidia Tegra 250 Cortex A9 1GHz dual-core processor and integrated GeForce GPU, front- and rear-facing cameras, and support for Flash.
The tablet's screen is a WXGA widescreen with a resolution of 1,280 x 800 pixels. The front camera is a fixed-focus 2.0 MP webcam, and the 5.0 MP rear camera has flash.
The Iconia Tab A500 has 16 GB of flash storage, expandable to 48 GB with a micro-SD card. Acer plans to unveil models with 32 GB of built-in storage in the future.
The tablet has an integrated accelerometer and a built-in GPS. It supports 802.11a/b/g/n and Bluetooth. It's Internet and email-capable, and has a mini-HDMI port.
The Iconia Tab has two 3260 mAh Li-polymer batteries that provide up to eight hours of battery life, depending on usage. It connects with any other DLNA-compliant device to share digital media through Acer's clear.fi media-sharing and streaming technology.
The chassis is made of brushed aluminum with a high-gloss finish and engraved patterns. The tablet measures 10.2 x 6.97 x 0.52 inches and weighs about 1.7 pounds.
Options include a full-sized dedicated Bluetooth keyboard; a dock with an infrared remote; a protective case; and a power adapter set.
Acer is bundling a trial version of the "Docs to Go" app with the Iconia Tab A500 that lets owners view Microsoft Office documents with an option to upgrade to the full version, Acer's Emard said.
Fun and Games with the A500
The Iconia Tab A500 offers HD gaming, 720p HD video and fast browsing, according to Acer.
Owners can use the Iconia Tab A500 as their media hub. They can share full 1080- Blu-ray-quality video through the built-in HDMI port with other devices.
The Iconia Tab A500 can run and play premium HD arcade games and complex arcade games. It has a 16-point touch display and six-axis motion-sensing gyrometer.
Acer has preloaded two games on the Iconia Tab A500: "Need for Speed" and "Let's Golf."
The tablet can be used as an e-reader. It comes preinstalled with Acer LumiRead and Google Books e-reading apps, as well as the Zinio digital newsstand for full-color digital magazines.
Battling in the Tablet Market
With the Motorola Xoom having apparently failed to pose as much of a threat to the iPad 2 as expected, could the Iconia Tab A500 perhaps take up the slack?
Hard to say.
"The Iconia's specs seem to put it on a performance level close to the iPad 2, but for $50 less," Miroslav Djuric of iFixit told TechNewsWorld.
"It's priced significantly lower than the Motorola Xoom, even though it offers comparable performance," he added.
"The iPad 2 has the design, finish and feel, hands down," Chris Johncke, owner of iFixYouri, told TechNewsWorld.
"One thing that Apple has above the competition is that it designs its products to have a solid feel in your hand. That makes them a lot more pleasurable to use," he pointed out.
"It's pretty hard to match the iPad right now, because that's been doing really, really well and has been a hard product to match, let alone beat," Victoria Fodale, a senior analyst at ABI Research, told TechNewsWorld.
"I'm hoping that with Honeycomb, there might be some products out there that can start to gather some interest," she added.
However, devices running on Honeycomb may lose out in terms of the user experience, said Peter Eckert, cofounder and chief creative officer of projekt202.
"Apple closely governs the user experience of the device and what apps are allowed to do," Eckert told TechNewsWorld. "Android has no control over the quality of the user experience."
That may change soon, as Google has moved to restrict early access to new versions of Android, ostensibly to control fragmentation of the operating system. However, that has sparked considerable resentment in the market.