Acer released its Aspire S3 ultrabook in the U.S. on Monday.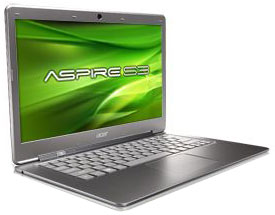 The Acer Aspire S3
The device, which weighs in at less than three pounds, provides up to 50 days of standby time and supports up to six hours of continuous usage.
It has an Intel Core i5 processor, a 20 GB solid-state drive and a 320 GB hard drive.
The Aspire S3 has a "speedy resume" feature and a 13.3-inch high definition LED-backlit display.
Pricing is US$900 — substantially lower than the $1,075 to roughly $1,600 the device was originally quoted at when announced at the IFA consumer electronics show in Berlin last month.
That price cut may have resulted from subsidies Acer and other OEMs were pressing Intel for earlier this year.
Some of the Aspire S3's Features
As envisioned by Intel, ultrabooks are thin, very lightweight computers with laptop features.
The Acer S3 measures approximately 13 by 9 by 0.5 inches. It runs on an Intel Core i5 processor, and Acer plans to release models running on the i7 and i3, with larger-capacity solid-state drives.
The case is made from an alloy of magnesium and aluminum to keep the weight down.
There's a card reader on the left and a headphone connector on the right. All other connectors are located in the back. These include an HDMI port.
Acer's Green InstantOn technology lets the S3 resume running from sleep mode in two seconds or so. The S3's current state and the operating system are stored in the solid-state drive, and websites, emails or documents previously in use are restored from that.
After eight hours of inactivity, the Aspire S3 enters Deep Sleep mode. It resumes activity from this in six seconds. Users can change the eight-hour setting to two hours.
These energy-saving modes make for a battery life in sleep mode of up to 50 days, Acer claims.
"That 50 days' sleep time is pretty phenomenal," Charles King, principal at Pund-IT, told TechNewsWorld.
Acer's Instant Connect technology resumes Internet connections when the S3 awakes from sleep mode in 2.5 seconds — four times times faster than conventional connections, Acer claims.
The S3 has a multi-gesture touchpad and a full-size keyboard.
Coming Soon to a Storefront Near You
The Acer S3 will be available online from Amazon, Best Buy, Walmart, Fry's and Tiger Direct, with other retailers to be added later, Acer America spokesperson Lisa Emard told TechNewsWorld.
A quick check on Monday morning found that the Acer S3 is available on Amazon's website but not on those of Best Buy or Walmart.
"We've just begun shipping product to the U.S., so it should be available in customers' hands within the next couple of weeks," Emard explained. "The retailers will come on board soon."
Sidling Around the MacBook Air
Aspire S3 features such as the device's light weight, thin profile, extended hibernation and battery life may have observers positioning it as a possible challenger to the MacBook Air, which is slightly more expensive, starting at $1,000.
However, "I don't think the MacBook Air is the target," Pund-IT's King said.
"In essence, Intel's ultrabook strategy is around creating a platform for traditional notebooks or laptops that provides them with some of the same features that have made the iPad so popular, such as extended battery life, quick bootup and instant-on," King explained.
Where's the Money?
Pricing has been an obstacle to the chances of success for ultrabook devices — earlier this year, OEMs, including Acer, reportedly asked Intel to subsidize the cost of the Sandy Bridge processors that ultrabooks run on.
Intel Capital, the chip giant's investment arm, had in August announced a $300 million ultrabook fund, and there was speculation that OEMs were seeking to tap that money.
Intel's silence on the issue led Acer Taiwan president Scott Lin to reportedly state that the company would either adopt a lower-end processor or reduce component specs to get its ultrabook below the $1,000 mark.
It's not clear whether Intel kicked some cash into the kitty so Acer could cut the S3's price.
Intel did not respond to requests for comment by press time, and Acer's Emard declined comment.