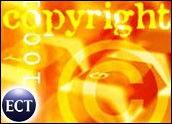 Diebold Systems, a US$2 billion company that makes most of its money by manufacturing ATM machines but most of its headlines by producing electronic voting devices, found itself in court Monday for alleged abuse of copyright protections created by the Digital Millennium Copyright Act (DMCA).
The lawsuit filed by two Swarthmore College students and an ISP seeks compensation from the North Canton, Ohio, company for improperly threatening the Internet connectivity of anyone who published or linked to electronic documents disclosing flaws in Diebold's voting machines and irregularities in certifying them for actual elections.
"Copyright law must not become a tool of censorship," Electronic Frontier Foundation (EFF) legal director Cindy Cohn said in a statement following the one-hour hearing before U.S. District Court Judge Jeremy Fogel in San Jose, California.
Phony Copyright Claims
"In this case," Cohn said, "Diebold used phony copyright claims to silence public debate about voting, the very foundation of our democratic process."
According to EFF staff attorney Wendy Seltzer, the ISP in the case, Online Policy Group, is seeking $5,000 in damages. All plaintiffs are seeking payment of court costs and legal fees, "which would be a more significant number."
"What's more important than the money in this case," she told TechNewsWorld, "is getting a ruling that damages are available in a case like this to warn copyright holders from making similar claims in the future."
Security Flaws
Last August, Diebold used powers granted to copyright holders under the DMCA to issue cease-and-desist letters to more than a dozen people who posted documents or links to documents that Diebold claims were stolen from its servers. The internal staff e-mails reveal Diebold knew about security flaws in its computerized voting machines but sold the devices to several states, including California, Maryland and Georgia.
In December, however, Diebold announced it was withdrawing its threats, saying, "We've simply chosen not to pursue copyright infringement in this matter."
Nevertheless, the ISP and the two students, Nelson Pavlovsky and Luke Smith, decided to seek damages from Diebold in the case.
No Free Pass for Thieves
"The copyright laws do not sanction theft," Eric A. Prager, a partner in the Seattle law office of Darby & Darby, told TechNewsWorld. "There is no copyright misuse when a company uses its rights under copyright to stop unauthorized reproduction of its writings.
"It is no defense to say 'the subject of the writings is an important one,'" Prager continued. "This is tantamount to arguing the end justifies the means. If Diebold has misrepresented its products, the law provides remedies. Thieves, however, don't get a free pass."
Copyright abuse means the copyright holder used its copyright for an improper purpose, he explained. "If Diebold's allegations of theft are proven, that would go a long way to undercut the copyright misuse claim," he said.
Fair Use Trumps Copyright
Seltzer of the EFF maintained that Diebold's copyright claims in the case are tenuous at best. "You can't protect trade secrets by making a copyright claim or protect privacy interests by making a copyright claim," she said. "We think that's what Diebold was trying to do here."
Seltzer characterized Diebold's copyright claim on the documents posted to the Internet as "thin." The students have a "fair use" defense because they were posting the documents in the context of criticism and commentary, she explained.
"The fair-use analysis doesn't look at the origin of the material; it's more about the nature of the use," she said.
Although Diebold may have a copyright claim because its employees produced the documents in question, Seltzer added, in this case, claims of copyright infringement must yield to fair use.
Abuse Cases Rare
"Copyright abuse cases are rare," James M. McCarthy, a partner with McDonnell Boehnen Hulbert & Berghoff in Chicago, told TechNewsWorld.
It is usually used as a defense by a company that is being sued for copyright infringement, he explained. "It's very rarely used in a proactive fashion like this."
At the hearing Monday, Judge Fogel indicated he will issue a ruling in the case within the next two months.