Adidas on Wednesday introduced the miCoach Smart Run, its new fitness-based smartwatch for runners, just a day after rival Nike introduced the latest update to its own Nike+ Fuelband SE tracker.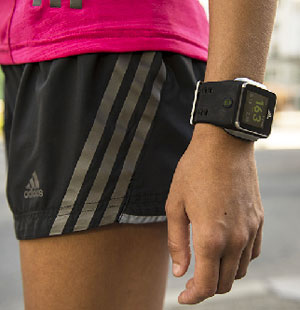 Fjord collaborated with Adidas on the design.
Paul Gaudio, vice president of Adidas Interactive, demonstrated the new fitness tracker at the GigaOM Mobile 2013 conference in San Francisco. The GPS-equipped device can track a runner's location, along with speed and heart rate. It's also equipped with onboard flash memory to store music. The Smart Run will be available Nov. 1 for US$399.
Wearers can opt to receive coaching, which is based on heart rate, with prompts appearing on the watchface or sent via Bluetooth to headphones.
The Smart Run does not connect with a mobile phone, however.
Adidas maintains that it is not looking to produce the best smartwatch — but rather, the best running watch.
Wearable Devices Market Set to Go
Adidas' announcement also comes just days after Juniper Research's release of its "Smart Wearable Devices: Fitness, Healthcare, Entertainment & Enterprise: 2013-2018" report, which predicts that the total retail revenue from wearable devices will reach $19 billion by 2018, up from just $1.4 billion this year.
Revenues will be driven by higher price points, along with strong market demand. This could be why companies such as Adidas are entering this race.
The Adidas watch could replace more passive bands, especially for serious athletes.
"Watches that are specifically geared towards athletes and extreme athletes — as opposed to bands that are helping people wanting to set healthy fitness habits — are a niche market and a trend to watch for in 2014 and 2015," Julie Sylvester, producer of Sports & Fitness Tech Summit at CES, told TechNewsWorld.
"At present, smartwatches represent a niche market with no significant adoption or shipment numbers to demonstrate," added Nitin Bhas, senior analyst at Juniper Research and author of the recent smart wearable devices study.
"The emergence of such players means that there will be a demand for smartwatches as an accessory to smartphones, at least from a certain consumer segment or demographic," he said.
"However, the mobile fitness market is limited by the size of the fitness market itself, which as a subset of the leisure industry, is relatively smaller," Bhas told TechNewsWorld.
"If the success of the market is born of the fact that those interested in the market are motivated and therefore keen to quantify their own fitness," he explained, "its limitation is that the number of people with such motivation represent a small proportion of the population at large."
Fitness at a Premium
However, as the Adidas device carries a $400 price, it could be aimed at the most serious consumers who don't mind paying a premium.
"Sports brands are likely strong in the health peripherals market and might well command a premium," said Roger L. Kay, principal analyst with Endpoint Technologies Associates.
"The $400 isn't that far above comparable offerings. Galaxy Gear is $300, and Qualcomm's Toq is rumored to be $300-350 without headphones," he pointed out.
"Why shouldn't Adidas test the waters and see they can make a go of it?" Kay pondered.
Still, $400 may be too high a price given the more-affordable options, especially those from brands established in the space.
"It's a head scratcher," said Stephen Blum, principal analyst at Tellus Venture Associates. "Garmin has had GPS watches for years, with price points now near $100."
Not So Smart
It's also uncertain whether the Adidas device even measures up to the competition.
"What I've seen indicates that the Adidas watch reads heart rate from the pulse on your wrist, which is less reliable than the chest sensors that dedicated heart rate monitors use," Blum told TechNewsWorld.
"I'd rate it as a fashion accessory for people who want to look like they're working out, rather than a serious fitness tool," he scoffed.
"And I wouldn't call it a smartwatch," Blum added. "It's a high-end sports watch. It has standalone built-in functions that can be found in plenty of other products. It does not interact with smartphones or have wireless networking capability or support apps, either on board or via a wireless connection to another device. My prediction is that athletes who find one of these in their Christmas stocking will end up frustrated with its limitations."