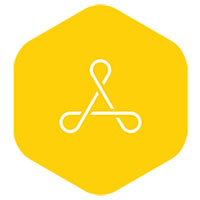 Maxwell Smart had his Cone of Silence, but silence was the furthest thing from the minds of theAether team that designed Cone.Cone, expected to start selling this summer for US$399, is a wireless speaker with a twist. It connects to a home WiFi network (802.11 a, b,g, n), but it isn't a slave to another device, such as a music player, tablet or computer. Cone attempts to play what listeners want to hear before they know they want to hear it.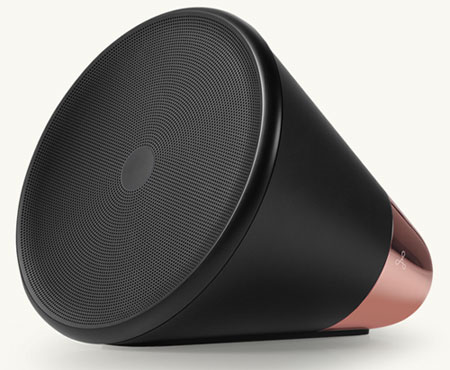 "The world of music offers so much choice and capability that it can be overwhelming and difficult to simply enjoy listening," said Aether Head Designer Ben Fullerton.
"Cone makes it easy to hear something great by applying Aether's machine learning software across music and content services in order to learn what you like and play what you love," he added. "Cone is the first music player to integrate hardware, software and services to create a new kind of listening experience."
Simplifying Complexity
Cone is relatively small — 6.3 by 6.3 by 6.0 inches — and tips the scales at 2.9 pounds. It has a built-in lithium battery that will provide eight hours of continuous playback, according to Aether. It gets its processing power from an ARM Cortex A9 1 GHz chip. It has a 3-inch woofer plus a dual tweeter design for natural stereo envelopment, as well as a full digital I2S 2,1 channel 20-watt audio amplifier.
Although packed with smarts, Cone takes a minimalist approach to product design. The cone-shaped speaker — which initially will be sold in alkaline battery colors, black and copper, and later in silver and white — rests on its side and is controlled with a dial on the fat end of the device.
Twist the dial slightly to the right, and you can advance a music track; twist left to play a previous track. More robust twists will change gears entirely — moving from music, for instance, to a podcast or Internet radio.
Tapping a button at the center of the dial will pause the device; keeping it depressed lets you make voice requests to the smart speaker.
"The world is filled with new devices that do amazing things — yet the more you own, the harder you have to work to connect, manage and troubleshoot them," said Duncan Lamb, cofounder and chief product officer at Aether.
"At Aether, … our ultimate goal is simple" he added — "to make everyday life nicer through beautifully thought-out products."
Souless Selection
Cone is content-agnostic, according to Aether. It will play music from various music services that the company is in discussions with and will be announcing in the calendar quarter ending in June. In addition to supporting an assortment of content, it can serve as an AirPlay speaker.
While not a slave to external devices, Cone still needs one to set it up. More specifically, it needs an Apple device to set it up — something running iOS 7 or OS X Mavericks.
Moving intelligence from devices to peripherals, as Cone does, recently has become a source of argument in consumer electronics.
"There's a debate in the industry right now about whether intelligence should be embedded into peripherals or left in the smartphone," said Ross Rubin, principal analyst at Reticle Research.
"Cone is a product that takes functionality seen in smartphone music applications such as Songza and integrates it into the device," he told TechNewsWorld.
"What this product does is take the smartphone out of the equation, so you don't have to initiate playback through an app or through a smartphone; it's integrated into the speaker itself," he explained.
Smartening up dumb devices has had some success in consumer markets.
"Cone is a very similar approach to what Nest has been doing with a variety of devices," Rob Enderle, president and principal analyst with the Enderle Group, told TechNewsWorld. "Nest products have been incredibly successful, so marketed right, Cone could hit a chord and be successful as well."
Nevertheless, many minds have tried to crack the nut of individual taste and discovery with minimal success.
"Nobody is going to nail it," Music Blogger Wayne Rosso told TechNewsWorld. "The reason is everybody's different — and no matter what kind of intelligence it has, no matter what the algorithm is, it's still all math. Math has no emotion and has no idea what you're going to like or dislike."