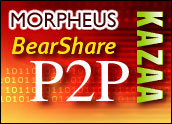 Sharman Networks has moved to nullify a court order that allowed agents of Australia's music industry to raid the company's offices in Sydney last week in search of evidence for a copyright infringement case against the owner and distributor of Kazaa, a popular Internet file-sharing program.
The action by the Australian Recording Industry Association (ARIA)– which also blitzed three major Australian universities and four ISPs, including the country's largest telecommunications company, in the raids — was sanctioned by a legal instrument called an Anton Piller order, a measure usually issued when evidence is in imminent peril of destruction.
---
EDITOR'S NOTE (February 12, 2004):
See our exclusive interview with Phil Morle, the CTO of Sharman Networks — "
Beyond File Sharing
" — for a discussion of the future of file sharing.
---
"There is a duty to give full and frank disclosure to the court of all material facts in order to obtain an Anton Piller order," Sharman said in a statement issued Wednesday. "It is Sharman's position that the recording industry failed in this duty. Because of this, the orders should be set aside."
Significant Omissions
A hearing on Sharman's motion has been scheduled for February 20th. According to the company's statement, some of the most significant omissions in the presentation made to obtain the order included:
The music industry already has been unsuccessful in comparable copyright infringement proceedings against other Internet file-sharing providers in The Netherlands and the United States.
Sharman already has produced documents and testimony in litigation in which it is involved in the United States, and it should not be forced to produce that evidence a second time.
"Threat of destruction of potential evidence is a key preconditon of an Anton Piller order," the statement said. "Clearly, there was no risk of destruction of documentation, as Sharman has already provided the information the recording industry seeks.
"Anton Piller orders are commonly considered a particularly intrusive and draconian mechanism," the statement continued. The recording industry has "used the equivalent of a nuclear bomb to obtain documentation that is already being produced by Sharman through the U.S. court system."
Sharman's legal action surprised no one at the ARIA. "It's not an unexpected strategy," general manager Michael Speck told TechNewsWorld. "But we're comfortable with the action that we took, and we're confident we'll be pursuing our copyright infringement case against the Sharman-Kazaa operation after February 20th."
After the Big Fish
Speck argued that the court was justified in issuing the order to seize evidence from Sharman. "This is an operation whose real aim is to conceal themselves," he said. "The way the operation is structured, the only way to properly obtain evidence in relation to Australian copyright infringements on any realistic basis was to obtain these orders."
Asked if the crackdown on Sharman was a prelude to a campaign to target Australians sharing music files on the Internet, as has been done in the United States by the Recording Industry Association of America (RIAA), Speck replied, "We're only after the big fish — the people who are establishing major infrastructures dedicated to providing infringing material worldwide."
Sharman's latest jam has not been greeted with total shock and awe in the peer-to-peer (P2P) file-sharing community. "[Sharman is] no friend to the industry, but this is a pretty desperate measure by the recording industry," Wayne Rosso, CEO of Madrid, Spain-based Optisoft, which distributes a P2P program called Blubster, told TechNewsWorld. "This is an act of intimidation."
Recording Industry 'Stormtroopers'
"Sharman is friends of no one, and they do more to hurt our industry in a lot of ways than help us, but that still doesn't excuse the behavior of the recording industry," Rosso added. "These guys are truly stormtroopers, and they're showing their hand every single day."
Although raids like those in Australia are making headlines today, what impact they will have on resolving the larger problem remains to be seen.
"I don't think raids unto themselves will have any impact on the long-term resolution of the problem," Jonathan Zittrain, director of the Harvard Law School's Berkman Center for Internet and Society in Cambridge, Massachusetts, told TechNewsWorld.