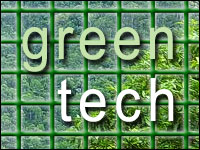 Plastics make our lives convenient, but they're the gift that keeps on taking — they pollute the environment, and they're often difficult to get rid of in an ecologically sound way.
Plastics don't break down readily, which is why they're such a nuisance. Worse yet, some of them contain chemicals that give off noxious fumes in a fire.
Agilyx, a company based in Oregon, may have a bright idea for solving our plastic pollution problem — the company has developed a technology that can make synthetic crude oil out of plastics. The company recently received a US$22 million round of funding led by Kleiner Perkins Caufield & Byers.
The Agilyx Process
Agilyx uses a patented process that converts ground-up waste plastic into synthetic crude oil.
Its base system consists of four primary vessels and associated secondary processing equipment. This can convert about 10 tons of plastic into about 2,400 gallons of synthetic crude per day. It's controlled by a supervisory station that has touchscreens and a graphical user interface.
Making synthetic crude requires operators to put ground-up waste plastic into specially designed cartridges that are part of Agilyx's base system. These cartridges are placed in a large processing vessel called a plastic reclamation unit.
Hot air is circulated around the cartridges, melting the plastic and turning it into a gas that is then pulled into a central condensing system, cooled and condensed into synthetic crude oil. Impurities are removed, and lightweight gases that don't condense are treated by an environmental control device and released into the air.
The equipment can be scaled up by combining multiple base systems together.
The processing units share one common exhaust system to manage the hot air they produce.
Using Agilyx's Technology
One of Agilyx's customers, Green EnviroTech, is a large-scale recovery, cleaning and plastics recycling company.
"I buy the hardware from Agilyx, and can tell you how good it is," Green EnviroTech CEO Gary DeLaurentiis told TechNewsWorld. "I've seen it run in their plant up there and I've seen the assay of the oil."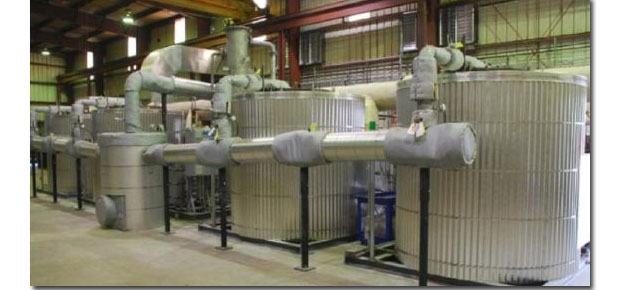 Equipment used in Agilyx's plastic-to-oil conversion process
The gas produced when Agilyx's system heats ground-up waste plastic is fractionated, DeLaurentiis disclosed. "The hydrocarbon fraction goes one way through distillation and is cooled down again, and the other fraction is burned off in a thermal oxider," he elaborated.
The emissions discharged by the burnoff are "so far below the allowable limits that it's no problem," DeLaurentiis added.
The equipment is "really unique because it can consume plastics when they're prepared correctly that nobody else can process," DeLaurentiis remarked.
Loosely speaking, fractionation is a separation process in which a mixture, whether it's solid, liquid or gas, is divided up into smaller quantities of different compositions according to a gradient. The fractions are often based on differences in a specific property of the individual components.
Green EnviroTech then sells back the crude oil the equipment produces to Agilyx, DeLaurentiis said. "When you buy their equipment, you have to sell them the oil, and they sell that to a refinery which mixes that with crude from the ground and they then distil it," he explained.
Agilyx didn't respond to requests for comment by press time.
Plastics Are Forever
However, the equipment won't quite solve our plastic pollution problems.
"There are a few plastics that have no hydrocarbons, so we can't use them," DeLaurentiis said. These contain PET, or polyethylene terephthalate. One example is beverage containers.
PVC isn't suitable either, not just because it lacks hydrocarbons but also because it contains chlorine.
"We can use polyethylene, polypropylene and ABS, which have hydrocarbon," DeLaurentiis said. "That's the kind of plastics you use in the manufacture of cars."