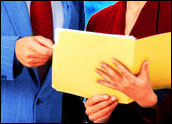 The aging workforce is becoming a significant concern for technology employers in the U.S., where a third of employees will be aged 50 or older in just four years. Ten years ago, the story was the "graying of Japan," where aging workers were expected to be less productive in their golden years as well.
That prediction turned out to be true — and a similar spectre is now haunting the U.S. economy, just as it has emerged from a spiral in economic confidence after the terrorist attacks of 2001.
The Computing Technology Industry Association (CompTIA), based in suburban Chicago, recently disclosed that it is working with the AARP, the lobbying group formerly known as the American Association of Retired Persons, and other organizations in the Alliance for an Experienced Workforce, a new collaborative initiative aimed at helping the nation's employers create workplaces that successfully engage and utilize the skills of "mature" workers over the age of 50.
Declining Number of Young Workers
By 2010, nearly one in three workers in the United States will be older than 50, according to CompTIA. As the number of younger workers declines, attracting and retaining "experienced and reliable workers" will become a core business strategy for all employers, CompTIA said. In the interim, it is vital to ensure that these aging workers are still prepared, and have the skills needed for working in the 21st century world.
"Our industry has demonstrated that technology, when used properly, is a key competitive advantage that can positively impact the long-term growth and success of organizations across our economy, from financial services and healthcare, to transportation, manufacturing, education and scores of other industries," said John Venator, president and chief executive officer of CompTIA, based in Oakbrook Terrace, Ill. "But a skilled and experienced workforce is required to assure that technology is used properly."
Employers that fail to attract and keep the aged-50-and-over workforce risk losing a wealth of experience, skill and knowledge. "Organizations risk losing core competencies, in-house expertise and mentors for future talent," Venator said. "The long-term impact of such a trend is a slowdown in innovation."
The mission of the new project, Alliance for an Experienced Workforce, is to help employers understand, plan for and create workplaces that successfully engage and utilize the skills of the workers over the age of 50.
To accomplish this, alliance members will collaborate on strategies to "raise the visibility of this issue" and to increase the opportunities for employers and employees, said Venator.
In-Demand Skills
One concern that recruiters have for executives in the technology business — going forward — is that they must have the ability to perform on a global playing field, and also understand big picture details, according to a new survey by Trilogy Venture Search, a recruiting firm, based in Burlingame, Calif., in the heart of Silicon Valley.
"As global opportunities and threats become more prevalent, international experience becomes more relevant," said Chuck Pappalardo, the managing director of Trilogy Venture Search. "Companies are also placing an increased value on those executives that demonstrate integrity and excel at the fundamentals, finance, operations and sales."
Experience is a key, especially in a significant global marketplace, like India, or China, according to Trilogy. Experience driving best practices throughout a company is also essential, as is the ability to navigate not only work concerns, but business and social concerns too.
Salaries for senior technology executives will start at about US$250,000 and go to well over $300,000 for positions. With the concern over the aging workforce, those who have the skills that companies need will be compensated well for their work.
"There is upward pressure on salaries for top executives," said Pappalardo. "Despite concerns posed by investors, legislators, and other interested parties — hiring and pay packages are increasing. The process has become very deliberate, and rigorous. Companies are expecting more from their top people."