Amazon on Wednesday introduced a slew of new Kindle Fire tablets and Kindle e-readers. It also unveiled a new OS based on Android KitKat.
The top-of-the-line product is the company's Fire HDX 8.9, which sports a Qualcomm Snapdragon 805 quad-core processor, with each core running at up to 2.5 GHz, and a GPU that's 75 percent faster than that of the previous Fire HDX. It starts at US$379.
The 8.9's display has 30 percent more pixels than the iPad's Retina display, Amazon said.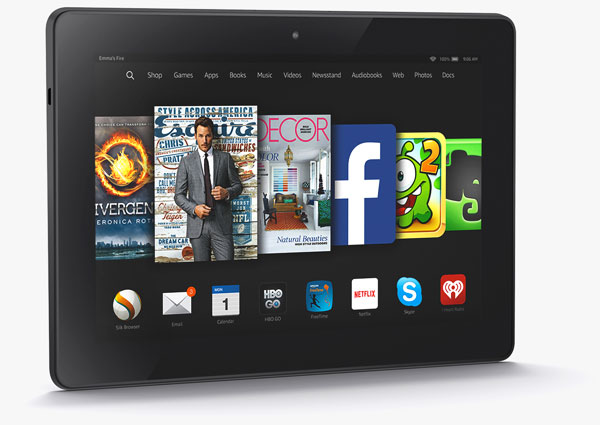 The Dolby Atmos feature, available in a tablet for the first time, makes the new HDX twice as loud as an iPad Air, and at 13.2 ounces, the 8.9 is 20 percent lighter than the iPad Air, Amazon noted.
The company also introduced two new Fire HDs, with 6- and a 7-inch screens, for $99 and $140, respectively. They have quad-core processors that run at up to 1.5 GHz, and they have 3x the graphics of the Samsung Galaxy Tab 4, Amazon contended.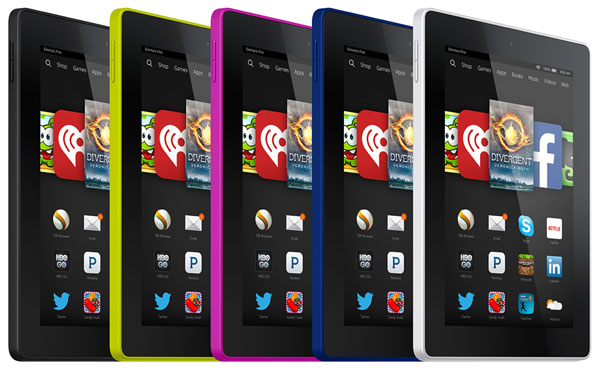 The HDX and HDs run Amazon's new Fire OS 4 Sangria, which has hundreds of new features and platform enhancements. Among them are Family Library; Profiles; the predictive ASAP feature; and access to more than 33 million movies, TV shows, songs, books, and Android apps and games.
They also provide unlimited free cloud storage for all photos and images taken with the tablets' cameras.
A Kindle Fire HD Kids Edition in 6- and 7-inch sizes, at $150 and $180 respectively, also was launched. These tablets come with a two-year replacement guarantee and access controls for parents.
The new tablets "are quality products at very aggressive prices right before Christmas, when most tablets are given as gifts," Rob Enderle, principal analyst at the Enderle Group, told TechNewsWorld. "When you're buying for someone else, price becomes a much more powerful differentiator."
Amazon also unveiled two new Kindle e-readers: the Voyage, its most advanced model, which sells for $199; and its most economical Kindle e-reader, which sells for $79 and now has touch functionality.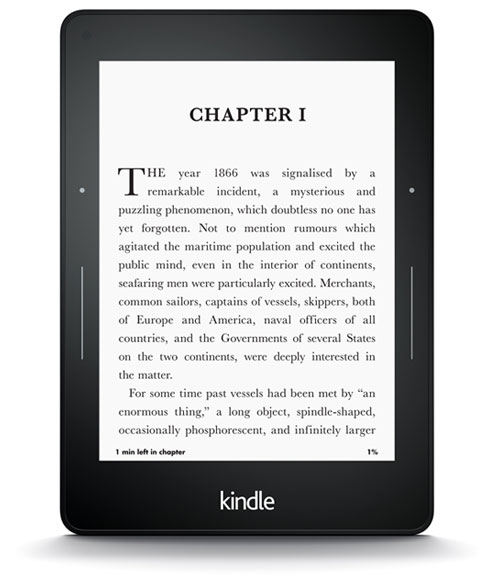 "Our mission with Kindle is to make the device disappear, so you can lose yourself in the author's world," said CEO Jeff Bezos. "Kindle Voyage is the next big step in this mission. With the thinnest design, highest resolution and highest contrast display, reimagined page turns, and all of the features that readers love about Kindle — books in seconds, no eyestrain or glare, readability in bright sunlight, and battery life measured in weeks, not hours — Kindle Voyage is crafted from the ground up for readers."
The Lowdown on the Flagship HDX 8.9
The Fire HDX 8.9's 339 ppi HDX display has Dynamic Light Control, which automatically adjusts the display's color in response to ambient light, and perfect 100 percent sRGB color accuracy.
Its keyboard, which Amazon claims is the thinnest and lightest full-featured tablet keyboard, has a trackpad.
The Fire HDX 8.9 supports 802.11ac MIMO, which delivers up to 4x the peak bandwidth. It's also available with 4G LTE wireless.
It has a front-facing HD camera and an 8-MP rear camera that takes high-res photos and 1080p video. Rear camera features include an LED flash, electronic image stabilization and a wide-aperture f/2.2 lens.
The Fire HDX has a unibody machined magnesium frame with a glass/nylon blend molded onto it to create openings for antennae and to maximize signal strength.
Battery life is up to 12 hours in use. A Smart Suspend feature proactively turns wireless off and on in response to a device-specific profile created dynamically.
The 8.9's microUSB port allows for charging and connects the device to TVs, computer monitors, projectors, USB flash drives, SD card readers or, with adaptors, a wired keyboard or mouse.
The Fire HDX 8.9 comes preloaded with WPS Office, which lets users create, edit and view Microsoft Office documents. It's fully compatible with Office and integrates with Amazon's Cloud Drive.
Taking on iOS and Android?
It might seem Amazon is overreaching in comparing its devices to the iPad.
"Most manufacturers of these devices are trying to make money off them, but Amazon makes money by directing users of the devices to go buy their products, and they've demonstrated that this is pretty powerful," Scott Strawn, a program director at IDC, told TechNewsWorld.
"Their devices may not see sales at the level of iPads, but each and every sale generates some revenue for the ecosystem they're part of," he pointed out.
Kindle users are pretty loyal, and "Samsung has been struggling with their value proposition of late," Enderle pointed out — "and Apple seems to have lost the magic, which was critical to the iPad."