Amazon has announced two new Kindle models, one with 3G and WiFi connectivity, the other offering WiFi access only.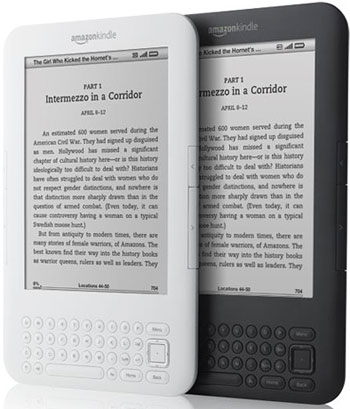 The new Amazon Kindle
The two six-inch-screen devices are smaller and lighter than Amazon's previous six-inch-screen Kindle, and they have more features.
The Kindle WiFi is priced at US$139, and the Kindle 3G + WiFi goes for $189. Both can be pre-ordered now and will ship Aug. 27, Amazon said.
More Pizzazz for Your Pesos
The two new devices are 21 percent smaller than the old Kindle, although they have the same six-inch screen size, Amazon said. They also offer 50 percent better screen contrast; crisper, darker fonts and a new Webkit-based browser.
With the new browser, Amazon has launched a beta program that gives owners of the new 3G + WiFi Kindle free 3G Web browsing.
Amazon has enhanced its PDF reader with dictionary look-up, notes and highlight capabilities. Further, page turns are reportedly 20 percent faster.
Owners of the 3G + WiFi Kindle get 3G wireless coverage in more than 100 countries and territories. The WiFi capability lets both new varieties of Kindle connect to hotspots at hotels and cafes. Connection to AT&T hotspots across the United States is free.
Amazon has doubled the storage for the new Kindles, and they can now store up to 3,500 books, just like the Kindle DX.
Battery life has been improved. The 3G + WiFi Kindle can run for up to one month on one charge if the wireless is off, 10 days if the wireless is on. The WiFi Kindle can run for up to one month if the WiFi feature is off and three weeks if it is on.
Taking On the Competition
The e-reader market has been heating up recently. Both Amazon and Barnes & Noble have cut the prices of their e-readers, and the latter just introduced an Android app. The Barnes & Noble Nook e-reader also lets owners play chess and Sudoku, while Amazon positions the Kindle solely as an e-reader.
"Reading is important," Amazon CEO and founder Jeff Bezos wrote in an open letter on the company's website. "Reading is why we built Kindles. Reading is why millions of people use Kindles."
"The Kindle remains focused on ebooks, and this will likely remain the case until something like the Qualcomm Mirasol display hits the right price and size points," Rob Enderle, principal analyst at the Enderle Group, told TechNewsWorld.
Qualcomm's Mirasol technology consumes very little power and is highly reflective, meaning displays made with it can be seen even in direct sunlight, the company says.
"Amazon has the e-book sales nailed," Maribel Lopez, principal analyst and founder of Lopez Research, told TechNewsWorld. "Barnes & Noble is struggling here — when did you last see anyone carrying a Nook anyway?" she asked.
"It appears that the Kindle is significantly outselling other e-book readers, which is particularly embarrassing for Sony, which entered the market first," Enderle said.
Sidestepping the iPad
While Barnes & Noble appears to be trying to take on the iPad with its Nook, which has capabilities beyond those of an e-reader, Amazon appears to be sticking to the Kindle's core mission.
The Kindle and the iPad have different use cases, Enderle said.
"Clearly, Apple is vastly more capable of developing demand than Amazon is," Enderle remarked. "Right now, trying to do multimedia on an e-reader hurts it as a reader. Undermining your primary purpose to do additional things is how Microsoft lost the PDA and the MP3 battles against Palm and Apple, respectively, and Amazon appears unwilling to make that mistake," he explained.
"From Jeff Bezos' point of view, those people who want a cheap, compelling e-reader can get that from Amazon; for those people who want to spend money on an iPad, he's got an app for that," Lopez Research's Lopez said.
"Amazon's going to get the book sales either way, because right now Amazon has a better catalog than the iPad does," Lopez added. "If you want to read a book, the Kindle's the way to go; if you want to read a magazine or watch a movie, take the iPad."
Amazon had 90 percent of the e-book market earlier this year, Dmitriy Molchanov, an analyst at the Yankee Group, told TechNewsWorld. That may drop to 33 to 40 percent over the next two years, but Amazon will remain a major player "for a long time," Molchanov added.
Cheap Is Good
Pricing appears to be a major factor in Amazon's strategy. It earlier cut the price of its Kindle from $259 to $189, a move it said has tripled sales.
That may pay off in the long run.
"I would compare Amazon's strategy with Kindle to a mousetrap," the Yankee Group's Molchanov said. "The device's low cost is the cheese. Once consumers buy the device, they're locked into Kindle's proprietary AZW format and have to purchase books from Kindle's store."
That's not bad at all, Molchanov thinks.
"Amazon continues to improve upon the reading experience," he explained.
A Look Into the Crystal Ball
In the future, e-readers may mutate to include multimedia capabilities. Already, Qualcomm's Mirasol displays offer color and are video capable.
"We're waiting for the cost of displays that can both serve as e-readers and offer multimedia capabilities to drop in price and improve in quality," Enderle said.
Right now, e-paper is "vastly better for reading and much more energy-efficient" than thin-film transistor displays, Enderle pointed out. However, it can't handle multimedia.
Thin film transistor (TFT) LCD displays are used in television monitors, mobile phones, handheld video games and projectors.
"When we finally have displays that offer the advantages of both e-paper and TFT displays at acceptable prices, we'll likely see e-readers and multimedia devices merge, and the real battle will begin," he said.