Amazon Web Services on Monday announced Amazon Braket, a fully managed quantum computing service.
Braket will let scientists, researchers and developers experiment with computers from multiple quantum hardware providers — D-Wave, IonQ or Rigetti — in one place.
Users can build and test their circuits in a classically powered simulation environment, and then run them on an actual quantum computer.
They can create a quantum circuit with a single line of code and run it with another line of code.
Braket is accessible through a notebook-style interface. The Python code makes use of the Amazon Braket SDK.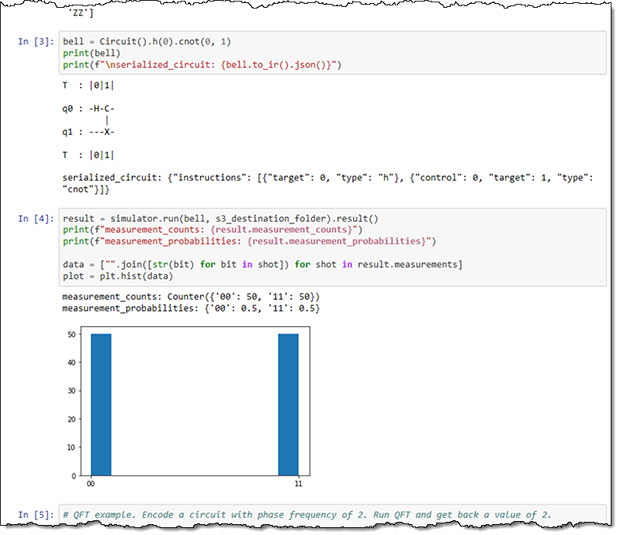 ---
"AWS doesn't have a quantum computer of its own, so it's cobbled together a service using some of the startups in the field," remarked Kevin Krewell, principal analyst at Tirias Research.
"Quantum is an important technology for future computing, as an accelerator for some really tough problems in areas such as chemistry, physics and finance," he told the E-Commerce Times.
"It's not clear who will win the quantum hardware wars, so it's good for enterprises that, for example, AWS is Switzerland, so to speak," observed Holger Mueller, principal analyst at Constellation Research.
"It's all about making it easier for enterprises to use quantum technology, which does not run in isolation but with other data, which AWS wants to have and provide for quantum," he told the E-Commerce Times.
There are fears that quantum computers will be able to crack current encryption, which led the National Academies of Sciences to call for the development and deployment of new cryptographic technologies and techniques.
Braket has security and encryption baked in at each level. Amazon's s2n — its implementation of the TLS/SSL protocol — includes two different key exchange mechanisms that are quantum-resistant.
AWS also announced the AWS Center for Quantum Computing and the Amazon Quantum Solutions Lab.
The research center, which will be adjacent to the California Institute of Technology, will bring together experts to work on quantum computing hardware and software,
The lab is a program to connect AWS customers with quantum computing experts from Amazon and a select set of consulting partners.
"Our goal is to work with you to find practical uses, and to help you to build up your own bench of qualified quantum developers," noted Amazon Chief Evangelist Jeff Barr.
Trailing the Competition
Amazon introduced the Quantum Compute Cloud in 2010.
However, its competitors have not been idle.
IBM opened the IBM Quantum Experience — its quantum processor on the cloud — to scientists and researchers in 2016, and began offering quantum computing as a service in 2017.
Google recently claimed a breakthrough in quantum supremacy, with its 54-bit Sycamore processor able to perform in 200 seconds a calculation that would have taken the world's most powerful supercomputer 10,000 years.
However, IBM has disputed that claim.
Microsoft last month unveiled Azure Quantum, a full-stack, cloud-based approach to quantum computing that works with traditional architectures.
Laying the Groundwork Now
"The major vendors are building a foundation for the wave to come, and not having a quantum effort could result in a huge competitive disadvantage when quantum computing goes mainstream," said Rob Enderle, principal analyst at the Enderle Group.
"These early efforts help them build up the infrastructure, training and customer base so that when quantum computing goes mainstream they aren't left in the dust," he told the E-Commerce Times. "We are still five years out from a true production system, and that still makes it anyone's game."
Quantum computing is important to many in the United States government, noted Jim McGregor, principal analyst at Tirias Research.
Not being able to offer quantum computing "may impact the potential for government contracts," he told the E-Commerce Times.
It's noteworthy that the U.S. National Quantum Initiative Act, allocating US$1.2 billion to fund quantum computing activities, was signed into law a year ago.
Cloud-Only or On-Premises as Well?
Due to the cost and complexity of building and running quantum computers, most organizations will never own one, and they will find the cloud-based on-demand model a better fit, said AWS' Jeff Barr.
"It may well be the case that production-scale quantum computers are the first cloud-only technology," he remarked.
For those in the market, Atos and Zapata have teamed up to deliver an enterprise quantum computing solution, and BraneCell is developing on-premises quantum processors.
Once the technology is mature, both on-premises and cloud solutions will be available, Enderle predicted, noting that "IBM already has been showcasing an on-premises prototype system."
Still, quantum computing is not going to displace digital computing solutions, said McGregor. "The best way to think of quantum computing is as an accelerator for specific workloads."