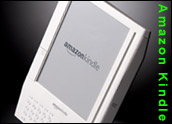 Amazon on Thursday announced it will launch a limited beta version of its Kindle software development kit (SDK) so developers can create applications for its Kindle e-reader.
The beta will be available next month, and the SDK will include sample code, documentation and a Kindle simulator that will run on PCs, Macs and Linux desktops.
EA Mobile, Handmark and Sonic Boom are creating apps for the Kindle, Amazon said, and it plans to put created content in its app store later this year.
However, hardware limitations, developer restrictions and the device's user base may prove to be obstacles to Kindle's app ambitions.
Amazon's App Announcement
The limited beta of the Kindle Development Kit will be launched in February, Amazon said. Participants will be able to download the SDK, access developer support, test content on the Kindle and submit finished content.
Developers who are wait-listed will be invited to participate as space becomes available.
Handmark is building an active Zagat guide with ratings and reviews for restaurants in cities worldwide for the Kindle, said Amazon, and Sonic Boom is developing word games and puzzles for the device. EA Mobile also issued a statement saying it looks forward to bringing games to the Kindle.
"Amazon appears to be aggressively moving to prevent erosion from the upcoming launch of Apple's tablet and other rapidly arriving competitive offerings," Rob Enderle, principal analyst at the Enderle Group, told TechNewsWorld. "It realizes that, in these early phases of market creation, the initial leaders are seldom the vendors who eventually own the market and wants to make sure it doesn't become one of the losers."
Apple is widely expected to announce a much-heralded tablet device on Jan. 27, then release that device to the market later in the year.
The Kindle SDK's Commandments
User revenue will be split with roughly 70 percent going to the developer and 30 percent to Amazon; however, Amazon will charge a delivery fee of 15 US cents per MB. Unlike smartphone users, Kindle users don't have to pay a monthly wireless fee or enter into an annual wireless contract, which means Kindle active content must be priced to cover the costs of downloads and ongoing usage.
Developers can offer apps in any of three ways.
First are free apps, which must be smaller than 1 MB and use less than 100 KB of bandwidth per month. Amazon will pay the wireless costs associated with delivery and maintenance.
Next come apps sold to Kindle users. These too can't consume more than 100 KB of wireless bandwidth per month, and users pay for the app once.
Finally, there are apps for which users pay monthly subscriptions. These cannot be larger than 100 MB for wireless download. Apps that are larger than 100 MB must be downloaded from the Kindle store to the user's computer and then transferred to the Kindle through a USB port.
Developers have several restrictions. They can't include Voice over IP (VoIP) functionality, put advertisements on their apps, collect customer information without the customers' express knowledge and consent, or use the Amazon or Kindle brands in any way.
Further, apps must meet all Amazon technical requirements, must be custom-developed for the Kindle and, of course, must not contain malicious code.
The Platform of No?
Those restrictions may end up hurting Amazon. "Having those restrictions is like throwing a party no one is going to and making it really hard to find," Josh Martin, a senior analyst at Strategy Analytics, told TechNewsWorld.
"This set of restrictions makes it extremely unattractive for application developers to work on this platform," Peter Farrago, vice president of marketing at Flurry Analytics, pointed out. "The cost of delivery with apps that use more than 100 KB a month of data will come out of developers' pockets; if they're not able to advertise, that takes care of anyone who wants to put out a free app that's ad-supported, and if developers can't track users, that makes it hard for them to engage in a continuous improvement process."
Also, Kindle devices may not have a big enough user base to attract developers. "Developers care about one thing and one thing only — the installed base," Farrago told TechNewsWorld. "Will the device they're developing for have the ability to reach a large mass of consumers so they can make their business work? The Kindle doesn't, and this is the same problem that the Palm device and Android phones have."
Although Amazon claimed record sales for the Kindle over the holiday season, it has declined to disclose any specific Kindle sales figures.
Kindle's Technical Drawbacks to Be Cleared?
The Kindle also suffers from some technical limitations compared to other mobile devices sporting app stores. Amazon's reader has a black-and-white screen and uses E-ink, which has a slower refresh rate than the screens typically used on smartphones. Kindle also doesn't have a touchscreen. However, some of these issues might be resolved soon.
"Kindles are rumored to be getting color screens with higher refresh rates by year end," Enderle pointed out.
Amazon's trying to get developers to create apps for the Kindle now, in advance of these changes. "You want developers working on applications in advance so the apps are ready when the product is ready to receive them," Enderle explained.
It's not yet clear whether Amazon's move into mobile apps will help it fight off the threat of the supposedly forthcoming Apple tablet. "Maybe Amazon getting people to create apps for the Kindle is the first step for them in launching a multi-function device," Strategy Analytics' Martin said. This could make the Kindle more of multimedia device. "We saw the same thing with smartphones."
Or perhaps the two devices won't go head to head against each other. "Each product will probably be optimized for a different use," Enderle said. "The Apple tablet will be for multimedia, and Kindle will be for books."