The days of lugging books back and forth to school could soon be in the past, as Amazon on Wednesday announced a new initiative for schools and business customers that features a scalable online tool for deploying Kindle devices and Kindle content.
Whispercast for Kindle provides a single access point to easily purchase and distribute Kindle books and documents for educational, marketing and employee incentive programs. In addition to this content being usable on Kindle devices, it could be used with free Kindle reading applications for the Apple iPad and iPhone, as well as Android devices, Windows Phones, PCs and Macs.
"Hundreds of thousands of students around the world are already reading on Kindle," said Amazon Kindle Vice President Dave Limp. "Today, we are announcing Whispercast, a free, scalable solution for school and business administrators to centrally manage thousands of Kindles and wirelessly distribute Kindle books as well as their own documents to their users. Organizations can also design Bring Your Own Device programs at school or work using personally owned Kindles, Kindle Fires, and other tablets using the free Kindle reading applications for receiving content."
No More School Books
For schools, this could certainly have benefits, as it could make replacing old textbooks far easier and cheaper. It could give teachers and educators access to the millions of titles available on the Kindle, including free classics — meaning that some titles would cost little or nothing.
Amazon appears to be rewriting the playbook on textbooks.
"It's a play to capture whole school systems, and not a bad one, at that," said Roger Kay, principal analyst at Endpoint Technologies Associates.
"Focus specifically on the economics of textbooks, and work the Kindle economics into the distribution of textbooks — as well as an extended library for pretty much anybody's literary taste — and you've got a highly viable platform," he told TechNewsWorld.
Delivering content to kids digitally could encourage them to read, and in the process teach them how to use technology.
"Textbooks are the key battleground for e-books because it gets kids using this technology early, and what they like and know will carry forward into their adult lives," said Rob Enderle, principal analyst at the Enderle Group.
"In addition, textbooks are relatively low volume and high cost — with respect to printing — and should benefit most from an e-book treatment," he told TechNewsWorld. "Education gets lighter, cheaper, more up-to-date books; kids get far more powerful reading and study tools, and don't have back problems due to over-heavy backpacks."
New Learning Curve
Amazon's Whispercast has been designed to allow administrators to register and assign users to multiple devices at once, can be configured to WiFi networks and provided with password protection, and configured wirelessly to private networks. These certainly sound like key advantages, but will teachers and even school administrators need to go back to school themselves to learn some IT skills to use these devices?
"The new Web services and app model of programming means that end users don't have to have much IT skill at all," noted Kay. "The client devices just work, and the services are delivered from the cloud."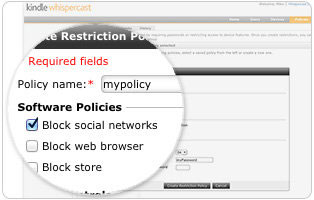 Whispercast allows organizations to configure WiFi connectivity, filter the Web through proxy settings, and restrict user access to certain Kindle features.
Security problems are also limited as well.
"Whispercast is an easy online tool," Amazon spokesperson Leslie Letts told TechNewsWorld. "There should be little to no tech experience required. Organizations can set various security settings on the Kindles they manage."
The technology is geared mainly toward reading of books, thus limiting any learning curve.
"This isn't purporting to be a general platform — just one focused on content consumption, mostly reading but also multimedia," Kay stressed. "Apple addresses more ambitious functions, like communicating, scheduling, where there's more mischief to be done."
Even for those teachers who are used to traditional books, the Whispercast technology could be managed by a single individual at most schools. It could also ensure that children — or workers in a corporate setting — aren't using school- or business-provided devices for anything inappropriate.
"Whispercast is more likely to be managed by IT administrators than individual teachers," Charles King, principal analyst at Pund-IT, told TechNewsWorld.
"Admins can centrally manage devices and content distribution," he said. "They should have some insight into the e-books residing on individual devices and the skills to remove inappropriate or unsanctioned material."