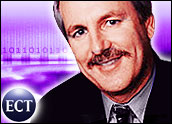 As we move into fall and approach the Intel Developer Forum this week, things show no sign of slowing down. Last week AMD fired an early volley at Intel by broadening an initiative designed to unite the entire slate of remaining non-Intel chip companies, making me wonder, had this happened earlier would Apple have made its Intel move?
Meanwhile, Brad Chase, the father of Windows 95, is back with a product that, at least initially, doesn't favor Windows. And finally, after seeing so many Ask.com commercials recently, I decided to test it against Google and was pleasantly surprised.
I'll resist the urge to wax eloquent on how inappropriate it was for the Democratic Party in California to hack into a state server while its candidate for Treasurer tries to hang HP out to dry for similar behavior. Instead let's focus on the positives surrounding the tech industry and a few of the firms who are clearly doing some out-of-the-box thinking.
AMD Forms Battle Team
Even though we are ramping to IDF where Intel is expected to announce some of its strongest technology, AMD is not slowing down. It has started to collect the remaining Intel competitors under its banner for an assault on the struggling giant.
This is particularly interesting to me because it recalls an earlier attempt to do this by a company which no longer exists called The Panda Project. This company, in the late 1990s, had some of the coolest server and desktop PC ideas of the decade. One desktop I still wish it had built looked like a high-tech scarab and put all the parts that generated heat and noise on the floor while leaving the parts (like optical and floppy drives) you needed to touch on the desk.
The firm also built a Cube PC called Rock City which looked like it came out of Sci-Fi movie, was nicely priced for the time and was positioned against Apple.
One product that did make it to market was the firm's Archistrat server, which was incredibly cool. It had a drive cover that powered up and down and a case that was built like a vault and could be bolted to the floor. It also had a passive backplane motherboard which would take daughter cards running x86, PowerPC, SPARC, MIPS and Alpha processors.
The idea was you could buy one server and upgrade virtually everything at any time and switch between technology types as well. It didn't make it because, at the end of the day, it was simply too expensive and too unique but several of the ideas were very powerful — particularly the idea of flexibility.
Flexibility is at the core of the AMD Torrenza initiative and this time it could have cost advantages, significant ones, for IBM and Sun, both of which are participating in the effort. It reminds me a lot of how Apple drove cost out of its PowerPC products before switching to Intel and made me wonder if Apple would have had to make the move. Or, would it had made a move to AMD instead of Intel if this technology had existed earlier? Such an offering would make for a vastly simpler transition between the technologies for hardware OEMs.
What this also showcases is that AMD is continuing to think non-linearly in its fight against Intel while Intel, at least for now, is very linear in its strategy. In other words, Intel is primarily focused on paths directly related to processor speed and capability while AMD is attempting strategic moves that hit where Intel is vulnerable. Itanium is one of Intel's biggest vulnerabilities and the lack of a common architecture between Itanium and Xeon is one of the attack vectors. Torrenza hones in on that vulnerability like a laser. And AMD has built a coalition of aligned companies to attack on that vector.
Windows 95 Creator Does Sync and Share
I got a real treat a few days ago when Brad Chase dropped in for a visit. He and I go way back, to the time when Microsoft had its best product launch ever. As vice president of Microsoft's application and Internet client group, Chase drove Windows 95's development and many thought in the '90s that he was in line for Bill Gates' job.
We did chat a bit about old times but really Chase was there to present a product that could be incredibly useful called Vizrea. This product allows you to easily sync and share files and pictures between phones, PCs and friends.
Now there are companies that are doing sync products for phones and companies that do sharing products for PCs but this is the first time I've seen someone connect the dots and create an easy-to-use offering that did both. Also interesting is the fact that the product, at least currently, doesn't run on Windows Mobile. It focuses on current Symbian-based phones, primarily because there are more of them. Windows Mobile is in the plan, however.
With camera phones, in particular, now starting to replace cameras as the primary way to take pictures, getting those pictures off the phone and where you need them easily has become a problem that Vizrea appears to solve elegantly. I was impressed.
Is Ask.com Better Than Google?
Like you, I've been watching what looks to be a very powerful campaign by Ask.com quoting a bunch of folks I know as saying that its search engine is better than Google's. I'm a big Google user and have developed a set of skills that allows me to get to information indexed by that market leading service rather quickly. However, as someone who has complained about others being too set in their ways to try new things, I didn't want to exhibit the same behavior — yes I will eventually even try a new Mac — and so I gave Ask.com a shot.
I've been using it steadily ever since. Granted Google is still on my task bar, so I do tend to try it first, but when I don't see what I want on the first page I'll try Ask.com and, presto, generally what I want is on that first page. Now this is truth in advertising. While I'd noticed that for some things even Yahoo and Microsoft were better than Google, Ask was consistently better, so much better in fact that I'm starting to wonder if Google is in trouble.
Adding to this concern was a briefing I got a couple of weeks ago about a new service called ChaCha which uses an amazing new search ingredient called "people" to assist with the search because someone finally figured out that most of us don't think in Boolean logic — the proper method for constructing a search query. What makes this service particularly interesting is the search "guides," actual people who assist you in finding stuff. They are paid using a multi-level (think Amway or Mary Kay) approach for compensation.
Going back to the non-linear thinking we started out with, Ask and ChaCha are both hitting Google in ways that I doubt Google expected. Ask is using a combination of very good marketing and technology to fight Google, and ChaCha has a more aggressive approach in attempting to redefine the search model itself from the bottom up. Google, apparently, isn't having fun in China either, suggesting its run may be winding down either way.
If folks continue to approach competition and the market in general with more of this kind of creative thinking, the tech market could be headed for resurgence. For the Intel folks who were laid off over the last two weeks and for the rest of us in the segment, this would be welcome news.
---
Rob Enderle
is a TechNewsWorld columnist and the Principal Analyst for the
Enderle Group
, a consultancy that focuses on personal technology products and trends.
---