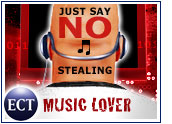 There's yet another pay-per-tune music store on the Net, this time launched by media behemoth Sony through its Sony Connect subsidiary in Santa Monica, California.
The store has a library of more than half a million tracks from all major labels and some independents, as well as exclusive content from such artists as Avril Lavigne, Yeah Yeah, Snow Patrol and Toby Lightman.
As with competing online song outlets, tracks at the store will sell for 99 cents each and $9.99 per album.
Why Another Store?
Stand-alone software, which can be downloaded for free from the site, is needed to purchase tunes from the e-store. That could be a turn-off for consumers, according to Jarad Carleton, an IT industry analyst with Frost & Sullivan in Palo Alto, California.
"Downloading software to order items from a store is a barrier for any company because, after a while, consumers get tired of having to download different software from different sites," he told TechNewsWorld.
Carleton said he finds Sony's move puzzling. "Now we have numerous companies in the legal music download business from Amazon to Walmart to MusicMatch to Napster," he said via e-mail, "I have to say that I don't see the value proposition for creating yet another place to purchase music — other than those titles that Sony sells from its own site that have been published by its own label are going to have a higher profit margin than if they were sold via a third party music download store."
Necessary Evil
But other analysts see Sony's move as a necessity for preserving its market share in the music hardware arena.
"Sony has to launch this almost as a necessary evil if they want legal downloads to be available to owners of their minidisc players," Ross Rubin, director of industry analysis for NPD Techworld of Port Washington, New York, told TechNewsWorld.
"Those devices can't easily access the protected Windows media format that's used by most of the other services, such as Napster and MusicMatch," he said.
Lever for Bigger Game?
"The site is tied to their devices," Ray Wagner, a research director at Gartner in Stamford, Connecticut, told TechNewsWorld. "There isn't much out there for those devices today."
This is an early effort to get into the game, he observed. "It doesn't do much good to buy some of these devices if there's not some kind of download service behind them. So it's something they have to get into whether they're late or not."
Tunes sold at the store are in a proprietary Sony compression format, ATRAC3, which is compatible with the company's portable music hardware.
Competing Format
"Sony is offering a competing format with Apple and Windows to stake their claim to the space," Wagner noted. "And because they sell so many hardware devices, that's something to contend with."
According to Sony, it has sold more than 2.5 million Walkman-branded devices in the United States alone that can play music from its online store, and it expects that number to increase to more than 7 million by the end of the year.
Wagner surmised that Sony's store opening is a prelude to greater service offerings in the future and a possible base for promoting new standards, such as the digital rights manangement (DRM) standard the company is rumored to be working on with Philips and that is predicted to be released later this year or in early 2005.
Messy State
The current state of DRM "is a mess," Carleton of Frost & Sullivan contended. What's needed is a common DRM scheme that will maintain licensing rights for a file regardless of what kind of device is trying to play the file, he explained.
"It is going to take a while for standards to proliferate in the DRM market, but when they do, the need to download different software from different music sites should diminish or disappear," he said. "Unfortunately, I don't see that happening for a few years."
Not only will the need for different software storefronts disappear, but so will the limitations on hardware, according to Richard Bullwinkle, senior product marketing manager at Rio Audio in Santa Clara, California.
Pirates Trump Legits
The real-world music model that consumers are used to is that you buy a CD from a music store and it will play in any player, he explained, and the digital model needs to emulate that.
"Apple has been able to create a walled garden, and it looks like Sony is trying to create a walled garden because they offer a really good experience," he told TechNewsWorld. "But if you look at the number of songs that are stolen each day compared to the number of songs that are sold each day, they're not even close to each other."
People are stealing music "because that's the easy way," he continued. "If I get something from Morpheus or Kazaa or one of those places, it will work anywhere. And that's what consumers expect.
"Until the people who make portable devices and the people who sell music create a way that is that simple to customers," he added, "digital music will not be as mainstream as the CD."