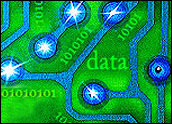 Scientists at Northwestern University have developed a new nanomaterial that can reconfigure itself by directing the flow of current.
This could lead to computers that can reconfigure their internal circuitry as needed.
The hybrid material, created by a team led by Bartos Grzybowski, professor of chemical and biological engineering and chemistry at NWU, combines different aspects of silicon- and polymer-based electronics to create nanoparticle-based electronics.
It can handle streams of electrons flowing in multiple, or even opposing, directions at the same time.
Long Way to Go
However, a self-reconfiguring computer isn't in the works any time soon.
"This is a very, very long way from commercialization," JoAnne Feeney, vice president and senior semiconductor analyst at Longbow Research, told TechNewsWorld.
"It took the industry 10 to 15 years to sort out FinFet transistors, and that was just a relatively minor change in transistor structure," Feeney elaborated. "This is far more ambitious."
FinFet transistors are a type of double-gate transistors.
The NWU team published their findings in Nature.com.
Team members did not respond to requests for comment by press time.
The Making of the Material
The researchers used toluene to dissolve gold and tetrabutylammonium borohydride, known as "TBAB," in separate vials.
TBAB is a selective reducing agent.
Loosely speaking, they combined the two, stirred the result overnight to form gold nanoparticles, and added another gold salt solution to this, stirring vigorously.
Then, a solution consisting of hydrazine monohydrate dissolved in toluene was added, and the result stirred overnight.
More chemicals were added and other procedures carried out. The process is described here.
What's New, Pussycat?
The NWU team was making a switchable nanomaterial — a material that can change its properties and functions in response to external stimuli.
Such materials have potential applications in electronics, sensing and catalysis, the researchers said.
Previously, researchers used molecular switches to develop switchable nanomaterials, but the NWU team showed that electrical conductance through films of gold nanoparticles coated with a monolayer of charged ligands can be used instead.
Ligands are ions or molecules that bind to a central metal atom to form a coordination complex.
The hybrid material made by the research team consists of electrically conductive particles coated with a positively charged chemical and surrounded by negatively charged atoms.
When an electrical charge is applied to the material, the negative atoms can be moved and reconfigured, but the positive particles, which are larger, won't move.
Pushing and pulling the negative atoms erases old paths and crates new ones. Using multiple types of nanoparticles can create more complex electrical components such as diodes and transistors.