Nikon on Wednesday announced an Android-powered digital point-and-shoot camera, the Coolpix S800c.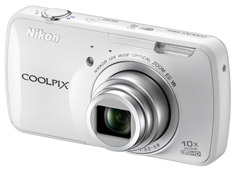 The Nikon Coolpix S800c
The device has built-in WiFi and runs Android Gingerbread. It will let users connect to, browse and upload photographs and videos to their social networks.
Users will also be able to surf the Web and download apps and games onto the S800c.
The camera's available now for pre-order. It will arrive in September in two colors — white and black — at a suggested retail price of US$350.
Spec'ing Out the S800c
The Coolpix S800c runs Android 2.3 Gingerbread. The S800c comes preinstalled with Google+, YouTube, Google Maps and Gmail.
The camera has an "Upload to Smart Device" app that lets users transfer high-resolution photographs and videos over WiFi to smart devices running either Android or iOS.
The S800c has a 3.5-inch widescreen OLED VGA touch panel monitor. It has a rear-illuminated CMOS sensor with an effective pixel count of 16 million pixels. The camera lets users record 1920 x 1080p full-HD movies at 30 fps with stereo sound.
It comes with a 10x optical zoom 25-250 mm Nikkor lens and VR optical image stabilization.
A GPS function in the camera lets users record geolocation details when taking photos or videos. These geolocation details will be displayed on Google Maps when the "My Picturetown" app is used.
Gingerbread, Man, Me Love You
Incorporating Android into the camera is "mostly an effort to stay current with the market," Charles King, principal analyst, Pund-IT, told TechNewsWorld. Still, while smartphones take good photographs and videos, "many dedicated cameras continue to have an edge in overall features, image quality and editing features."
Nikon is probably going with Gingerbread rather than Ice Cream Sandwich because "many of the latest Android features seem focused on improving the performance of larger-format devices, including tablets," King suggested.
Newer versions of Android may have more system requirements and make more demands on battery life, remarked Jim McGregor, founder and principal analyst at Tirias Research.
"We're going to see this more and more with cameras and cellphones — their manufacturers won't always be going after the latest OS because it may consume more battery life or make more demands on the system than the manufacturer wants," McGregor told TechNewsWorld.
Nikon did not respond to our request for further details.
Not the Only Fish in the Sea
Nikon's Coolpix S800c is not the first, or only, digital camera using Android. Back in January, Polaroid demoed the SC1630 smart camera at the Consumer Electronics Show in Las Vegas.
That device was a 16 MP camera with built-in 3x optical zoom, a touchscreen display and WiFi capability. Features included a 3.2-inch widescreen display, automatic face and smile detection, geotagging, on-board editing capability, and a 32 GB microSD card slot. The Polaroid SC1630 had WiFi, Bluetooth and optional cellular connectivity.
However, little has been heard about the device since January. Polaroid did not respond to our request for further details.
Looking Ahead
Expect more digital cameras with a mobile OS in the future, Tirias Research's McGregor predicted. "The scale is definitely tilting towards handsets … [but] you'll still have some consumers in a superniche who will want cameras because of the better lenses."
Nikon's foray into building Android into digital cameras also "opens up the realm of possibilities of using embedded devices on other platforms" because Nikon's product line also includes industrial automation control, McGregor pointed out.
"If I want to take that Nikon technology [with built-in Android] and use it for visual inspection for semiconductors or whatever, I can do that and I have a platform that's consistent and supported very well going forward," McGregor explained. "There are advantages to Nikon well beyond the immediate benefit."