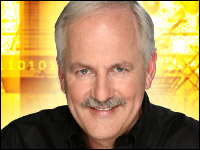 Last week, I was on CES withdrawal and lusting after the latest Apple killer product, the Motorola XOOM, which like the Palm Pre years before was best of show. However, the Palm Pre failed in market and never became the iPhone killer it could have been.
Given that Palm was full of ex-Apple employees, you would have thought they would have had some insight on how to beat Apple, but instead it seemed that they intentionally did everything wrong, almost as if there were someone inside the company intentionally sabotaging Palm's efforts. I've now seen the same behavior several times and wonder if I'll see it with Motorola.
Also last week, Sara Palin used the phrase "Blood Libel" which, had she bothered to look it up on Google, she likely would have avoided. Much likeI did with Carly Fiorina and Meg Whitman, I'm going to predict that Palin won't win the presidency unless she starts researching before she opens her mouth. She could be the first woman presidential candidate whose career is killed by not googling.
I'll address both of those things this week and will, as always, close with my product of the week — the product that was Best of Show at CES, and that Apple will likely next sabotage, the Motorola XOOM.
Industrial Espionage to Corporate Sabotage
By way of background, years ago while working at IBM in competitive intelligence (which is a little-discussed function in companies focused on spying on competitors), I ran into what actually turned out to be a mole and saboteur. In this case, it was an executive who was regularly leaking confidential documents to a competitor. The only reason I caught him was that he leaked one of my documents and then tried to get me fired, and it was through researching what happened that he was identified as the actual source.
He later left the company for a position with the very firm he had been leaking documents to, heading a group in charge of stealing IBM customers.
It was not dissimilar to a mole working for Russia getting caught and then landing a high-ranking job at the CIA. I doubt the practice is unique, because there were a number of instances while I was at IBM in which similar moles working for other companies were caught, and I'm sure we only caught a small fraction of them.
There is actually a lot of history going back to 1712 of companies getting caught doing this; we just don't talk about it much.
Arguments for Apple Sabotage
Early on in the iPod's life, Apple got word of an HP product that could have outsold it (a Wikipedia entry claims it failed in focus groups, but note that this comment isn't sourced, and when I did the post mortem with HP, this wasn't mentioned). This was such a secret product that few in HP knew about it and my community didn't find out about it until after it was killed.
Steve Jobs himself personally called Carly Fiorina and offered to license the iPod to HP in exchange for HP's killing of its own product. He then did everything he could to kill the HP iPod — he even blocked colors, including the initial blue, because he said iPods should only come in white — with the result that it never came to market.
But how did he know it even existed? And given how egregious damaging the agreement with HP was to HP, how did he get Carly's advisors not to point out that it was stupid for her to sign it? We aren't talking stupid people; yet Jobs seemed to have both inside knowledge and the ability to drive a very unfavorable result for HP.
In 2008, Dell's secret iPod killer was leaked to the WSJ, Apple's favorite publication, and the leak forced Dell to talk about this product long before it was ready.
The end result was that Dell never released the product, even though it initially had very strong internal support and far more capability than the iPod nano offering it was to compete with. Another competitive product killed before it could come to market. Here there was no direct connection to Apple, but it was one hell of a set of coincidences that favored the company. The leak was never identified.
The most dramatic, however, was the Palm Pre, which had standing ovations (it was Best of Show that year) when it was launched at CES. The company seemed to go down a checklist of textbook mistakes, all of which ensured the Pre would fail in market.
It used high-cost, high-concept TV campaigns, which just burn money without any real benefit — something Apple never does. This strategy had the impact of draining the money out of the company so that it couldn't continue to operate.
It alienated initial supporters by favoring reporters who generally favor Apple products (and did so during their reviews). This reduced the positive initial reviews substantially and eliminated much of their advocacy.
And they chose Sprint as their initial carrier — the only carrier in the U.S. people liked less than AT&T, Apple's chosen carrier. It really was like someone went down a list of company-killing tasks to take Palm out of the game, and it never became a threat and was later bought in a fire sale by HP.
Wrapping Up: Anticipating Motorola's Saboteur
I left out the Motorola ROKR with iTunes, which Apple killed at launch, in the section above, because I wanted to remind you of it here. Word was that Motorola wanted a music phone and Apple wasn't ready to bring out the iPhone yet.
The timing suggests that upon recognizing the risk to the iPod, Jobs approached Motorola and partnered with it (does this sound familiar?) to build the ROKR. Then it effectively killed it by announcing the new iPod nano on top of the ROKR, causing Ed Zander to accuse Jobs of purposely undercutting the product (note this does have a citation in Wikipedia).
So, I expect a number of not-so-surprising problems as the XOOM comes to market, including bad advertising, an inability to build advocacy, and an inability to maintain secrecy — which will doom the XOOM like it did the Palm Pre.
I expect we'll all sit back and wonder how the company that had the top phone before the iPhone, the Motorola RAZR, could make so many mistakes. Well, you'll wonder — I won't. So, what do you think? Is Apple really that lucky, or does it have an edge others are afraid to mention? This is all anecdotal, but there are a lot of coincidences. I'm one of many who don't believe in coincidences.
Sara Palin and Career Death by Google
You may recall that I took a look at Carly Fiorina's and Meg Whitman's approaches to politics well before the election and correctly predicted they would both lose, because neither would do what was necessary to win. Carly needed to admit her mistakes at HP so they didn't define her, but she didn't. Whitman needed to go against the Republican platform, support immigration reform and her long-time housekeeper, but she didn't. Both lost.
Palin needs to do her homework. As an ex-reporter (granted sports reporter) herself, she should have had some experience with looking things up. You can imagine why that career choice didn't work out for her, because she simply refuses to do minor research before opening her mouth.
In the latest dustup, she saw someone use "blood libel" and made the words her own without first finding out that the term was used by anti-Semites who argued Jews killed and ate the blood of Christian children — kind of religious vampires. As popular as vampires are, it's not a great term to use in any discussion — particularly one that started with a Jewish politician being shot by an allegedly crazy person.
I predict it will be a mistake like this that will kill any chance Palin has of being president of the U.S. It's just too soon after the last person who didn't engage his brain before opening his mouth got that job.
Product of the Week: Motorola XOOM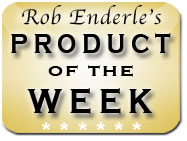 Even after all I just said about why the XOOM will fail, how could I not make the most stunning tablet at CES my product of the week? Based on Android Honeycomb and looking like it was developed to showcase almost everything the iPad can't do, the XOOM is a true Tour de 'Force stacking up well against the current iPad.
Slightly larger than the iPad, it is a true 4G tablet (it launches with 3G in Q1 but will get an upgrade to 4G in Q2) in that it supports LTE. Even the Verizon iPhone doesn't do that. It has a front-facing 2 megapixel camera and a rear-facing near HD 720p capable HD camera.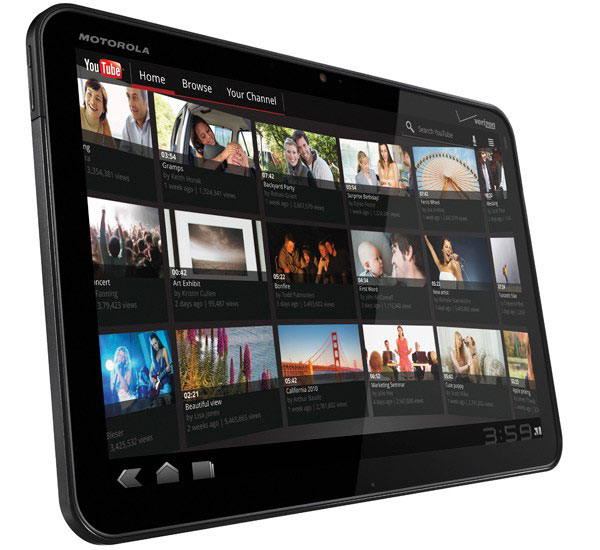 Motorola Xoom
It has an SD slot that will support up to 1 GB of extra memory. It has a gyroscope, barometer, e-compass, accelerometer and adaptive lighting to be used with various applications (particularly games). It lacks an outdoor viewable display — the only thing keeping me from giving it a standing ovation.
It has an HDMI socket and can output 1080p thanks to the Tegra 2 core technology from Nvidia (Nvidia really hit it out of the park at CES). It is also a mobile hotspot, so you can connect your other WiFi gear to the LTE network. You can't even tether an iPad to an iPhone.
So the XOOM is my Product of the Week, because it could beat my Product of the Year for 2010 — the iPad, that is — unless someone inside of Motorola sabotages it. Now what chance is there of that? Oh wait…
---
Rob Enderle
is a TechNewsWorld columnist and the principal analyst for the
Enderle Group
, a consultancy that focuses on personal technology products and trends.