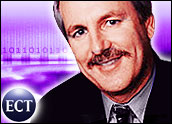 I am breathing a long sigh of relief this week now that the election is over and it appears, for once, the most qualified candidate actually got the job. This seems to rarely happen, and my only remaining hope is Apple gets a clue from McCain's loss and switches off the negative advertising and instead works on improving its own products.
Speaking of improvement, one of the things on our new president's to-do list is getting the U.S.'s first CTO, or chief technology officer. This to me means we have our first president that actually seems to get that technology has uses other than expensive weapons platforms that often don't work and that, properly used, our technology segment is probably one of the U.S.'s biggest global advantages.
That being said, I've been thinking about who the best U.S. CTO would be and where they initially should be focused with the goal of assuring the Obama presidency is a successful one, because I really don't want to be owned by China.
We'll close with my product of the week, an impressive new phone from Palm that indicates Palm actually is getting back into the game and is not yet ready to go quietly into the night.
Picking the New US CTO
Now, typically a spot like this would go to a big contributor or backer who would screw around for a couple of years before being replaced by someone else who wanted the title and responsibility. But I'm hoping Obama will break this trend and instead pick someone that could make a huge difference in how technology is used in this country.
Over the years, I've been involved in a number of U.S. government bids, and all contained too much avoidable cost, too many were rigged, and an impressive number seemed to be simply the wrong thing for the project that needed to be done. Yes, the U.S. is kind of like most large companies, only more inefficient.
The big problem with the cost is the process that any company has to go through to first qualify as a viable vendor and the vast number of rules they have to follow, which both can be easily circumvented and generally have nothing to do with the quality of the result. For instance, I think the country would generally be better off simply buying the best tools for the money and not just crap from companies that know how to look ethnically diverse and know how to wine and dine politicians.
So, while it would be good to have someone who at least understood the politics, I'd like to see the person selected have a solid knowledge of technology and a history of solving the kinds of problems that the country is likely to face on technology.
I ended up with four potential candidates: Al Gore, Lawrence Lessig, Vin Cerf, and Shane Robison. The one you like the best depends on the job that needs to be done. You'll note I didn't pick any CEOs, and that is because the CTO is a support role, and a CEO would likely have issues being a great CTO. Let's take each in turn.
Al Gore
Nobel Prize winner Al Gore would be the right guy if you needed someone to sell ideas to the Senate, could build his own staff of technology advisors, and if the primary focus was alternative energy.
In the debates, Obama did indicate alternative energy was the leading problem he wanted to solve, and no single person is currently more capable in this arena. Gore has the stature and presence to drive his ideas through government but would be comparatively weak on technology particularly if it comes down to the government's use of it. In other words, he would be tightly focused on the energy problem with a congressional focus, but, given it is the most important, that may be OK for the first term.
Lawrence Lessig
Lawrence Lessig is a recognized technology activist and a founder for the Center for Internet and Society.
His biggest contribution is reducing the legal restrictions on copyrights, which probably have the biggest negative impact on U.S. technology productivity at the moment. He has had a massive personal focus on reducing congressional corruption and would likely be ideal if the initial focus was to eliminate corruption from this portion of government, which should both reduce government spending and increase government efficiency. This too would likely be a one-term posting, but Lessig could make huge strides in assuring the U.S. taxpayer got what they were paying for.
Vin Cerf
Presidential Medal of Freedom holder Vin Cerf is the closest thing we have to a technology demigod.
He is truly one of the greatest technology living legends. He has a broad technology background and would likely understand at a very deep level what is needed to improve the U.S.'s competitiveness in technology around the world. Incredibly well connected and the recipient of awards from a number of administrations both Democrat and Republican, he would be the ideal choice if U.S. technology dominance was to be assured and has enough breadth to shift focus several times during two terms. He would also be the most likely, of those so far noted, to continue after a change in administration, indicating he might actually be able to finish what he started.
Shane Robison
Shane Robison is, in my view, the best CTO currently working in the U.S. for a complex multinational who has solved problems similar to what the U.S. now faces.
He is the best choice if the job really is a CTO job similar to other CTO jobs. Shane was instrumental in the turnaround of HP, built one of the best internal intelligence organizations I've ever seen, and survived and flourished after the CEO who first put him in the role was fired. He too could stay on for more than eight years, but his income level makes this unlikely, and would be best focused initially on the broad problems the U.S. has with technology and assuring it was purchased wisely, deployed properly, and advanced appropriately. He has led teams up to 2,000 people, and is an ex-Apple VP showcasing he can manage large groups and sell ideas.
Strangely enough, regardless of who is picked, it would be wise to recruit the help of every one of these guys, because it is a really big and incredibly difficult job. But the one that should be selected is largely based on the job Barack Obama wants to get done. Our hopes and prayers go with him, because it is clearly in all our best interests, and I believe this is a global statement given the U.S.'s footprint, that the person who gets this job is the right one.
Product of the Week: Palm Treo Pro
I've never been a huge fan of the Palm Treo because, while it worked well, traditionally it was big, kind of clunky, and the Palm OS didn't age well. The new Palm Treo Pro, however, showcases that Palm is back and wants to play ball with the big boys. Jet black with similar dimensions to the new iPhone, it has a replaceable battery, an actual keyboard, and full native Exchange syncing, making this one sweet phone. It runs Windows Mobile 6.1 and can be purchased unlocked, though it isn't cheap at around US$500 online.
It can be tethered easily to your PC and used as a modem, something Apple won't let you do with an iPhone (yet), potentially saving you hundreds a month if you otherwise would have to buy two services. It also will do turn-by-turn navigation, which iPhone also won't do yet.
In theory it will accept up to 32 GB of flash memory and has an O.K. 2 Megapixel camera. The phone can be remotely managed and diagnosed even down to assuring enterprise level encryption of its flash drive, making it a nice enterprise product as well as a safer personal one. Because this is one of the best cell phones I've ever used and because it kicks iPhone butt in a number of areas, the Palm Treo Pro is my product of the week.
---
Rob Enderle
is a TechNewsWorld columnist and the principal analyst for the
Enderle Group
, a consultancy that focuses on personal technology products and trends.
---