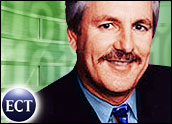 This week's column is inspired by my experience last week in Miami where I moderated at AMD's Global Vision Conference. A number of distinguished speakers participated and we spoke at length on the digital home.
On my panel I had Dave Alles, Microsoft's eHome division chief; Ameer Karim, Director of Worldwide Product Marketing with HP's consumer PC division; Bob Lambert, Senior VP, Worldwide Media Technology and Development at Disney; and Michael Markman, Senior Director, Marketing from Digeo Moxie. We chatted about problems with the current market, what needs to be fixed, and what we're likely to see in the future.
AMD and the 'Vision Thing'
I was at IBM when Louis Gerstner, IBM's previous CEO, took over. He was pounded because he didn't seem to have a vision. He referred to it as the "Vision Thing" and argued that he needed to get the company operating on a day-to-day basis again before he could take time thinking about the future. Even then I was not convinced that it feasible for a leader to make such a choice. If you don't know where you are going there is little likelihood that you will get there.
In the PC market, on the hardware side, Intel has historically taken the lead role on vision and they first started showing products that would digitize the home in the late '90s. From that time until now we haven't been able to come up with a PC product that has had the success that the Palm originally had or the iPod now has.
AMD, seeing the vacuum, is now moving aggressively to rip the vision responsibility out of Intel's hands and move it in another direction, arguing that part of the problem with our lack of progress has been Intel's leadership, or, more accurately, lack thereof. They clearly weren't ready to respond to Intel's highly successful Centrino effort. They appear to be bringing out a much more complete challenge to the similar Viiv offering. (Viiv is Intel's Centrino-like bundle for the digital home.)
They are right: We aren't where we need to be. But competition to get there would probably result in getting better products faster, so this can only be a good thing.
Video iPod Buzz
While an Apple media center computer still seems a long way off, the rumor that Apple, along with Disney, might announce an 80 GB video iPod is becoming difficult to ignore. If Apple is able to do to the video market what they did to the MP3-player market there will be a lot of egg on a lot of executives' faces.
Speculation at the Global Vision show was that Apple and Disney were going to jointly announce this and that it would be a precursor to a new relationship between Disney and Pixar as well. I'm still not convinced people want to watch videos on very small screens but I have to admit, if Apple does this right it will open doors for them that have been closed to others and further suggests that an Apple media center-like product could actually be in the works. And if they get one or both of these right I don't envy the Microsoft employee who has to explain it to Bill Gates or Steve Ballmer. If there are two guys who like having their own butts kicked any less, I don't know them.
The Broken Digital Home
The iPod and Sonos products have showcased that concealing technology and providing a great user experience go hand-in-hand with success. It, quite honestly, fascinates me that Apple has been able to hold onto the market share they have simply because no one else has come up with anything anywhere nearly as good in the years since launch.
It is interesting to note that Apple was so scared of HP's entry into this market that they approached HP to co-brand the iPod. Of all the vendors out there HP probably has the best chance of coming up with a product and service that could compete. They build the best media center computer today, and we will see just how good they are next year.
Still, the lesson learned is that ease of use must dominate all other criteria and delivering on that promise is what continues to make the iPod the product to watch in this space. The iPod is all but impossible to catch at this point. "But," however, is a really big word.
But — the digital home is more than just music. It is video as well, and in considering the video iPod rumor we shouldn't forget that DRM, Digital Rights Management, remains one of the biggest impediments to success.
DRM is preventing us from getting the programming we want where we want it. It is a huge problem for the media center class of computers in general. Even for devices like plasma displays that can, through a technology called "Cable Card," be enabled to work without a set-top box, it is so aggravating to get the Cable Card we figure most won't. And this removes much of the advantage and promise of digital convergence.
To get the iPod experience, critical to the success of new digital home, content has to be accessible. But DRM, right now, is making that a near impossibility particularly for high-definition content. The HD content is the most desired, however, and if media center customers can't get to it, there will simply be fewer of those customers.
If media center PCs are to be broadly accepted they need to be vastly easier to use. They need a built-in amplifier and wireless connectivity to peripherals (like displays and speakers) so they can better compete with set-top boxes which are installed for you and subsidized.
Set Top Box
I was pleased that Digeo Moxie came to the event in Miami because I think they come closest to being able to provide the next-generation set-top box user experience. They have, as of this writing, actually won two Emmy awards for their product. In my view, they do the best job with the set-top box. However, like most set-top box solutions you can't use it unless your cable provider has picked it up.
In addition, it is more limited than the media center PC, but if we take the iPod as an example, that isn't necessarily a bad thing. They also have issues with HD content and are limited in expansion capability. But the user experience is the closest to what the market seems to want.
After looking at Digeo's offering and factoring in the cable industry's content and installation advantages it wouldn't be hard to conclude that cable will win this fight. Then we'll all be even more tied at the hip to our cable operators in the future.
The Future of the Digital Home
After last week's discussions I'm now convinced that the future of the digital home will have less to do with consumption and more to do with creation. We are providing children and young adults with amazing capabilities for creating their own programs. At some point, much as blogs have begun to take the place of traditional news services, independent video content, which comes with little or no DRM, will take the place of more traditional offerings and the market will move.
I think the studios have a surprise coming in a few years and will discover that while heavy DRM can prevent copying it can also prevent use. If no one's looking at your content, you're out of business. I'm not convinced most will see this bullet soon enough to dodge it but it is clear that Disney, at least, may see it coming.
The future of the digital home, in short, will be one where your programming (video and audio) follows you wherever you go both inside and outside the house. It will be supplemented by communities that will help you choose the programming you want to watch and listen to and it will learn from your usage patterns what you like. Much of this content will be created by a growing group of individual artists and not come from anything, other than a possible aggregator, which looks like a traditional network or movie house.
You'll pay for it, much as you do now, by subscription, by individual purchase or through advertising. The quality of the content will have more to do with the provider than with the method and type of payment.
The technology to make all of this a reality exists today; it will be interesting to see how long it takes the various parties to finally get it right. The next Bill Gates may be the guy who gets there first. The future is coming regardless.
---
Rob Enderle
, a TechNewsWorld columnist, is the Principal Analyst for the
Enderle Group
, a consultancy that focuses on personal technology products and trends.
---