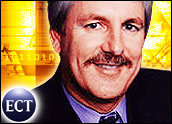 I was tempted to pick FUD as a topic and talk about how McCain's use of it killed his campaign. However, last week we had two major launches, one of which was Apple releasing its latest notebooks and embracing graphics as a defining feature but avoiding Blu-ray and HDMI.
Apple works to drive the markets it occupies and is successful more often than not, but Google's Android launch is an attempt to dispute Apple's iPhone leadership and perhaps leapfrog Apple into dominance of the smartphone segment. I've been using the new G1 phone from HTC for about a week and it is in some ways more impressive than the first-generation iPhone.
We'll talk about both of these things this week and conclude with my product of the week, the Archos 5 media player, which is probably the best portable media player you've never heard of. (Probably should be the Archos tag line).
Apple's View of the Laptop Future
Apple was so excited about its new case designs that it passed empty cases up and down the rows at the launch. The writers inserted a joke about Steve Jobs' health and attempted to showcase — by having a bunch of people make relatively boring presentations — that Apple had a deep bench, but I think all it really showcased is that Apple has only one pitcher, and no one else is even close to being able to fill Steve Jobs' shoes. In terms of excitement, this was far from Apple's best launch.
Still, the products are impressive, and the combination of Apple's rapid growth and the fact that it dominates the high-margin PC business is getting Apple a lot of attention. While this attention will lead to increased competitive exposure, it reaffirms Apple's leadership, and this means what it does, or doesn't do, will impact future products from others broadly.
Apple put Nvidia graphics across its notebook line. This is huge for notebooks in general and Nvida in particular. Many of us think the historic use of integrated graphics in most notebooks has severely reduced sales volume and hurt secondary markets like PC gaming substantially.
Apple has always sold on its graphics promise but, up until this release, most of the laptops it sold couldn't meet it. This is a big move and if — as I expect will be the case — other vendors more aggressively follow, it could light a fire under the laptop segment and make laptops as a class a much more useful product.
Apple's move avoiding Blu-ray on notebooks is spot on, though it has Blu-ray singing the Blues. It just doesn't make sense on a notebook, particularly an Apple notebook. Blu-ray is more expensive, requires more power, still lacks most content, and only really looks good on a screen several times what the largest notebook has. In addition, it competes with the iTunes download service. Not doing Blu-ray on an Apple notebook is a no-brainer.
Apple is choosing DisplayPort over HDMI for its default laptop port, and I think this move may be a miss because laptops — unlike desktops — have to plug into whatever they find themselves near, and DisplayPort just isn't that widely used yet. No one likes carrying dongles, and HDMI would likely be better for most simply because, right now, there are more monitors and TVs with it. In a few years, this may be a good move, but I think Apple may be too far ahead of the curve with this one.
Overall, however, the products are stunning to look at.
HTC Dream Google Android Phone
As I mentioned above, I've been using the HTC Dream for nearly a week and it is an impressive phone. It doesn't yet integrate with Exchange, so I can't live on it yet, but I expect that will be fixed by third-party applications shortly. I've only had to reboot it once (e-mail hung) but I never missed a call, nor did it crash on me while making one. Battery life is in line with most 3G phones, which means it isn't great but it does have a replaceable battery.
The keyboard is one of the best I've ever had in a phone, and the device is reasonably easy to learn and use (being a typical male, I don't read instructions). Connectivity speed was surprisingly good given 3G hasn't fully rolled out over the T-Mobile network and the browser is actually much better than the iPhone's in terms of capability. It is amazing, for instance, with YouTube videos, and it will play flash, meaning it, unlike the iPhone, will play all of them.
Physically, it doesn't catch your breath like the original iPhone did (the 3G iPhone looks slightly pregnant to me), but it is very functional and uses a standard mini-USB port to connect. I hate keeping track of unique chargers or dongles and often forget to bring the one that goes with the phone, USB chargers and cables are easy to find and I really think most phones should use a standard USB interface. It just makes using the thing so much less risky and one of the things I like about HTC in general.
It doesn't have multi-touch, but the screen worked just fine, and I'm much faster typing on a keyboard phone than I am on a screen phone anyway, so I naturally prefer the keyboard. Initially those that live inside Google's properties (Gmail, etc.) will like the phone the best, though it will work with most POP and IMAP mail systems.
Overall, I'm very impressed with this phone — it feels more like a second-generation than a first to me, and that alone is very impressive. The HTC Dream, while not as attractive as the iPhone hardware, should hold up better and, since it has memory expansion, the replaceable battery, and an easily removed SIM card, it should last longer as well.
If it had something like Live Mesh or MobileMe behind it, or worked with SugarSync and integrated better with Exchange, I could easily live off this phone, and the browser experience will be very hard for me to give up when I send it back. Check it out if you get a chance.
Product of the Week: Archos 5
I've been a fan of Archos for years. The new Archos 5 and soon-to-be-released Archos 7 offerings, from a hardware standpoint, are simply amazing.
They are the closest thing to what Intel is imagining in a MID (Mobile Internet Device) currently in the market. They are also almost the exact opposite of the Slacker G2 I spoke about last week.
The Archos products aren't tied to any service and are video machines with a browser that matches the capabilities of the Android Dream, but on a much larger 5-inch or 7-inch screen. The devices support a large number of video types, which means files move onto the devices in minutes not hours because most don't need to be transcoded as they do on Apple and others' products. With capacities of 30 GB to a massive 320 GB and prices ranging from under US$300 to $550 and a really nice $100 GPS option that rivals some of the best standalone GPS navigation devices.
They have removable batteries and typically can do video for around 7 hours — about 3 movies — long enough for the vast majority of plane trips. The built-in WiFi capability is good, but I think this entire class of device will benefit massively from WiMax when it finally arrives. Finally, the Archos products are simply beautiful and represent one of the best looking products in the class, one of the few products that look as good, or better, than something from Apple without copying them.
Because I watch a lot of video when I travel, because the product is beautiful, and because almost every tech geek I know either has or wants one, the Archos 5 is my product of the week.
---
Rob Enderle
is a TechNewsWorld columnist and the principal analyst for the
Enderle Group
, a consultancy that focuses on personal technology products and trends.
---