Apple on Monday announced a pair of new products in old sizes — the 4-inch iPhone SE and the 9.7-inch iPad Pro — banking on user preferences for the familiar form factors to lessen their hesitancy to upgrade.
Although Apple's hour-long "Loop You In" event was short on surprises, it was slimmer on filler as well. Among the notable extras, Apple announced a price cut bringing the Apple Watch to US$300, along with a selection of new bands. It also announced support for Apple TV folders and the release of iOS 9.3.
However, the major news was the unveiling of the iPhone SE and 9.7-inch iPad Pro.
The iPhone SE
Apple used the tag line, "let us loop you in" on its invitations to Monday's event, but considering just how accurate the pre-event rumors were about the new iPhone SE, few remained out of the loop.
However, Apple added a few pieces to fill out the almost-complete puzzle that analysts and insiders had assembled.
Apple last year sold more than 4 million 4-inch phones, reported Apple Vice President Greg Joswiak.
Some people asked for the smaller size, while others pleaded for it, he said.
Projected to cost between $400 and $500, it turns out that the two versions of the iPhone SE — the 16-GB and the 64-GB — are in fact $400 and $500 respectively.
Apple also confirmed that the iPhone SE will pack a 64-bit A9 processor and an M9 motion coprocessor. It will provide improved battery life, as well as LTE speeds that are up to 50 percent faster than the iPhone 5s.
On its back, the iPhone SE carries a 12-MP iSight camera that supports 4K video, presumably at 30 fps, and 1080p video at 60 fps. Its FaceTime camera will be supported by Retina Flash, a feature that triples the brightness of the phone's display to illuminate selfie shots.
The iPhone SE has Touch ID, enabling it to support Apple Pay.
New microphones help it leverage always-on "Hey Siri."
"As you can see, we've added an incredible array of advanced technologies into the iPhone SE and its really compact design, which makes it the most powerful 4-inch phone ever," Joswiak said. "It really is an amazing device."
Apple will begin taking preorders for the iPhone SE this Thursday, and it will go on sale on March 31.
The 9.7-Inch iPad Pro
Apple has sold more than 200 million 9.7-inch iPads, proclaimed Philip Schiller, senior vice president of worldwide marketing.
"People have loved this size — and from the beginning, it has remained our most popular iPad size," he said.
When customers learn about the features of iPad Pro, said Schiller, "they'll all see that it is their ultimate upgrade."
The 9.7-inch iPad Pro is much like its 12.9-inch stablemate. It's driven by an A9X processor and an M9 coprocessor. It features a 12-MP iSight camera, with support for 4K video, and a 5 MP FaceTime camera.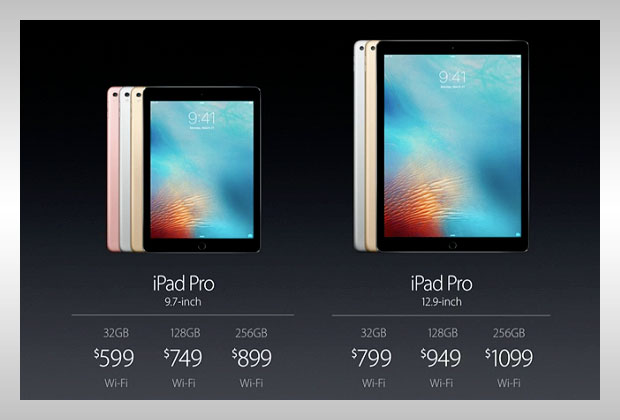 Weighing in at just under a pound, the tablet will be offered with storage capacities of 32 GB, 128 GB and — a first for iOS devices — 256 GB.
With the smaller iPad Pro, Schiller said, the company hopes to convince those who didn't spark to the 12.9-inch version to upgrade.
Apple also hopes to make converts of Windows users, Schiller said, remarking that more than 600 million PCs in service today are more than five years old.
"This is really sad — it really is," said Schiller. "These people could really benefit from an iPad Pro. And when they see the features and performance and capabilities of a product like the iPad Pro, designed for a modern digital lifestyle, many of them will find that it is the ultimate PC replacement."
While attempting to take a jab at Microsoft, Schiller inadvertently may have insulted hundreds of millions of PC users who either can't afford to exchange their venerable PC for an $800 tablet — or simply don't want to.
The iPad Pro's price point seems a bit just too high for the average consumer, said Joe Silverman, owner of New York Computer Help.
"It is certainly a beautiful piece of art, but not everyone can afford Picasso," he said.
While the price may be too high for many, the size finally may be right for others, he said of the smaller iPad Pro.
That said, Apple may need to worry about oversaturation.
"The iPad line, to me, is getting completely watered down as our iPad users are perfectly content with sticking with the old iPad Air 1 and 2 generations," said Silverman. "No need to upgrade for nominal spec upgrades — especially if the iPad is still functional."
The iPad Pro will be available for preorder this Thursday, and it will go on sale on March 31.