Apple raised the curtain on its latest iPhone models, introduced a new iPad, refreshed its watch, and announced pricing for its subscription game and premium TV services at an event held Tuesday at the Steve Jobs Theater in Cupertino, California.
The highlight of the presentation was the new iPhone lineup: the iPhone 11 (US$699), the 11 Pro ($999) and the 11 Pro Max ($1,099).
The iPhone 11 comes in six colors — black, green, yellow, purple, red and white. It has a 1,792 x 828 Retina display and runs on Apple's A13 Bionic chip.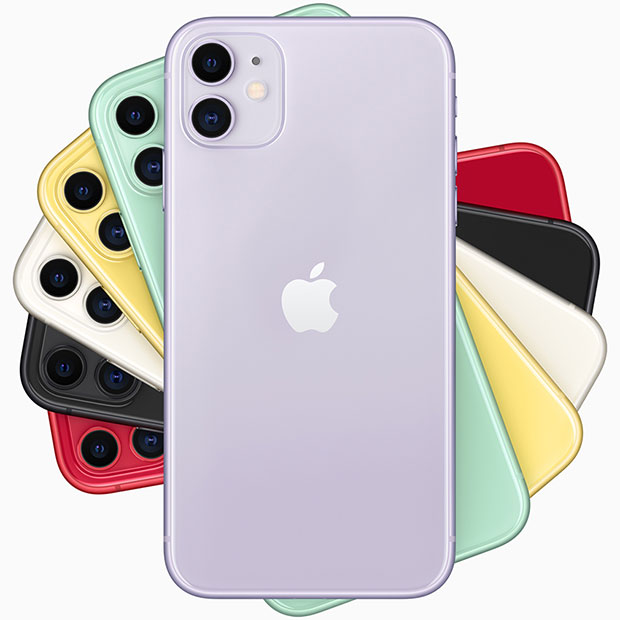 Its 12-megapixel dual camera system has both a wide and an ultra wide sensor. The ultra wide can capture four times more real estate than the wide sensor. It has 2x optical and 5x digital zoom.
In wide mode, the system has an aperture of f/1.8 and in ultra wide, f/2.4. A night mode enhances shots taken in wide mode in low light conditions.
Both wide and ultra wide modes support video. Transitioning between the modes is as simple as tapping the screen.
The system supports 4K video at 24, 30 or 60 frames per second; 1080p HD video at 30 or 60 fps; and 720p video at 30 fps.
The unit also has a 12MP sensor on the front of the phone. It now supports slow motion video for slo-mo selfies.
"That feature should get a lot of attention," said Frank E. Gillett, principal analyst atForrester Research, a market research company headquartered in Cambridge, Massachusetts.
'Jawdropping' Demo
The iPhone 11 Pro and iPhone 11 Pro Max, which are offered in gold, space gray, silver and midnight green, have similar capabilities in differently sized packages. The Pro has a 5.8-inch Super Retina XDR OLED display with a resolution of 2,436 x 1,125 pixels, while the Pro Max has a 6.5-inch display with a resolution of 2.688 x 1,242 pixels.
The phones have a triple sensor system with wide, ultra wide and telephoto cameras, 2x optical zoom and 10x digital zoom.
Other features of the camera system are similar to the iPhone 11.
"I think they knocked it out of the park on the camera side with the Pro," said Mark N. Vena, a senior analyst with Moor Insights and Strategy, a technology analyst and advisory firm in Austin, Texas.
"Apple has been taking steps for years to position the iPhone as an alternative to a DSLR," he told TechNewsWorld. "The capability they've announced in the new Pro phone underscores that commitment."
During its presentation, Apple demonstrated how a scene that typically would take multiple camera angles could be shot on one screen on the Pro Max with a popular software program called "FiLMiC."
"The FiLMiC demo was jawdropping," Forrester's Gillett told TechNewsWorld.
"Apple has been criticized for using optical lenses while Google has been doing everything with computational photography," he observed.
"Now Apple is saying we can do better with both. We're going to give you the lenses, and we're going to give you the best computational software," he continued. "With these phones, Apple will maintain its leadership in photography."
The new iPhones can be preordered starting Friday and are expected to start shipping on Sept. 20.
New iPad
In addition to its new iPhone lineup, Apple introduced a new entry-level iPad starting at $329. "That's a fantastic price compared to where iPads were a few years ago," Gillett said. "It's not the cheapest tablet, but that price puts it in reach of a much wider range of people."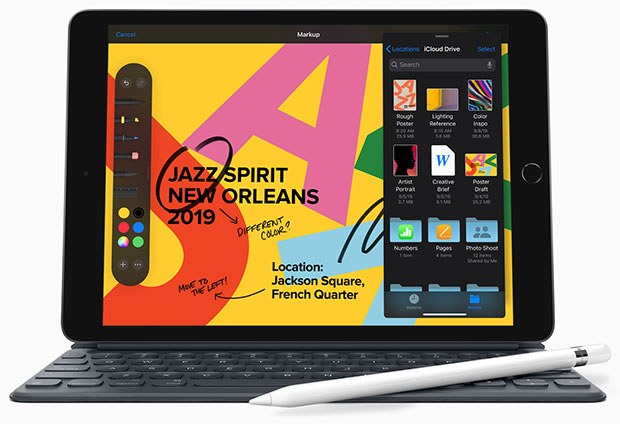 The new iPad, which is offered in silver, space gray and gold, has a larger Retina display — 10.2 inches — and supports Apple's Smart Keyboard and Apple Pencil.
Although Apple is using an older chip in the new iPad — the A10 — buyers shouldn't fret about obsolescence, Gillett noted.
"Something Apple is strong at is supporting older devices with their new operating systems. If they're refreshing the device and still using that old chip, it suggests it will support it for several years because that's been their practice in the past," he explained.
"For most people, the older chip will be fine," Gillett added, "but for people trying to do fancy stuff, it'll be slow."
The new iPad also will be running the new iPadOS, which includes enhancements that make multitasking on the device easier.
A Watch That Never Sleeps
Apple also has spruced up its watch.
The Series Five Apple Watch has a display that never sleeps. The screens on previous versions of the watch entered sleep mode when inactive. Now the time is always displayed — and without a reduction in battery life.
The new watches will start at $399; $499 for cellular. Meanwhile, Apple reduced the price of Series Three watches to $199.
"This latest watch will sustain and improve Apple's leadership in wearables," Gillett said. "No one else has built quite the ecosystem that they have, especially in the area of health and medical research."
At its presentation, Apple announced three new studies that would be using the watch to gather data:
A hearing study by the University of Michigan and World Health Organization;
A women's menstrual study by the Harvard University School of Health and the National Institutes of Health; and
A heart and movement study by the American Heart Association and Brigham and Women's Hospital.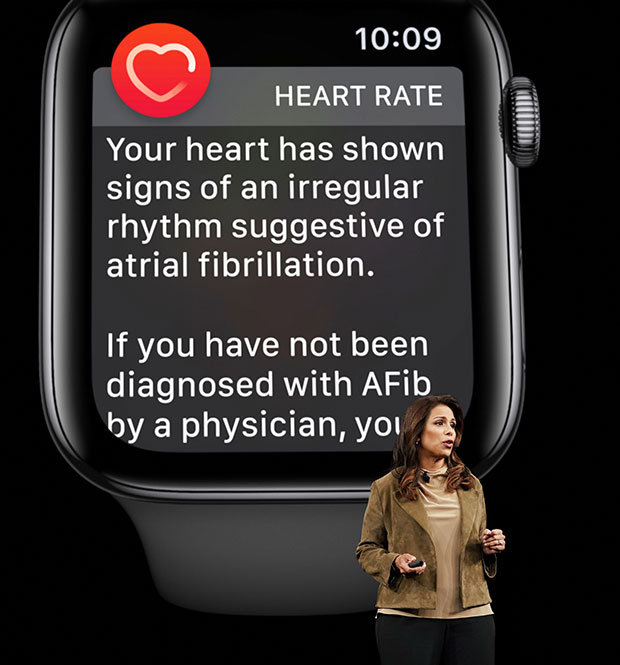 "These studies help establish Apple as a trusted partner in the consumer's mind," said Tuong Nguyen, senior principal analyst at Gartner, a research and advisory company based in Stamford, Connecticut.
Apple did a good job at its event selling the health value of the watch, he noted.
"Even if you're not an Apple fan, the customer testimonials shown were compelling," Nguyen told TechNewsWorld.
Games and TV Shows
Apple also announced pricing for its new subscription games service, Apple Arcade, and its premium TV service Apple TV+, which will launch Nov. 1.
Both are $4.99 a month for a family of up to six people. Arcade users can get a month's service free to try out more than 100 exclusive games that can be downloaded via the service.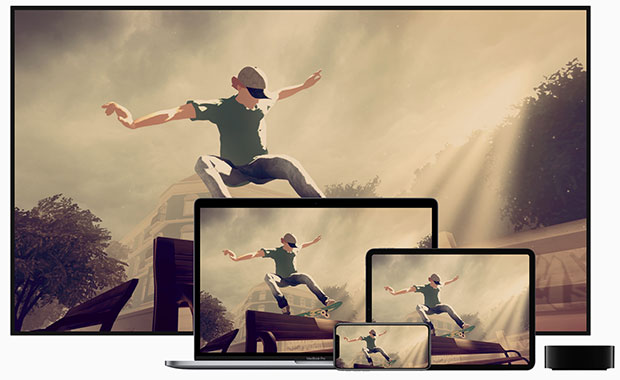 Apple TV+ users can get a year's free service with the purchase of an iPhone, iPad, iPod touch, Mac or Apple TV.2
Apple TV+ will serve up a number of original series:
Amazing Stories, a science fiction anthology series produced by Steven Spielberg;
Morning Show, with Reese Witherspoon, Jennifer Aniston and Steve Carell, a series about a fictional TV morning show;
See, a post-apocalypse series based on the premise that everyone is blind following a holocaust, starring Aquaman's Jason Momoa;

Little America, an anthology series of stories about new American immigrants, produced by Kumail Nanjiani;
Little Voice, a series about a musician played by Sara Bereilles, who is a songwriter, author and actress in real life, produced by J.J. Abrams; and
Helpsters, a children's show that combines muppets and computer coding.