Apple is making a foray into the entry-level desktop market with the introduction of a lower-cost iMac.
The 21.5-inch, all-in-one system features a 1.4 GHz dual-core Intel Core i5 processor. That increases to up to 2.7 GHz with Turbo Boost Speeds. It includes an Intel HD 5000 graphics card, 8 GB of memory and a 500-GB hard drive.
As is standard in iMac systems, this model includes 802.11ac WiFi. Peripheral connectivity and expandability options come in the form of two Thunderbolt ports and four USB 3.0 ports. The base model is priced at US$1,099.
Consumers may choose to bolt extras onto the base model, such as a 1-TB hard drive, a 1-TB Fusion Drive, or flash storage of up to 256 GB.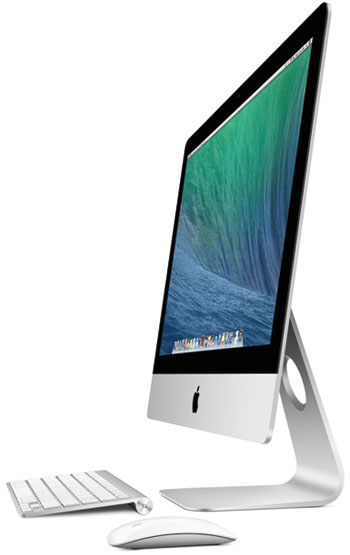 'Decent Offering'
"From the initial specs, it doesn't look like anything major is missing," Bob O'Donnell, founder and chief analyst at Technalysis Research, told TechNewsWorld.
"It's still a pretty decent-size screen for most people; 21.5 inches is a lot bigger than the 17- and 19-inch monitors most people have. It's still a dual-core Core i5," he noted.
"It's a slower CPU — 500 GB storage instead of the terabyte most systems have," O'Donnell pointed out.
However, "all in all, it's a pretty decent offering. It would have been really nice if they could have hit $999. That would have been a magical price. We haven't seen that from Apple in a long time. But it's still a good, solid system," he said.
"This is a terrific all-around machine with solid specs that will satisfy most Mac users for this price point," Laura DiDio, principal at ITIC, told TechNewsWorld.
"The segment of Mac users who will most likely give this a pass are leading-edge power users and gamers who absolutely demand extremely robust, state-of-the-art configurations — beyond the 1.4 GHz dual-core Intel Core i5 processor with Turbo Boost Speeds up to 2.7 GHz that is the standard configuration for this machine," she said. "But strictly speaking, it's not missing anything. Apple is marketing it as an entry-level and not a top-of-the-line fully loaded system, after all."
Like all Mac systems, this iMac ships with the OS X operating system. Owners will have the option to upgrade for free to the latest version, OS X Yosemite, this fall. Apple announced OS X Yosemite at the Apple Worldwide Developers Conference earlier this month.
Productivity Apps
The 21.5-inch, all-in-one iMac ships with the iWork and iLife suites. Productivity apps in iWork, like Pages, Keynote and Numbers, are designed to assist users in creating and editing documents, slideshows, presentations and spreadsheets. Meanwhile, iWork for iCloud offers users the option to create and edit the same synced document across their Apple devices and collaborate with their friends.
However, the lower specifications of the new iMac may make it more difficult for gamers to play top titles or for users to get the most out of the iLife suite of apps. Working with video editing in iMovie, audio in GarageBand, and photos in iPhoto requires perhaps a little more power than the entry-level system might be able to afford.
"This has performance in line with a MacBook Air and well below the more expensive iMac," Rob Enderle, principal at the Enderle Group, told TechNewsWorld.
"Performance should be fine for Web browsing, watching videos, casual games and for using Office. Video- or photo-editing will be far slower, and if it is being used for higher-end games — typically not an iMac strength anyway — performance will suffer as well," he noted.
'Slow Going'
"Power users and gamers will find a 1.4-GHz dual Intel Core i5 processor with Turbo Boost speeds of up to only 2.7 GHz slow going," ITIC's DiDio said.
"Many users today want quad-core and i7 processors and double the Turbo boost speeds to support larger, more data-intensive file transfers, and digital video and audio. For corporate workers or consumers who aren't watching a lot of movies or doing a lot of gaming — just doing routine email and desktop applications that don't strain the limits of the system — this entry-level Mac will get the job done," she maintained.
"Obviously, if you're doing iMovie and you're doing a lot of editing, that's when faster CPUs are going to make a difference — but for a lot of people doing basic editing, I don't think it's going to be an issue," Technalysis Research's O'Donnell said.
"If you do a lot of gaming, a better graphics chip is gonna help," he suggested. "Those are the places where you're going to see a bit of a difference. All in all, I think for a lot of people it's going to be a pretty reasonable offering. They're trying to get to a lower price point that gets some customers that may not have previously considered iMacs."
Since Tim Cook took over as CEO from the late Steve Jobs, Apple's strategy has shifted slightly to have more of a focus on volume than premium pricing, Enderle noted.
"Cook's background is very different than Jobs, where Jobs was focused like a laser on maintaining and increasing margins, Cook's operations background focuses him on volumes instead, and this is one of a number of pricing actions he is taking to increase volumes — mostly at the expense of margins," he explained.
"Much like Apple did in the 1990s before Jobs came back, they are targeting volume PC sellers who typically price below Apple," Enderle observed.
'Apple Goodies'
"For somebody who's looking for all-in-one at a reasonable price point, it's got what you want," O'Donnell suggested.
"It's going to have a free upgrade to Yosemite. It's got iLife and iWork and all the typical Apple goodies. It does have 802.11ac, which is even faster WiFi. It's got pretty much most of the things I think people are gonna want. I don't think there's any really super-critical function it's missing," he added.
"While just over $1,000 list price for a desktop is pricey for traditional x86 Windows-based PC vendors, it's inexpensive for Apple," DiDio noted. "So Apple is targeting the low end or entry level of their market, which may or may not be interested. This market segment may already have moved on to the iPad as an alternative. If sales on this 21.5-inch iMac are sluggish, Apple may drop the price even further within six to nine months, or consider some creative bundles."