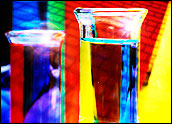 Apple on Thursday reiterated its commitment to safe working conditions in its supply chain, and announced stricter rules for the use of benzene and n-hexane, two toxic chemicals.
It also published its Regulated Substances Specification (RSS), pointing out that it sets occupational exposure limits for the two toxic chemicals that follow standards bodies' recommendations.
The company further announced that it provides suppliers with extensive training on best practices in environmental health and safety.
The announcements follow a campaign waged against Apple's environmental and safety practices by environmentalist group Green America and its allies.
Green America said it was pleased with Apple's announcement that it was banning the use of benzene and n-hexane in the final assembly of its products, claiming the move was a response to more than 23,000 comments from concerned consumers.
"Apple and numerous other vendors have been under pressure from a variety of groups due to complaints on worker safety, environmental practices and related issues," Charles King, principal analyst at Pund-IT, told TechNewsWorld. "To their credit, many of these companies have been actively pressuring suppliers in Asia and elsewhere to clean up their acts."
Apple and Green America did not respond to our request for further details.
What Is That Gunk?
Benzene is a somewhat sweet-smelling colorless and highly flammable liquid that is used in cleaners.
The United States Department of Health and Human Services classifies benzene as a "human carcinogen."
Hexane is a constituent of gasoline. It is colorless, odorless when pure, and it evaporates easily. It is widely used as a solvent.
Hexanes are absorbed through inhalation, orally, or through the skin. About 50 gm of n-hexane may be fatal to humans. Inhalation of n-hexane at 5,000 ppm for 10 minutes makes people dizzy.
In 2011, some workers at a plant making iPhone screens suffered from n-hexane poisoning, according to The New York Times.
The Good Stuff Apple Did
Apple conducted a focused evaluation of benzene and n-hexane use at its 22 final assembly facilities over a four-month period.
It found evidence of benzene or n-hexane use in four of the 22 facilities visited but found them within its RSS limits.
Here's the thing, though: The RSS Apple published, which mandates concentrations of benzene and n-hexane in line with regulators' recommendations, takes effect Sept. 1.
Apple has worked with all four to find alternatives to the chemicals.
The Crack of Environmentalists' Whips
Green America earlier this year launched the "Bad Apple" campaign, which included an online petition sent to Apple CEO Tim Cook.
The petition claimed workers at Apple suppliers in China had contracted leukemia due to exposure to benzene, suffered nerve damage from n-hexane poisoning, and developed skin conditions due to handling of acidic chemicals without protection.
Green America followed the petition with a letter to Lisa Jackson, Apple's VP of environmental initiatives, pointing out the use of benzene and n-hexane by the company's suppliers.
"Apple's actions are a good first step, even if they were taken in response to pressure from environmentalists," Jim McGregor, principal analyst at Tirias Research, told TechNewsWorld.
Strangers in a Strange Land
Part of the problem Apple and other high-tech vendors face is the difficulty of ensuring compliance in China.
"I've been in China recently, and people there say they're complying with labor laws, but it's difficult to police them," Will Stofega, a program director at IDC, told TechNewsWorld.
Foreign companies are unlikely to impact working conditions in China, said McGregor.
"Only actions by Chinese workers, companies, and the government will finally change the abhorrent situation there," he maintained. "Unless Apple is in control of the facilities, there is no guarantee that its demands will be followed."
Poor working and environmental conditions "are not just an issue for the electronics industry," McGregor pointed out.
Apple is not alone in confronting environmental issues, he said — "they're just one of the most visible."