A patent for an infrared system that could be used to shut off iPhone cameras and microphones at live performances is one of dozens awarded to Apple last month.
The company first applied for a patent for the infrared camera system in 2011, according to Patently Apple, which noted the technology's great potential.
The system could assist the music and movie industries by automatically disabling camera functions at movies or concerts. However, the technology could have other applications as well — for example, turning an iOS device into a museum or city tour guide, or a source of product information at a retail outlet.
How It Works
The camera described in Apple's patent would detect more than an image. If the image contained an infrared signal with encoded data, the data would be routed to circuitry in the camera to decode the data.
One possible way of using the data the infrared signal delivered could be to display information to users about objects next to them — a painting in a museum, for example.
Another way of using the data could be to disable camera functions.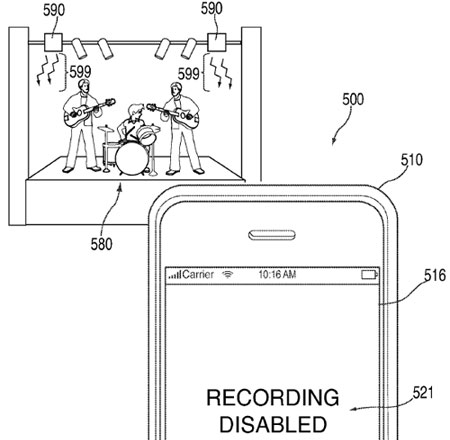 Welcome to the Communication Age
Although Apple's technology is interesting, it is in some ways redundant, observed Jim McGregor, principal analyst at Tirias Research.
"This technology could be used for many purposes. However, many of the ones noted for retail or other environments can be accomplished with technologies already incorporated in mobile devices," he told TechNewsWorld.
"Using the sensor to control other consumer electronics like your TV or stereo is a more practical application," McGregor said.
While the turn-off-your-camera feature is an intriguing idea, it could easily be foiled, he pointed out.
"You could just cover up the sensor, because it requires line of sight — and I doubt consumers would be happy about the ability of someone else controlling their phone," McGregor explained.
"As for the entertainers that do not like people filming them — welcome to the age of communications," he added. "They would be much better leveraging the technology and the fans than trying to fight it."
Hacker Pathway
Crippling a phone's camera may not be an advisable course for a phone maker to take.
"The camera is integral to so many applications — from banking to expense systems," remarked Peter Tran, general manager of the Advanced Cyber Security Practice at RSA, the security division of EMC.
"Without it, you begin to dilute the value of the mobile device," he told TechNewsWorld.
Feeding data to a phone through an infrared link can be a security risk.
"You can send an instruction set to shut off a phone, but other instruction sets can be sent to the phone too, that could compromise other capabilities in the phone," Tran said.
"Infrared is a very easy pathway for a hacker to get into a phone," he noted. "If Apple does this, it has to think the security architecture through from end to end — not just from a turn-off-the-camera perspective."
Enterprise Potential
The infrared technology might have a role to play in the enterprise.
Some enterprises already control the cameras in their employees' phones through mobile device management systems, but they don't control other phones entering their environments, noted Slawek Ligier, vice president of engineering for security at Barracuda Networks.
"Instead of having to surrender their phone at the gate, [visitors] could take their device with them if its camera and microphone were disabled with the infrared system," he told TechNewsWorld.
However, controlling the cameras in workers' phones is not a popular practice, acknowledged Ligier.
"I don't see a lot of enterprises doing it, because when you disable the camera it's disabled permanently, not just within the confines of the enterprise," he explained. "That limits the usability of the device itself. I don't think employees would like it much."