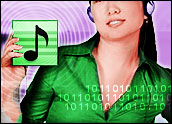 When Apple raised the curtain on its online digital music store a year ago this week, there were more than a few skeptics in the audience. Why, they asked, would websters buy something they could get for free through numerous file-sharing networks?
Well, after selling 50 million songs from its iTunes store, it's apparent that Apple is doing something right — and its success has spawned a coterie of pretenders itching to carve into the Cupertino, California-based company's 50 percent share of the online music market.
Apple's song-selling success in the last year hasn't surprised some observers. While there was plenty of free music before iTunes opened shop — and there still is, for daredevils willing to risk the legal wrath of the Recording Industry Association of America — music downloading was a gamble at best, according to Jarad Carleton, an IT industry analyst with Frost & Sullivan in Palo Alto, California.
Enter the Pretenders
"When you're buying from iTunes or any of its competitors, you're getting a digital file with a guaranteed level of quality," he told TechNewsWorld. "For people who want a good listening experience, something like that is important."
When you download a free file, Carleton explained, "Chances are, the recording will have pops and snaps in it, or it will cut off early, or its volume will fluctuate."
But Apple's success at selling songs online may be less important than its success at getting the music industry to buy into the proposition. "The music industry was hard-core set against selling songs online," Carleton said. "Something happened in those negotiations between Steve Jobs and the record label executives where Steve Jobs was able to soften their position on it.
"After Steve Jobs softened their position on it, they began to roll out similar models to different online storefronts," he added.
The iTunes model is called a la carte. Listeners peruse a library of songs, pick a few and buy them. But another model is emerging that, its proponents say, will supplant the Apple approach in the future. That is the subscription model.
With that model, listeners pay a monthly fee for unlimited access to a music library.
Model of Choice
"What we think is going to be interesting in this next year is the rise of subscription services," said Bob Ohlweiler, senior vice president for business development at MusicMatch, the San Diego-based maker of a popular media player and operator of an online music store.
"People will be spending more of their music consumption dollars subscribing to services," he told TechNewsWorld.
For the cost of a CD, subscription services give listeners access to any kind of music they want, observed Brad Duea, president of Napster, a Los Angeles-based online music provider.
"That's what's going to be driving subscription, and that will be the model of choice going forward," Duea told TechNewsWorld. "I foresee every online home having at least one music subscription and, depending on how many folks in their family, maybe more."
Harder Sell
Ohlweiler admitted, though, that subscription services are a hard sell because music consumers are accustomed to owning their music, not leasing it from someone. "That's the reason why the adoption of subscription services is running slower than the adoption of a la carte download sales," he said.
"It's a bit of a harder sell," he noted. "It's more difficult to communicate the simple value proposition. But once people realize that for $10 a month — the price of buying one album — they can access an entire catalog of music that's available, word will spread like a virus."
Whatever models emerge for selling music online, some things never seem to change. Case in point: the latest news that major record labels are mulling over raising prices for songs sold online.
"I don't think it makes sense to raise prices on the Internet right now, because really what we're doing is competing with free distribution, with piracy," Ohlweiler contended.
"It's crazy, and it's highway robbery," added Frost and Sullivan's Carleton. "They have no packaging costs, no distribution costs, all they have is a fixed infrastructure cost. I think the record executives are being greedy," he said, "but, then again, that has pervaded the industry for a long time."