Apple on Thursday closed a gap in its efforts to combat mobile device theft with the announcement of a service for checking the Activation Lock status of its iPhone, iPad and iPod product lines.
The Find My iPhone Activation Lock requires that an owner's Apple ID and passcode be entered into an iOS device before Find My iPhone can be turned off or the device can be erased or reactivated. Find My iPhone also allows an owner to locate a device using its location services.
While the Activation Lock can prevent a thief from using an iPhone, it doesn't prevent them from reselling it to an unsuspecting shopper in a sight-unseen transaction.
"Once cash has exchanged hands, then there's no recourse," Ben Edwards, founder of Swappa, an online seller of second hand mobile phones.
With Apple's new service — available free at icloud.com — a used phone shopper can type in the IMEI or serial number of a device to see if the Activation Lock has been deactivated. If it has, the phone can be reused; if not, its previous owner has to deactivate it.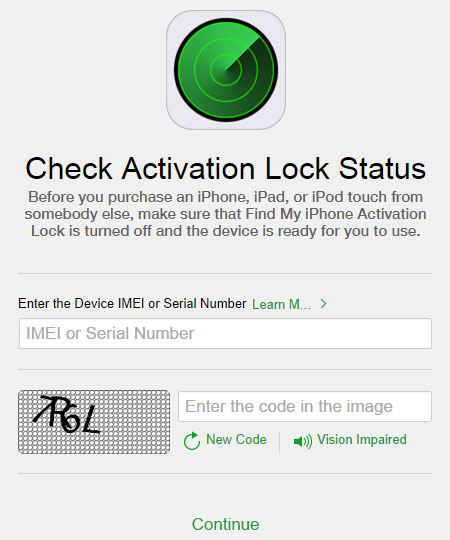 "One of the things that's happened since Apple launched this Activation Lock is that consumers have been unknowingly purchasing phones on eBay that are locked," David Richardson, the iOS product manager at Lookout Mobile Security, told TechNewsWorld.
"Sometimes it's a scam — a person tries to sell a stolen phone that they're unable to use," he said. "Other times, it's accidental — someone wipes their iPhone and doesn't realize it's still going to ask for their username and password unless Activation Lock is turned off."
Activation Workarounds
In prior versions of Apple's iOS operating system, Activation Lock was turned off by default, so it was less of a concern to legitimate resellers of iPhones, but that's not the case with the latest version of the OS.
"Activation Lock will be used on many more devices now that iOS 8 enables it by default," Guillaume Ross, a senior security consultant with Rapid 7, told TechNewsWorld.
"Consumers had no way to check a specific serial number before," he continued. "With this, the buyer can ask for the serial number and know for sure that the device can be activated, as long as it is the device with that serial number."
That still could be a problem for sight-unseen buyers. For example, a thief could give the IMEI of a phone with Activation Lock disabled to a potential buyer, then send the shopper one with it activated.
Double-dealing like that is less likely to happen at used phone sites like Swappa and Glyde.
"We require sellers to provide us the IMEI number for any phone sold on the site," Swappa's Edwards explained. "We do that so we can run a series of checks on the number before we approve a listing for sale."
Glyde removes the potential for scams by taking the sight-unseen aspect out of transactions.
"A seller has nothing to gain by attempting to sell a stolen phone because our buyers have the ability to check the device to see if everything is working and clean before we release payment to the seller," said Glyde Marketing Manager Matthew Reardon.
"There are rare instances where sellers forget to disassociate the device from their Apple account before they ship the device," he told TechNewsWorld. "However, when this does occur, a simple reminder from us to the seller to turn off the Activation Lock remotely from their iCloud account solves the issue."
Dent in Crime
Mobile phone theft has become a growing problem worldwide. Lookout estimates that US$7 million in phones are lost worldwide annually. In the United States, 30-40 percent of reported crime in major cities is attributed to phone theft. Meanwhile, in the United Kingdom, one out of every three people has been a victim of phone theft.
After Apple implemented its Find My iPhone system, significant declines in iPhone thefts occurred in major U.S. cities. Activation Lock checking could contribute further to those declines.
"It's not going to stop some phone theft, but it will make a thief jump through some extra hoops before they can sell a phone," Chris Webber, senior product marketing manager at Centrify, told TechNewsWorld.
"Activation Lock by itself curbs the sale of stolen iPhones," added Rapid 7's Ross.
"The Check Activation Lock Status tool will give potential buyers of used devices a way of verifying the status of the device before being potentially sold a locked device," he noted.
"As consumers become aware of this tool," Ross said, "it will be even harder to sell a locked device to a buyer."