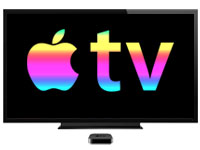 The next version of the Apple TV set-top box could be ready for prime time in October, priced at either US$149 or $199, based on rumors circulating Monday as the company gears up for its Sept. 9 event in San Francisco. The current version goes for $99.
With the higher price could come a seriously upgraded device: The new — and apparently quite improved — Apple TV reportedly will feature an A8 processor, flash storage support upwards of 32 GB, and 1 GB of RAM.
It will include support for Siri, a new touchscreen remote control, a new and more intuitive interface, and support for an app store — something that has been missing in past versions, according to the latest buzz.
It's likely the next Apple TV also will serve as a hub for a long-rumored pay-TV service that will bundle multiple TV channels and could become available to subscribers for $40 per month.
App-Enabled Platform
The lack of app support for the current-generation Apple TV has been a major shortcoming for the platform. The set top box is little different from competing streaming media devices, albeit with support to stream music and video content from iTunes.
A new app-centric device that could deliver a greater range of third-party content could be a major game-changer for Apple TV.
"The home streaming box remains wide open," said Joel Espelien, senior analyst at The Diffusion Group.
"Apple is as well positioned as ever to try to take the Apple TV product from an iPod-like limited peripheral to an iPad-like app platform for the living room TV," he told TechNewsWorld. "Third-party apps are Apple's biggest long-term advantage against things like Comcast X1."
Beyond the Hobby
Apple has not pushed its set-top box with the same marketing fervor that has propelled its other devices to the top, but that could change.
"They been careful about how they've positioned the product," said Dan Cyran, director of digital media at IHS.
"It has been perpetually a hobby of sorts for Apple — even if, for a hobby, it has been doing well," he told TechNewsWorld.
It has helped drive iTunes movie and TV show behavior, but fundamentally, "it has been little more than a peripheral to get content on the TV set," Cryan pointed out.
"That's an interesting position to be in, but not what you'd call a marquee device today," he added. "The rumors suggest that Apple is migrating from a peripheral to a fully fledged product, one that is part of the strategy for Apple to move further into the home."
The Pay-TV Connection
A building trend could be influencing that strategy.
"Cord-cutting looks like it is accelerating," said Erik Brannon, senior analyst for U.S. television at IHS.
"Like other OTT pay services, Apple has an opportunity to pick up subscribers as they flee pay-TV," he told TechNewsworld.
However, Apple TV could be adding much more than a content-streaming alternative.
"There are a lot of ifs, but with this comes a lot of potential," said IHS' Cryan.
"Apple TV could be used to play video games or connect to the Apple HomeKit and more. An app platform makes it easy for Apple to think globally as well — but the change will require that it migrate from a closed device to a more open one."